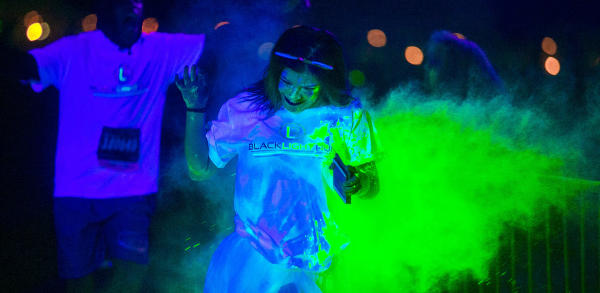 Address:

1000 Ballpark Way Arlington, TX 76011

Category:

Globe Life Park

Dates:

November 12, 2016 to November 12, 2016

Times:

15:00:00 to 18:00:00

Location:

Globe Life Park in Arlington
WHAT IS THE BLACKLIGHT RUN™?

Blacklight Run™ is a unique night 5K fun run focused less on speed and more on UV Neon Glowing fun with friends and family. Glowing participants come from all different ages, shapes, sizes, and speeds; every participant will get Glowed™ and has the time of their life. Whether you are an avid runner or a walk around the park walker, the 3 miles of the Blacklight Run™ course will have you glowing and waiting for the next one!

REGISTRATION INCLUDES:

- Commemorative white Blacklight Run™ T-Shirt
- Blacklight Run™ Glow in the Dark Tattoo
- Blacklight Run™ Race Bib
- Donation to local charity
- Blacklight Run™ Glow Pack given at the finish line!
- Admission to Blacklight Run After Party™

Children 5 and under are FREE with a paying adult (T-shirt not included). 
For registration and other information please click here.
Globe Life Park in Arlington Tours
1000 Ballpark Way
Arlington, TX 76011