Meet the Team
Can a single event change the course of your career? Of course it can. And, hosting a meeting, special event, conference, convention, team-building session — or anything else — in Arlington certainly can't hurt. We're well-equipped to make the impossible possible.
Meet our Sales and Services team now, or see our downloadable version. We're always open for business and ready to help you show the world just how amazing you are.
OUR SALES TEAM

Jon Hixon, CMP

Vice President of Sales
Phone: 817.704.7588
jon@arlington.org

David Law, CTA

Senior Director of National Accounts
Phone: 817.704.7578
David@arlington.org

National Associations, Social, Education, Religious, Fraternal/Club

Joe Bedsole, CTA

Director of State and Southwest
Associations, Austin Regional Office
Phone: 512.656.4229
Joe@arlington.org

St. Associations, Texas-St. Government, SW Associations

Ellen Brown, CTA

Director of National Accounts
Phone: 817.704.7571
Ellen@arlington.org

Corporate

Matt Wilson

Director of Sports & National Accounts
Phone: 817.704.7585
Matt@arlington.org

Stefanie Schafner

Executive Meetings Specialist
Phone: 817.704.7592
Stefanie@arlington.org

April Luter

Tourism Sales Manager
Phone: 817.704.7570
April@arlington.org

Kelly Bumgarner, CTA

Conventions Sales Administrative Assistant
Phone: 817.704.7583
Kelly@arlington.org

OUR SERVICES TEAM

Mary German, CTA, CMP, CDME

Vice President of Services & Programs
Phone: 817.704.7580
Mary@arlington.org

Catlin Hopson, CTA

Convention Services Coordinator
Phone: 817.704.7619
Catlin@arlington.org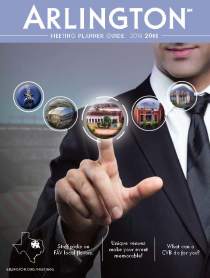 Meeting Planners Guide
Meeting Planners Guide
Download for event venue specs, hotel locator map, convention center chef spotlight and more.
Download now