Concours d'Elegance of Texas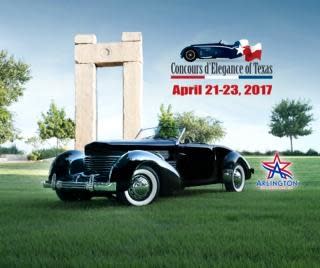 Address:

1601 E. Randol Mill Rd. Arlington, TX 76011

Category:

Other-Events

Recurring:

Recurring daily

Dates:

April 21, 2017 to April 23, 2017

Venue:

Richard Greene Linear Park

Location:

Richard Greene Linear Park
Premier Vintage Motoring and Luxury Lifestyle Event

The 6th annual event will be held the weekend of April 21-23, 2017 at the Richard Greene Linear Park.
The Concours weekend kicks off with a Friday morning escorted driving tour of local attractions and luncheon. Friday evening, Worldwide Auctioneers and the Concours d'Elegance of Texas present an opening reception at the Convention Center. On Saturday, the 16th annual Texas Classic Auction will see over 100 rare and collectable cars cross the auction block. Saturday concludes with the Cowboys and Cars Dinner and silent and live auction benefiting our charities. The weekend concludes with Sunday's Concours d'Elegance of Texas car show and awards ceremony. The event is open to the public and highly recommended for spectators of all ages.
The term "Concours d'Elegance" means 'contest of elegance' and dates back to the 17th century when the French aristocracy would meet in the parks of Paris during summer weekends and parade in their horse-drawn carriages, each decorated more elegant than the next! Over time, carriages became horseless and the gatherings became competitions among automobile owners.
Please visit http://www.concoursoftexas.org/ for more information.
Richard Greene Linear Park
1601 E. Randol Mill Rd.
Arlington, TX 76011