Maverick Speakers Series: Bob Woodward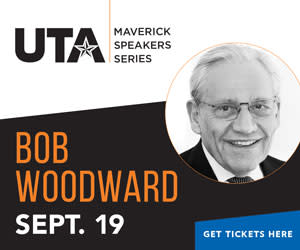 Host:

UTA Tickets.com

Address:

701 S Nedderman Dr Arlington, TX 76010

Phone:

(817) 272-9595

Category:

Other-Events

Dates:

September 19, 2019 to September 19, 2019

Times:

19:30:00 to 21:00:00

Venue:

Texas Hall

Location:

College Park Center
Bob Woodward: The State of the American Presidency
Legendary Pulitzer Prize-Winning Investigative Journalist 
Author and Associate Editor, The Washington Post 
Bob Woodward has been associate editor of The Washington Post since 1971. He has shared in two Pulitzer prizes, first in 1973 for coverage of the Watergate scandal with Carl Bernstein, and second in 2003 as the lead reporter for coverage of the 9/11 terrorist attacks. 
Woodward has authored 19 books. His latest, Fear: Trump in the White House, became a No. 1 international bestseller, selling over 1.1 million copies in its first week—breaking the 94-year-old first-week sales record for its publisher Simon & Schuster—and sold nearly 2 million in hardback, ebook, and audio in its first four months. 
All 19 of Woodward's books have been national non-fiction bestsellers. Thirteen of those have been No. 1 bestsellers, more than any contemporary author. No one digs deeper or has provided a more detailed or penetrating portrait of the nine presidents—from Nixon to Trump—he has written about for the Post or in books.
Tickets are on sale NOW at www.utatickets.com
Texas Hall
701 S Nedderman Dr
Arlington, TX 76010