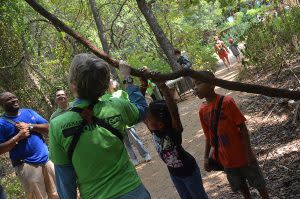 Host:

River Legacy Foundation

Address:

703 NW Green Oaks Blvd Arlington, TX 76006

Phone:

(817) 860-6752

Category:

Local

Dates:

November 30, 2019 to November 30, 2019

Times:

14:00:00 to 15:00:00

Location:

River Legacy Living Science Center
Explore the nature trails surrounding the Science Center on a family-friendly guided Nature Walk. FREE. Space is limited. RSVP to 817.860.6752. Nature Walks are usually held the fourth Saturdays of every month.


River Legacy Living Science Center
703 NW Green Oaks Blvd
Arlington, TX 76006