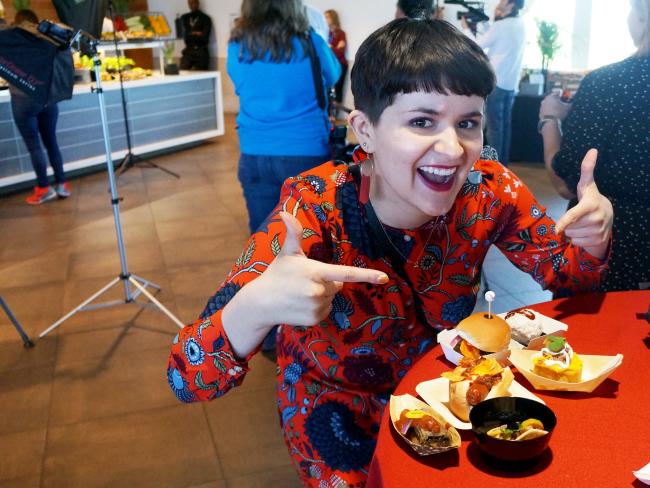 It's that time of the year! Ehem, for me to put on my loose clothes and sample everything I possibly can at the Texas Rangers concession preview event. Not only is it one of my favorite times of the year – hello, its three days 'til Opening Night – but it's my opportunity to inform the fans of what to get when they head our way this season. Bon appetit!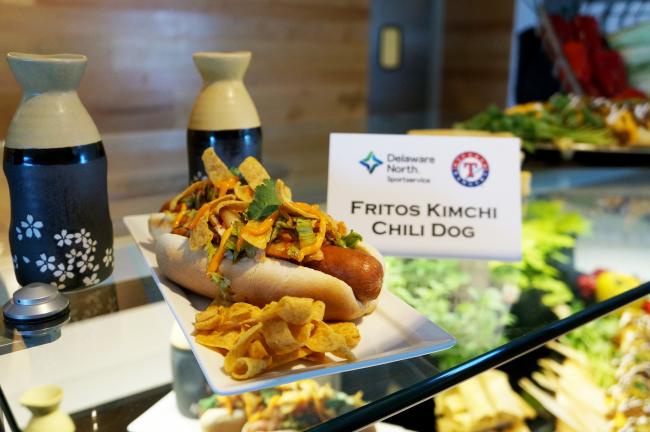 My favorite thing I tried on the roster.
What is it? It's a traditional all-beef Hot Dog that we all know and love topped with a sweet and spicy kimchi chili (yuuuum), fresh cilantro, Texas teriyaki sauce with some Fritos added in for the perfect amount of savory crunch.
Price: $10.50
Where you can find it: Located at American Dog stands in sections 22 and 48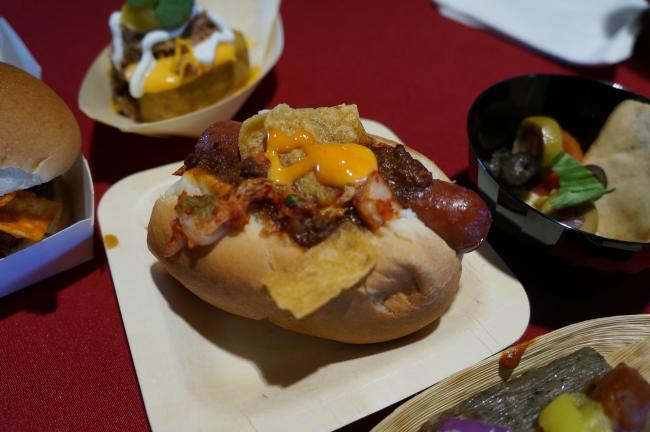 Eeep! It's a bebe hot dog. :)
The verdict: This was my absolute favorite sampling of the entire event. I am a huge hot dog fan, and pairing something so timeless with the exotic spiciness of kimchi (which is spicy but tame enough for more sensitive palates) and throw in some crunchy Fritos and teriyaki sauce, and you've got a truly unique but delicious staple for your 2017 visits to the ballpark. I loved this!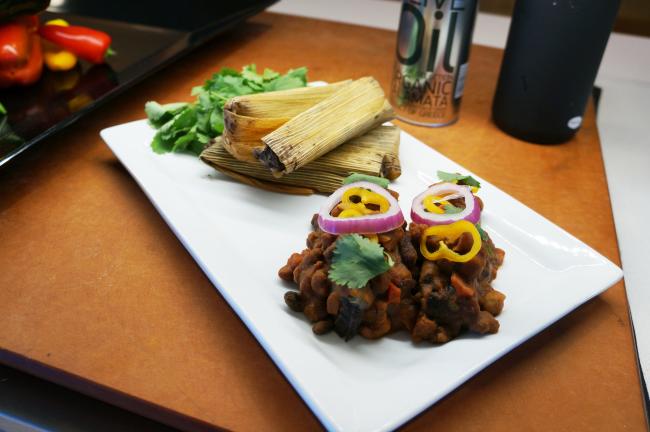 So good you can't tell it's vegan, and I love vegan food! 
What is it? This vegan option mixed black beans and a delicious blend of spices into masa and is steamed to create this deliciously healthy option for the more health-conscious fan.
Price: $10
Where you can find it: Located at the Ballpark Vegan stand in Section 16
The verdict: YES! As a tamale-loving Latina, this was my favorite vegan option of the sampling. The bean mixture with the spices was incredibly flavorful and a delectably Tex Mex staple for when I'm not feeling like eating meat, and something I'll introduce to my vegan and vegetarian friends.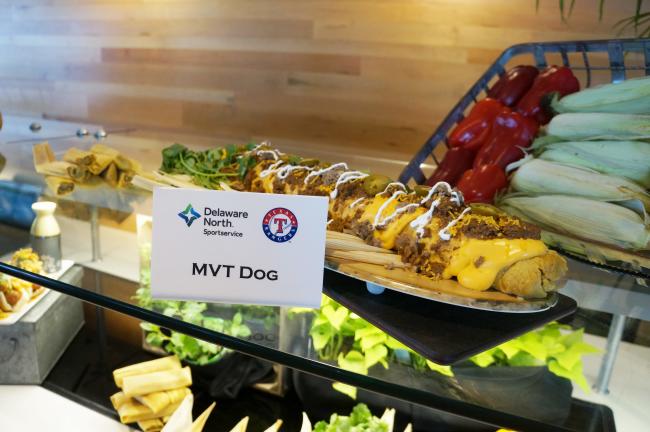 That's a long tamale!
What is it? It's THE "Most Valuable Tamale" in the game! Inspired by the TamArlington Dog introduced during the Rangers' 2016 post season, the chefs at the Rangers enlarged the O.G. dog a  bit by creating a 2-foot long tamale and filling it with the legendary 2-foot long hot dog the BOOMSTICK. The MVT is topped off with chili, nacho cheese and sour cream.
Price: $27
Where you can find it: Located at Texas 24" stand at section 29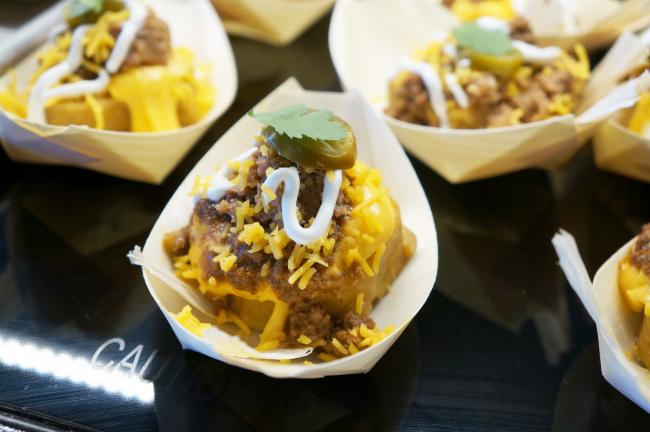 I got a portion of the beast. 
The verdict: I actually got the special opportunity to try it a few weeks ago at a staff preview, along with the Crunchy BBQ Burger an preferred the M.V.T. over the Crunchy BBQ Burger. If you're partial to tamales and want to try something new – the mix of the tamale's masa and all beef hot dog will definitely be something you MUST try this year.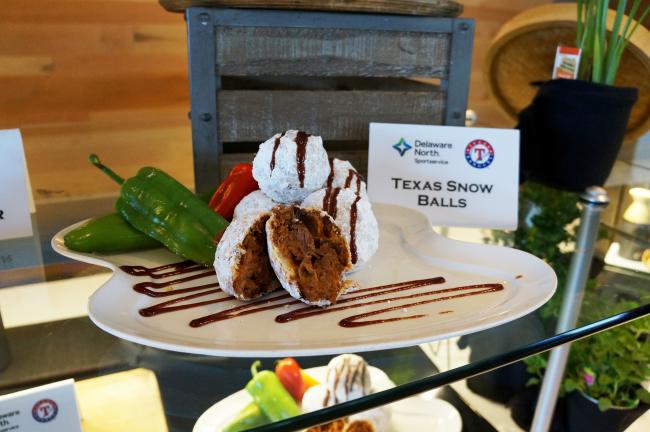 What is it? Texas Snowballs take the classic ballpark shredded brisket you typically see on Nachos and in sandwiches, rolled into a ball and dipped in a Texas favorite sweet concoction—funnel cake batter. Then, it is golden fried and covered in powdered sugar, hence its name the Texas Snowball.
Price: $9.50
Where you can find it: Located at the State Fare stand section 141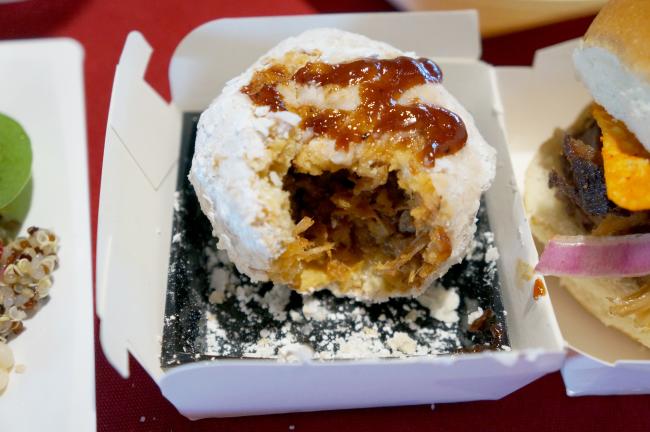 Look at that brisket inside!
The verdict: This is something I would gladly share with my friends – I love BBQ brisket, and the mixture of sweet and savory make an AWESOME treat to share with someone you like.
Mediterranean Nachos (not pictured)
What is it? Another vegan option, but very pleasant. Here the chefs at the ballpark took nachos, Stacy's pita chips and top them with hummus, fresh garlic basil tomato and an assorted country olive salad.
Price: $10
Where you can find it: Located at the Ballpark Vegan stand at section 16
The verdict: Think of when you go to the grocery store and buy pita chips and hummus. This is like that, but slightly amplified and made into a full meal complete with a delicious olive medley—and I don't even like olives.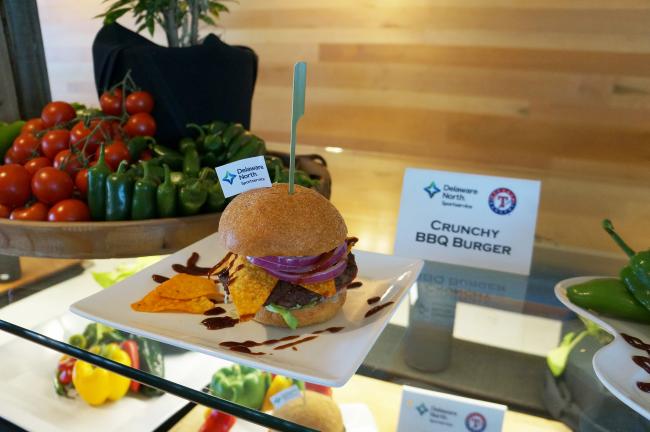 What is it? Let's say it's a barbeque burger taken to the next level. It starts with a juicy all-beef patty, with a mound of ballpark smoked pulled pork covered in the iconic Sweet Baby Ray's signature BBQ sauce and pickled red onions, cilantro and a healthy layer DORITOS NACHO CHEESE CHIPS!
Price: $13
Where you can find it: Located at The American Hot Dog stand in section 48

The verdict: I prefer hot dogs to burgers, so this wasn't my favorite and I'm admitting bias. However, my favorite aspect of this was the pairing of the pork, the Sweet Baby Ray's and the Doritos –because I am a Doritos Nacho Cheese Ultra fan. If you're looking for a fun burger to get messy with, try this big BBQ baby out, you won't be disappointed.
Honorable Mentions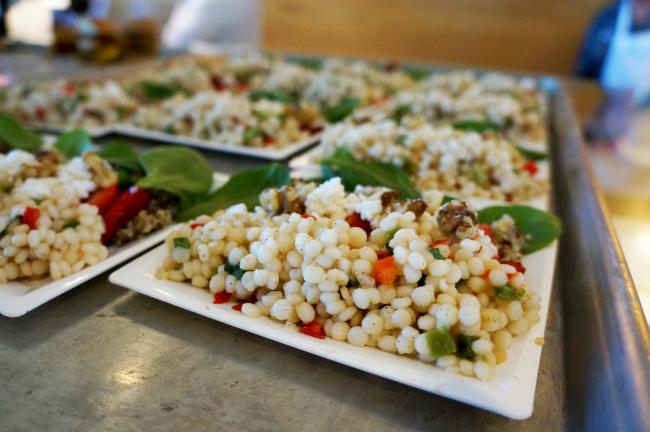 Get in my belly.
Strawberry Quinoa Summer Salad (Suites Only):  This light, healthy salad is topped off with a flavorful raspberry vinaigrette and includes baby spinach, quinoa, couscous, slice strawberries, toasted walnuts, queso fresco and is so light and tasty you can pretend you didn't just eat half a Boomstick and relax that your side item was most likely under 100 calories and full of iron.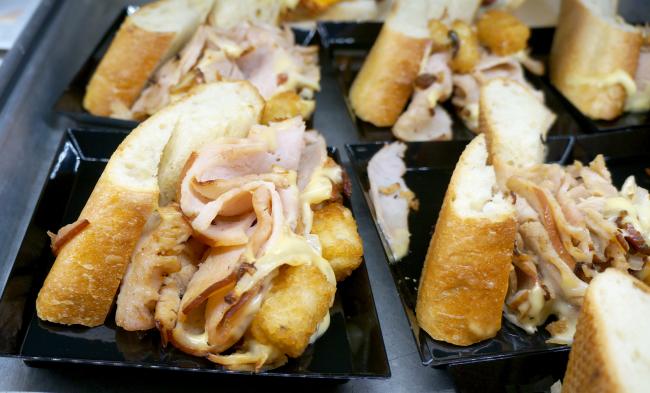 There are tator tots on this sandwich, I repeat, there are actual tator tots on this sandwich. 

Hot Smoked Turkey Club (Suites Only): This one I saw on the news and had to try it –it's topped with TATOR TOTS! Think sliced turkey, bacon, caramelized onions, white cheddar cheese sauce and tator tots tucked inside a large baguette—mouthwatering.
Also, without sharing too much detail, below are some photos I snapped of this year's promo items. Get your tickets early –this year's promo loot will go fast!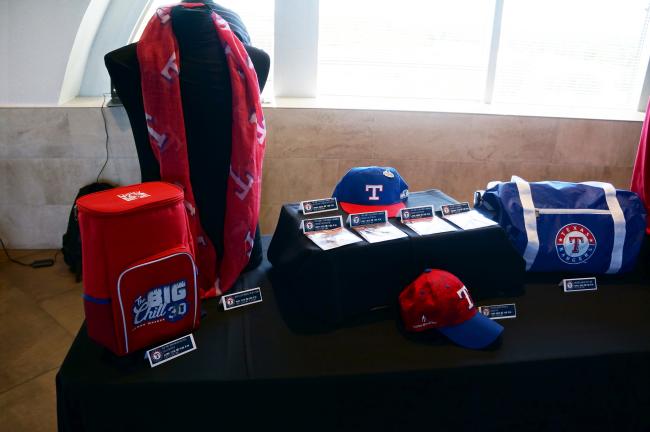 Left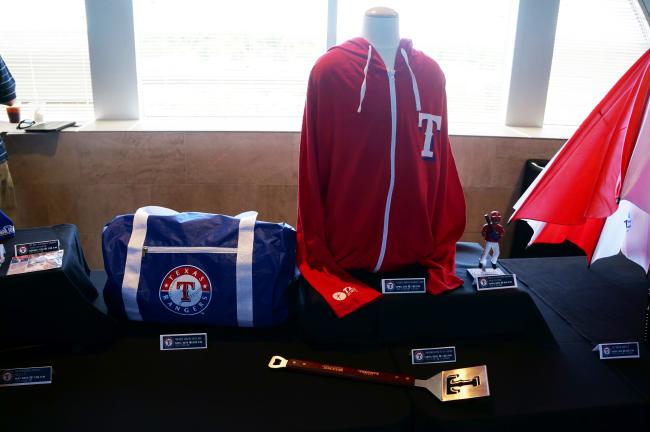 Middle


Right
If you're a true fan, start Opening Day/Night off early by joining in the second annual #CapsOn initiative by posting a selfie with your Texas Rangers #CapsOn. Join Rangers staff, players, politicians, fans, and celebrities in repping their favorite team leading up to the main event –Opening Day. And if you're super excited to celebrate the Rangers on Monday, you'll be happy to know that TONIGHT 3/31 the Empire State Building in New York City will be putting 30 #CapsOn by lighting the top colors in Rangers red and blue, as well as all 29 other MLB Clubs in celebration of their respective opening days.
GO RANGERS!
Check out our review of last year's new ballpark fare.

 PS – If you are interested in attending a home game, use our code "Arlington" on select games to exclusive discounted ticket in almost all sections. Tickets are available here: http://texas.rangers.mlb.com/ticketing/index.jsp?c_id=tex