There are lots of facts to know about Arlington, TX—and here's another one: This is a Baseball Town, folks, which means we know how to have a blast when it comes to cheering on our Texas Rangers!

No matter if you're a watch-at-your-favorite-bar kind of Rangers fan or you never miss the chance to take in the action live and in person at Globe Life Field, these seven tips are sure to help you pull off a winning baseball season:
ONE: Get a parking and transportation game plan.  
With so many parking and transportation options available for Rangers fans, it's best to plan ahead. Here's what you need to know:
Self-parking: Parking is available on game days for $15-20. Those lots are indicated on the parking map, which you can download here. Bonus tip: Save time and trouble when you reserve and pre-purchase a close-in spot via the Stadium Parking service.
Night Games – Lots open 2.5 hours before game time; ballpark entries open 2 hours before game time. 
Day Games – Lots open 2 hours before game time; ballpark entries open 1.5 hours before game time.
If you own a Lexus, you can roll in style with complimentary parking at any home game (space permitting) with the required 2021 window dealership decal present. Simply go to Lexus Lot W, which is located on the east side of the field.

Globe Life Field offers handicap accessible parking spaces. All general admission lots will have handicapped parking on a first come, first served basis. If you have a disability that impedes your ability to walk to and from Globe Life Field, know that complimentary mobility assistance carts (ADA carts) are available to pick you up in the parking lot. Contact the nearest staff member to arrange assistance. Find out more about both services here.
To select the best lot, the Rangers website suggests that you consider whether you want to park close to the ballpark or close to the major roads leading in and out of the ballpark—and also, to keep up with the ballpark's construction-related road closures. You can get more Rangers parking tips here.
Valet parking: For $45, you can use the Rangers' Lexus Valet Parking service, which is available for every home game on the north, east, west, and south sides of Globe Life Park. To purchase your valet space in advance, call 972-RANGERS x1. Be aware: Valet spots can fill up quickly,  so we suggest that you arrive a little early and also keep your eye on the valet's real-time game day updates on Twitter.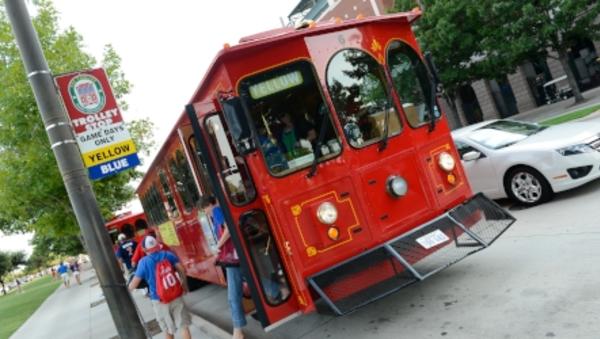 Trolley transportation: If you're a guest at a participating Arlington hotel, why not ditch parking altogether and ride to and from the ballpark for free (and look super adorable while you're doing it!) via the famous bright red trolley. Ask your hotel's front desk staff for more information, or visit the trolley website. 
Budget-conscious fans taking in afternoon games should check out Via Rideshare, a $3 per-trip/per-person transportation service sponsored by the City of Arlington. Book your trip using the free Via App. Don't have a smartphone? Call 817-784-7382 to book a ride. Via is available from 6 a.m. to 9 p.m. Monday through Friday, and from 9 a.m. to 9 p.m. on Saturdays. If you're not staying at a participating hotel, you might consider using Uber, Lyft, and taxis, which are available on southbound lanes of Nolan Ryan Expressway between Randol Mill and Road To Six Flags.
TWO: Maximize your Rangers fan experience with media and merch.
Savvy Rangers fans can rock it from spring training to the World Series with multi-media resources and merchandise that keep you in the know and looking fabulous: 
Free Rangers newsletters: Inbox delivery of the latest video highlights, up-to-date news, ticket specials, and more.
Social Media: Connect with the Rangers via social media channels to see the latest on your favorite sport.
Apps: Download the MLB app and MLB Ballpark for everything from live video streams to digital ticketing.
Gear: Visit the Rangers online store or the Grand Slam Gift Shop for jerseys, caps, totes, and other Rangers merchandise.
Season ticket handbook: This online guide for Ranger season ticket holders is chock full of helpful email addresses and phone numbers, season ticket policies and procedures, tips, suite rental info, and more.
Guest Guide: This A-Z digital directory tells you everything you need to know to have a great experience at our beautiful Globe Life Field. 
THREE: Don't worry about eating before a Rangers game.
The very first ballpark nachos were introduced to the world at a Texas Rangers game, so it's not surprising that Rangers fans have more than 100 concession stands, as well as food and beverage options at club and premium seating areas. Find out more via the "amenities" section of your MLB Ballpark app. Check out the Fowl Pole, which is a 2 pound chicken sandwich and fries that is just begging to be shared.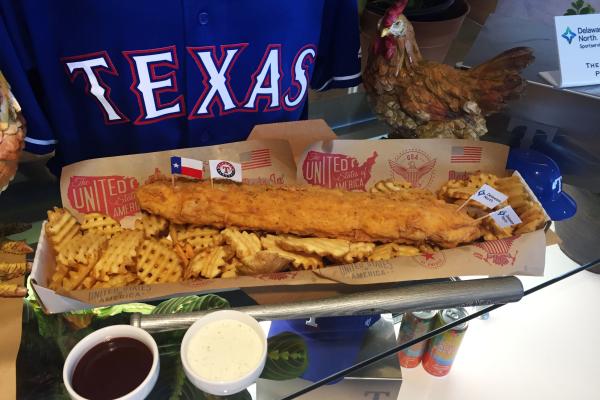 FOUR: Make your dollar go farther with Rangers ticket specials and promotions.
Are you a Ranger fan on a budget? Be sure and take advantage of Coca-Cola Family Packs or Dr. Pepper specials, or the $40 all-you-can-eat seats with unlimited hot dogs, hamburgers, grilled chicken sandwiches, nachos, popcorn, peanuts and soft drinks along with a great view of the field. You can also bring outside food and non-flavored bottled water as long as it is inside a sealed clear gallon sized (or less) plastic bag. Find out more about Globe Life Field bag policies. 
FIVE: If you love VIP perks, you definitely need to try a Rangers fan experience or a luxury seating option at least once.
Fan experiences: Is there a tiny Rangers fan that has you wrapped around his or her finger? Check out these in-game Rangers experiences, which give young fans once-in-a-lifetime opportunities like taking the field with the players or delivering the ball to the pitcher's mound.
Luxury seating: If you like your baseball with a lot of A-list amenities, such as private restrooms, up-close parking, and first-class food and beverage options, you absolutely need to try out a Rangers luxury suite—especially if you're celebrating a special occasion or entertaining family/friends/clients.
SIX: Take your Rangers fan game to the next level with a behind the scenes tour
Ballpark tours: Baseball season is an especially exciting time to go behind-the-scenes at Globe Life Field with a 60 minute ballpark tour. Or step it up with a Premium Tours for a 90-minute behind-the-scenes tour of Globe Life Field, plus 30 minutes of free time in the outfield. Will you play catch or take a few selfies? The choice is yours. Best of all, you can score discount tickets now!
Tailgating: Tailgating isn't permitted for the 2021 season, nor are these other parking lot activities. You may, however, reserve and pre-purchase a close-in spot via the Stadium Parking service.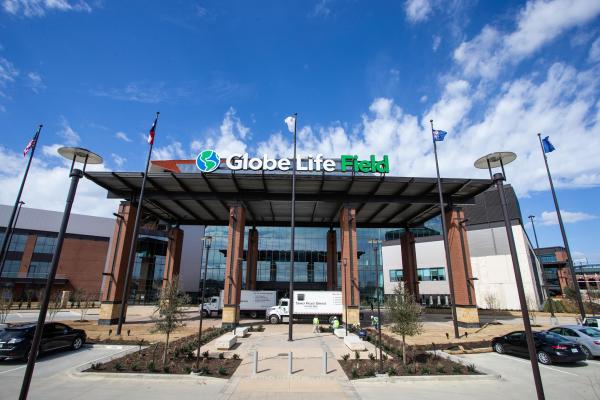 SEVEN: Homebase for Heroes
To honor military, veterans, and first responders, the Texas Rangers Baseball Foundation has an interactive display video board to highlight our country's servicemen and women. You'll find it in right center field, adjacent to the Grand Slam Team Store. Submit a photo of your military member, veteran or first responder at texasrangers.com/heroes to have your hero displayed on the searchable screen.