When the nights become longer, the temperature begins to drop, a smell of fall fills the air, and the mystery and magic of Halloween beckons—it's time to do a little ghost hunting. In the spirit of this spookiest of seasons, may we suggest a visit to one or more of the Arlington area's most haunted destinations: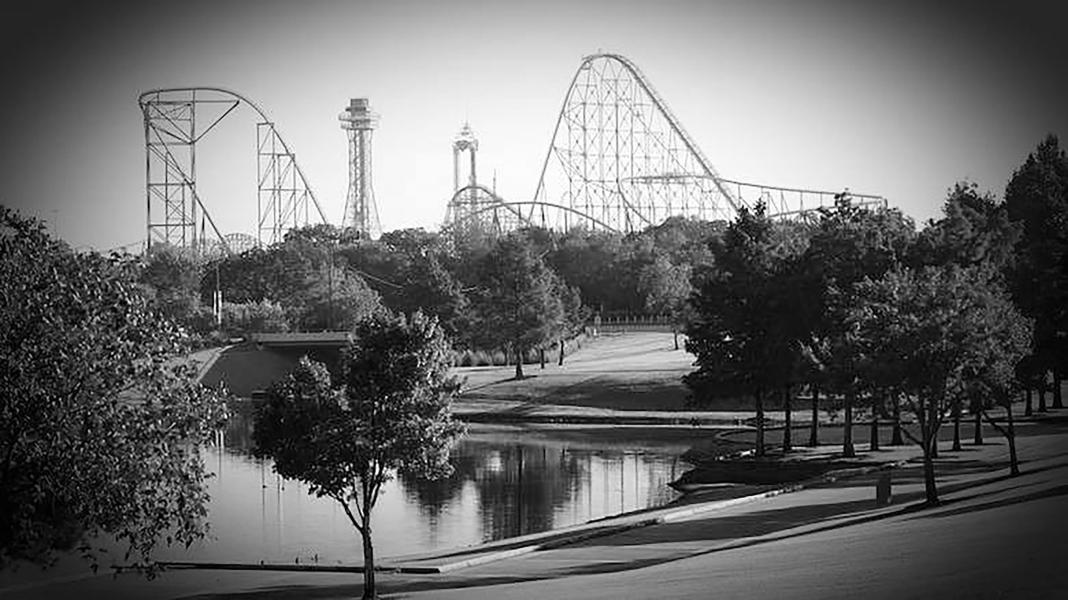 Six Flags Over Texas guests can enjoy scares of all kinds during Fright Fest, including a search for a playful ghost called Annie. [Image from Haunted Rooms.com}.
Six Flags Over Texas
2201 E Road to Six Flags / Arlington, TX / 76010
It's no secret that Arlington's famous theme park is a destination for thrills and chills during Fright Fest, but those in the know will also tell you that some of the park's spooky vibe originates from a haunted past. According to local legend, the ghost of Annie, a little girl who died in the early 1900s near Arlington's historic Johnson Creek area (which later became part of the park), is believed to inhabit a yellow house at the entrance to the Texas Giant, where she has been said to stroll the railroad tracks, turn the lights on and off, and wreak other forms of friendly mischief.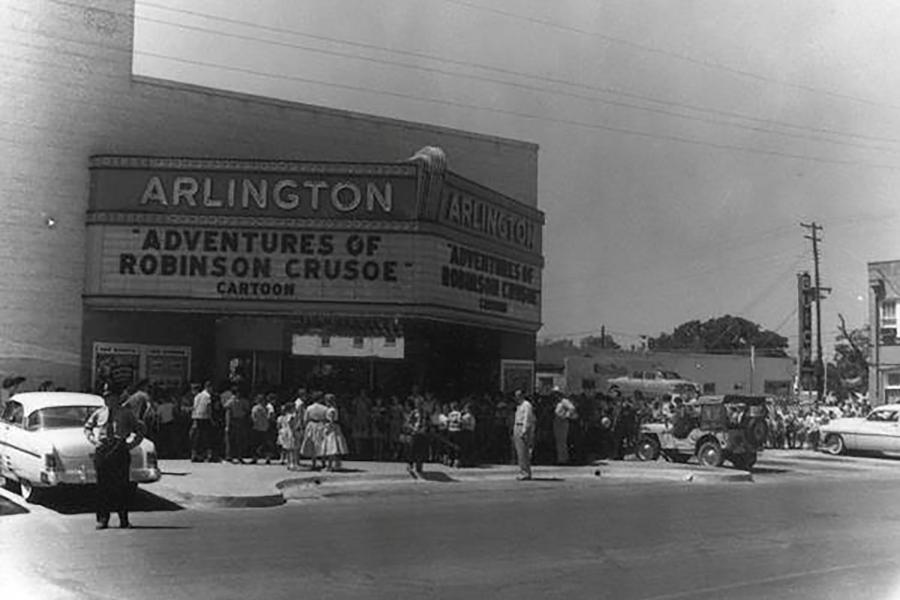 Arlington Music Hall in the 1950s. The venue's vintage marquee is still intact! [Image source unknown.]
Arlington Music Hall
224 N Center / Arlington, TX / 76011
In midcentury, the Arlington Music Hall was a glamorous destination for movie watching; since that era it's served as a live performance venue for some of the most legendary names in the music business. The spirits of the not-so-live are said to linger at the vintage venue as well, including a ghost named Fred who flips the theatre's seats up and down and open and closes doors—he's even been known to venture next door to Babe's Chicken Dinner House to wander around before mysteriously disappearing.  
Find out more about haunted places in Arlington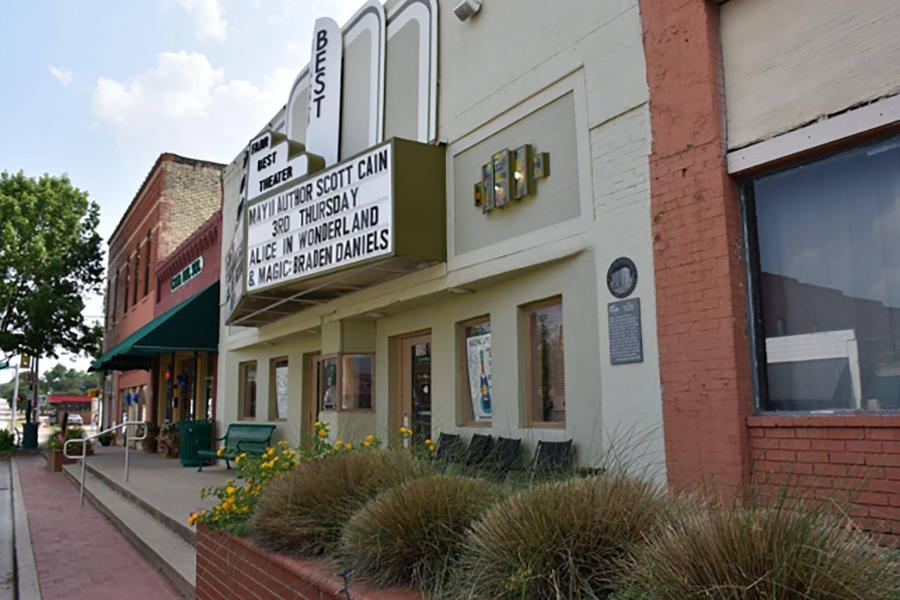 Known as a "gem of Mansfield history", Farr Best has been the site of movie screenings, special events, concerts and other live shows for more than 100 years. [Image from the City of Mansfield.]
Farr Best Theater
107 N Main Street / Mansfield, TX / 76063
It's no surprise that a theater with origins dating back to 1917 could claim at least one ghostly resident;  however, Mansfield's historic Farr Best Theater didn't begin to show signs of ghostly happenings until the venue's renovation a couple of decades ago.  Around that time, employees and theater patrons began to report spooky goings-on, including the reappearance of missing items and lights going off and on. Some believe the purported paranormal activity to be associated with a portion of an old Scottish pub that serves as the theater's concession stand; hence the nickname for the alleged ghost, McDougal.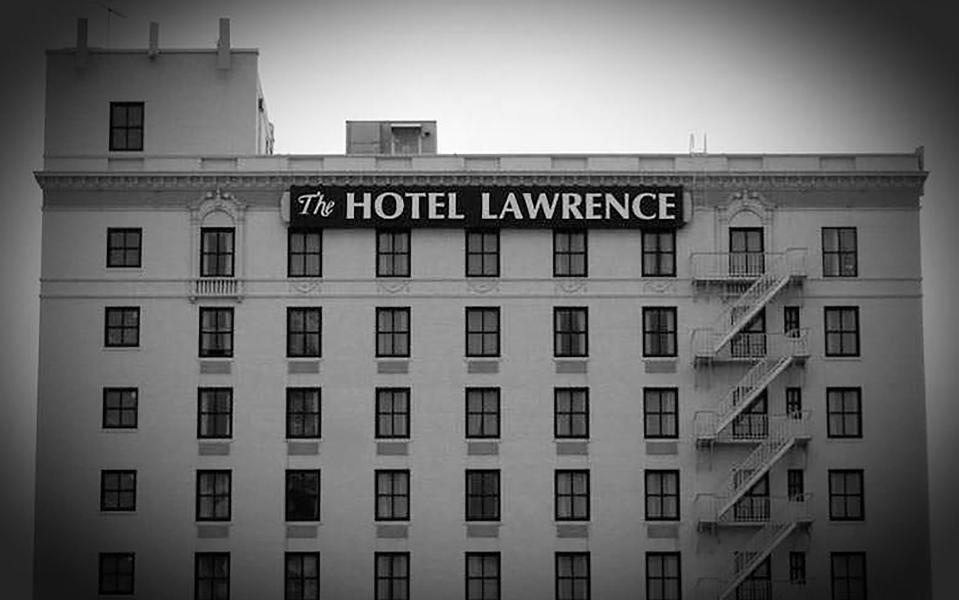 The Hotel Lawrence has long been a destination for ghostly goings-on in Dallas—especially on the hotel's 10th floor. [Image from hauntedrooms.com]
The Hotel Lawrence
(Currently the La Quinta Inn & Suites)
302 S Houston / Dallas, TX / 75202
Despite a re-brand into one of the most famous hotel chains in the world, Dallas's Hotel Lawrence can't escape its past as a ghostly destination in a city with no shortage of haunted sites. Local legend maintains that the Lawrence is haunted by the ghosts of murder and suicide victims who spent their last hours at the hotel in the earlier 20th century, and that these unsettled spirits are the reason that visitors have reportedly experienced cold spots, strange sounds, and spooky sightings over the years.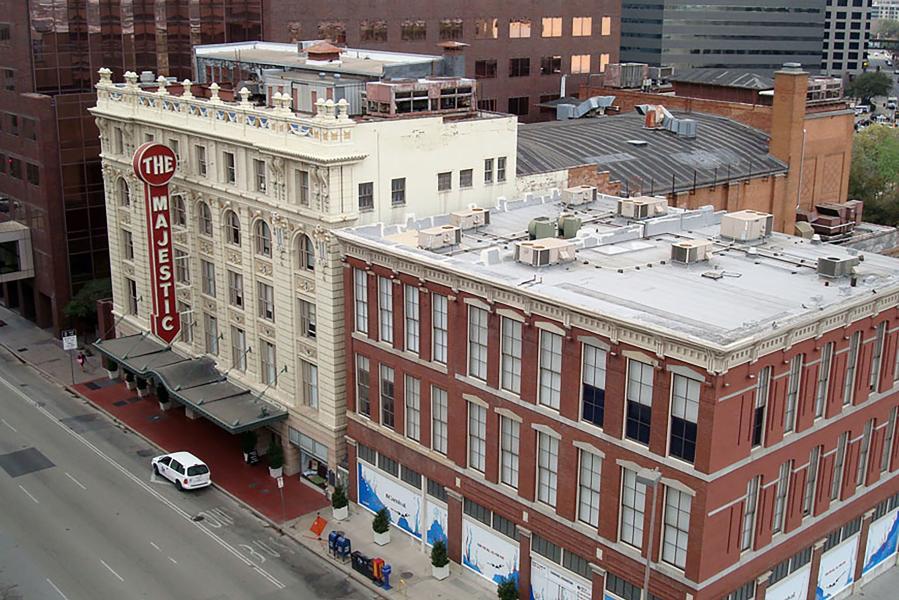 The legendary Majestic Theatre in Dallas is said to be haunted by more than one spirit, including that of its founder, empresario Karl Hoblitzelle. [Image from Wikipedia].
The Majestic Theatre
1925 Elm Street / Dallas, TX / 75201
Although there are a number of spots in Dallas that boast a cool vintage vibe, few rival the pedigree of The Majestic, which hosted the likes of Cab Calloway, Harry Houdini, Bob Hope, and Mae West back in the day, not to mention a number of movie premieres from Hollywood's golden era. Since then, the storied theatre has reportedly been the site of paranormal activity, including doors inexplicably opening and closing, mysterious footsteps, flickering lights, odd fragrances, and the appearance of an elderly man who disappears when anyone approaches him.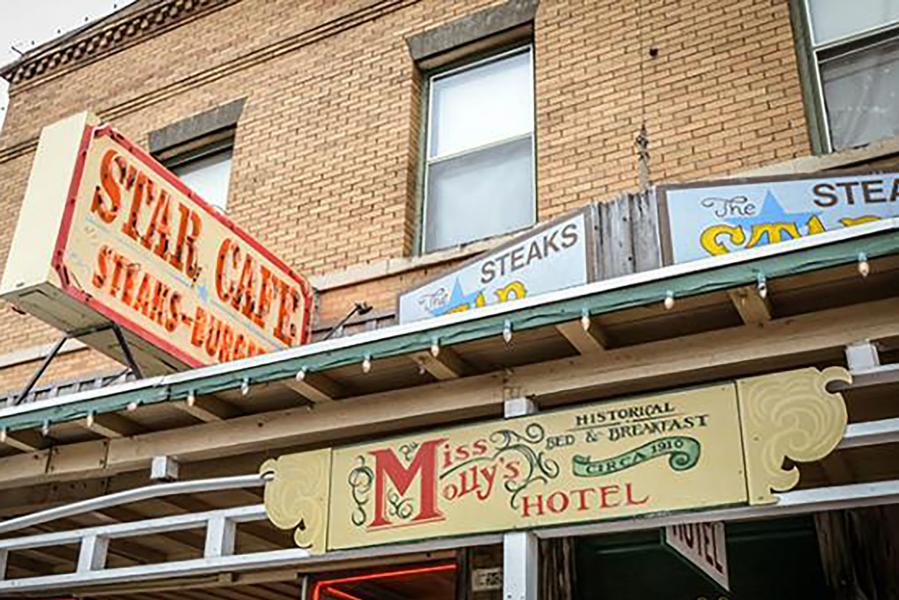 Miss Molly's is one stop on the famous Fort Worth Stockyards Ghost Tour, which also includes creepy check-ins at The Stockyards Hotel, the Cadillac Hotel, and more. [Image from the Fort Worth Stockyard.s]
The Fort Worth Stockyards
2501 Rodeo Plaza / Ft. Worth, TX / 76164
Famous the world over as the place "where the West begins", the historic Fort Worth Stockyard district is almost as well known for haunted happenings as it is for cowboys, horses, and cattle. One of the best known haunted spots on the Stockyards' popular Ghost Tour is Miss Molly's Hotel, a bordello turned bed-and-breakfast that's known for unexplained cold spots, creepy sounds, doors that lock on their own, and spine-shivery apparition sightings.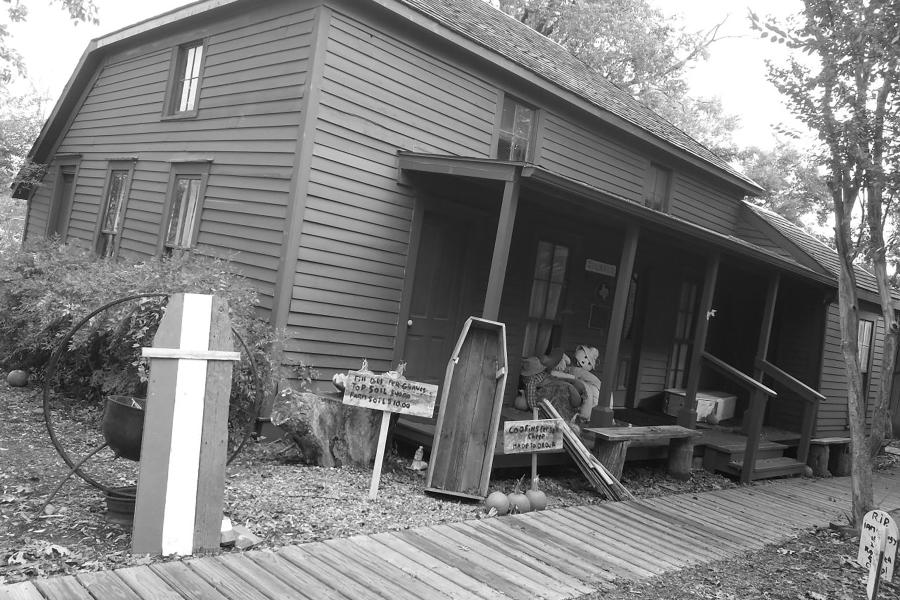 Visitors at The "Two Bit" Taylor Inn, one of several allegedly haunted Chestnut Square locations, have reported seeing the apparition of a Civil War soldier in the hotel's second floor window. [Image from History Around Us]
Chestnut Square Historic Village
315 S Chestnut Street / McKinney, TX / 75069
A mysterious lady in white, disembodied soldiers' voices, a swaying chandelier and other spooky phenomenon are said to be regular happenings in the historic downtown McKinney district, which hosts a flashlight-led Ghost Walk each year around Halloween. Local history experts attribute some of the haunted happenings to a tragedy that shook the Dallas suburb in 1913, when a wall between two downtown buildings collapsed and started a fire, killing eight people. (Read more about McKinney's haunted history in this Dallas Observer article. )