If you didn't know that Arlington, TX is the home to the largest Christmas decoration store in Texas, that probably means that you also about the magic that is Decorator's Warehouse—and that means that you're missing out on a one-of-a-kind shopping experience and the largest collection of holiday décor that you'll likely ever have access to.
To help you get ready for your first or next visit, let's take a look at a few cool facts about the colossal awesomeness that is Decorator's Warehouse: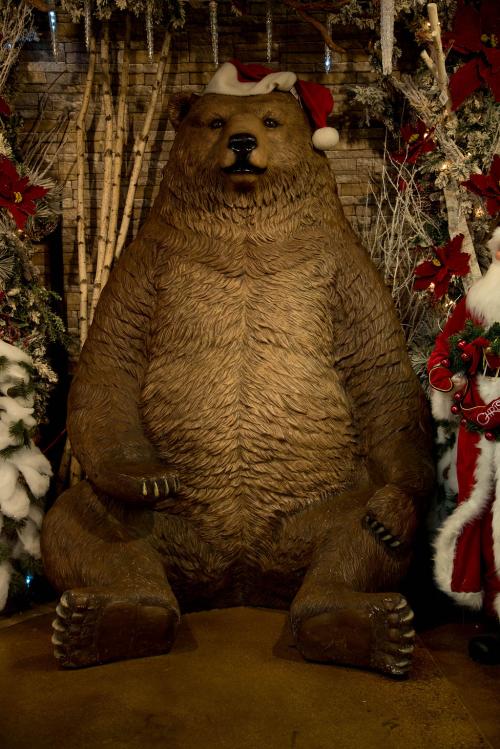 One: You're greeted by a GIANT BEAR
Where else in Texas are you welcomed by a giant, warm, friendly-looking bear? Here, that's where!
Two:  It's the largest Christmas store in the great state of Texas
We're not kidding—when you head to Decorator's Warehouse, you need to make sure you've got on comfy shoes and plenty of time to shop, if you want to get the most of the visit. To illustrate our point:
Decorator's Warehouse the largest Christmas decoration store in Texas and one of the largest in the world, sprawling over more than one acre of inventory.
Many Decorator's Warehouse vendors report that DW sells more Christmas trees each year than any of the other stores they work with. (DW's tree inventory includes more than 150 types of pre-lit trees, by the way, many reaching as high as 14-feet tall.)
Among the thousands of items for sale (besides Christmas trees) are tree accessories, garland, ornaments, wreaths, candy canes, gingerbread houses, ribbon, stockings, candles, Nativity sets, table runners, centerpieces, teddy bears, figurines, and tons of life-sized displays that will blow your mind—and tons more.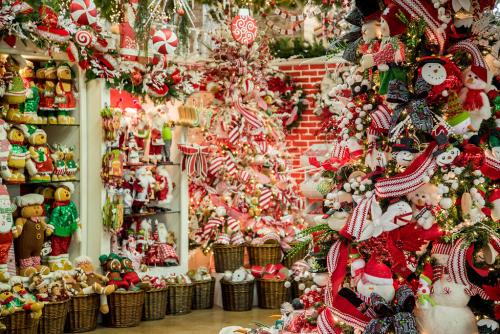 Three: The colors, the lights, the PRETTY THINGS!
Find the perfect shade of spherical ornament, the perfect style of lighting and the most to-die-for theme of Christmas holiday décor. Separated by theme and introduced usually by a giant sign, there's nothing like it around. With sections that truly speak to your style, whether it's rustic, traditional, religious, whimsical or one of the other themes housed within the store, you're definitely not running out of options on everything from tiny angels to giant angels playing horns.
Four: Decorator's Warehouse started in their garage almost 30 years ago.
Decorator's Warehouse is currently celebrating 28 years in business, and according to Kristen Black,  it all started with her parents, owners Dave and Kathy Hanson, selling ficus trees from their garage.  From there, it morphed into what it is today, an internationally-visited destination for Christmas décor lovers. We were told that just this week, former WWE star STING was spotted getting his decoration shopping on. Kelly Clarkson also used to shop here before her superstar days.
Five: As many as one million shoppers come through Decorator's Warehouse each year.
Anywhere from 500,000 to one million customers head to Decorator's Warehouse every year, hailing from around the corner and around the world: Warehouse staff report that over the years they've serviced shoppers from places as far away as Canada, Mexico, Europe, South Africa, and China.

Six: There's a small, enchanted forest of the most beautiful Christmas tree selections
The warehouse is one of the few holiday décor shops in the country to receive a Neuman Gold Tree Distributor designation, which is a big deal, because the Neuman brand trees are gorgeous, and a staple in some of the most outrageously ornate homes in the country. From snow-tipped to pre-lit, there's a forest within Decorator's Warehouse that not only smells of fresh pine but helps you envision yourself in a Christmas Claymation story fit for Rudolph and friends, minus the snow (…and the clay).
Seven: The tea room is a perfect pre or post-shopping crash zone
The charming Rose Garden Tea Room is a popular destination for weary shoppers and tea room aficionados alike. The romantically-lit rose Garden menu favorites include chicken salad, soup of the day, quiche, sandwiches, pumpkin bread—and especially their handmade pies, declared "absolutely delicious" by the staff. This addition is a must-check-out for those of you who plan on shopping all day, and even if you've got to run in for a bulb replacement on your tree, it's a nice hangout with yummy comfort food.
Eight: Pssst, it's got a man cave for those who just aren't into shopping
Decorator's Warehouse offers a comfortable lounge area and a 50-inch plasma TV that's perfect for parking or anyone who'd rather kick back with a good ballgame or their smartphone than shop.
Find out more about Decorator's Warehouse
Find more shopping options in Arlington