This past weekend I got to experience Dreamworks' unique pop-up holiday mall experience at the Parks at Arlington Mall. Journey to the North Pole with Shrek and friends and find out what it's like to journey to and inside Santa's workshop. I ended up taking one of my good friends and her two nieces, Angelina(10) and Sophia(11) who replied to a text message asking  "do you like Shrek?"  saying "love him."
Reservations aren't required, but oh so helpful!
We reserved a time slot and were able to walk right in. Mike Hathaway, the location manager, said at points walk up will have a short wait, but the best bet for families wanting the perfect experience is to reserve a time to see Santa and Shrek! Your reservation even gets a special keepsake boarding pass with your family photo on it. Reservations can be made here.
The photo ops!
Right in the front of the digitized Santa house, there's a huge 3D-rendering of Shrek, Fiona, and Donkey already posed and ready for your family to join. We took our own liberty to partake.
There's also the chance to meet Santa after the adventure part, but we'll get to that momentarily.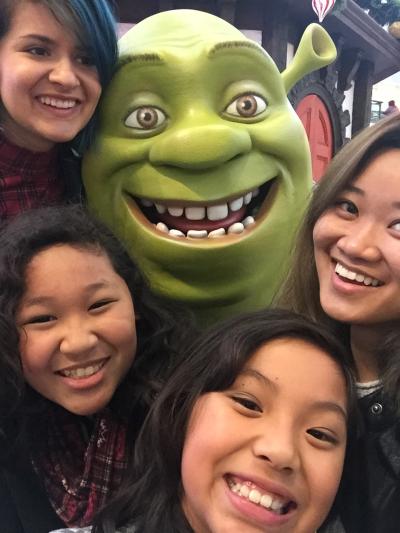 Helpful elves
We walked into the house and were immediately transported to a North Pole airport terminal. Decorated with luggage and a flight monitor, our friendly elf came in to break to us some hard news—our flight to the North Pole had been canceled! The good news? We were going to learn how to fly ourselves.
It's hands-on
So, our flight to the North Pole to see Santa was canceled? Big whoop! We went straight to pilot school and got our licenses (which you get to keep via digital file!). Once that was done, we were ready to press on.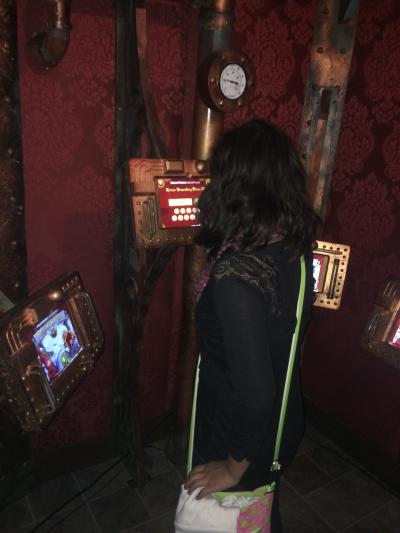 The adventure to Santa!
We were greeted by a friendly elf into our sleigh; it was time to take the ride of our lives into the North Pole following Shrek, Donkey, and Dragon close behind. Running roughly four minutes, this cute and exciting adventure was a hit with the kids. The sleigh was electronic, and although it didn't move, it vibrated and somewhat felt like you were flying.
The girls really enjoyed this part. They were ooooing, aaaaahhhing, and gasping in excitement at all the twists and turns.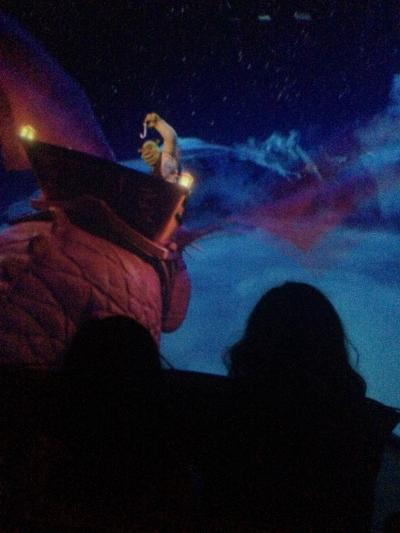 You get to make your very own (digital) gingerbread person!
Participants get to choose the type of cookie. I chose fudge and preceded to glam the heck out of my ginger lady. At the end she gets a cute digital stamp of authenticity as well as the name of the artiste. We weren't sure if you get to keep these, and they weren't in our photo files, but it was so much fun and creative nonetheless!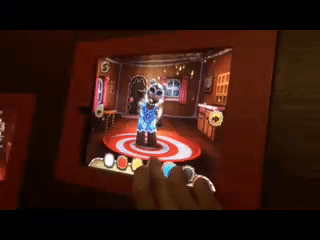 Our favorite part – SANTA!
Not only was Santa a great host, he was incredibly creative in posing with Sophia and Angelina.See case in point.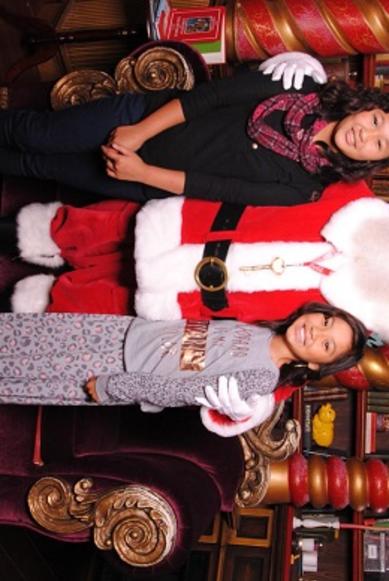 The photo packages – worth your time and money!
We all know how taxing mall Santa visits can be. One of the best things about this Adventure to Santa business is that you get to reserve your spot. No waiting time – you just get to walk in! Also included in the reservation is the option to pre-purchase your Santa packages. We got the basic explorer package, and there are two higher tiers of packages with more advanced photo options. Guests are welcome to visit Adventure to Santa without purchasing/reserving a photo package, but will be subject to wait time and availability.
It caters to larger groups
Eight to nine people can be accommodated on one sleigh ride, which is great news for large families and groups of friends who want to experience the Adventure to Santa together. Word to the wise though, any more people added that exceed the group amount over nine will need a separate reservation where they enter the experience separately.
Now, adventures booked online through December 5 will get a $5 discount!
When asked if they'd tell their friends about this, Sophia said, "Yes, they'd all be jealous." Sounds like a five-star review to us.