A lot of single types don't like Valentine's Day, but I'm not one of them. Years ago, I worked a side gig at a Hallmark store for extra cash, and the best part of the job (besides my discount and reading greeting cards when the store was slow) was working during Valentine's season—mostly because it involves three of my favorite things: pink and red imagery, teddy bears, and chocolate. Even though I'm not the most romantic person you'll ever come across, I was always touched (and amused) by the sheepish looks of the men who'd ask me to help them find something or ring up a mushy card.
To me, Valentine's Day is fun, especially when you don't take it too seriously. So, I thought it would also be fun to take a Valentine's Day look behind the scenes at some of my favorite spots in Arlington. Here's what Amy Evans, owner of Board & Brush; Connie Gauntt, owner of Gene Allen's Gifts; Valerie Landry, general manager of the Sanford House Inn & Spa; and Brandon Green, restaurant manager and chef at Ventana Grille (located at Tierra Verde Golf Club) had to say about V-Day: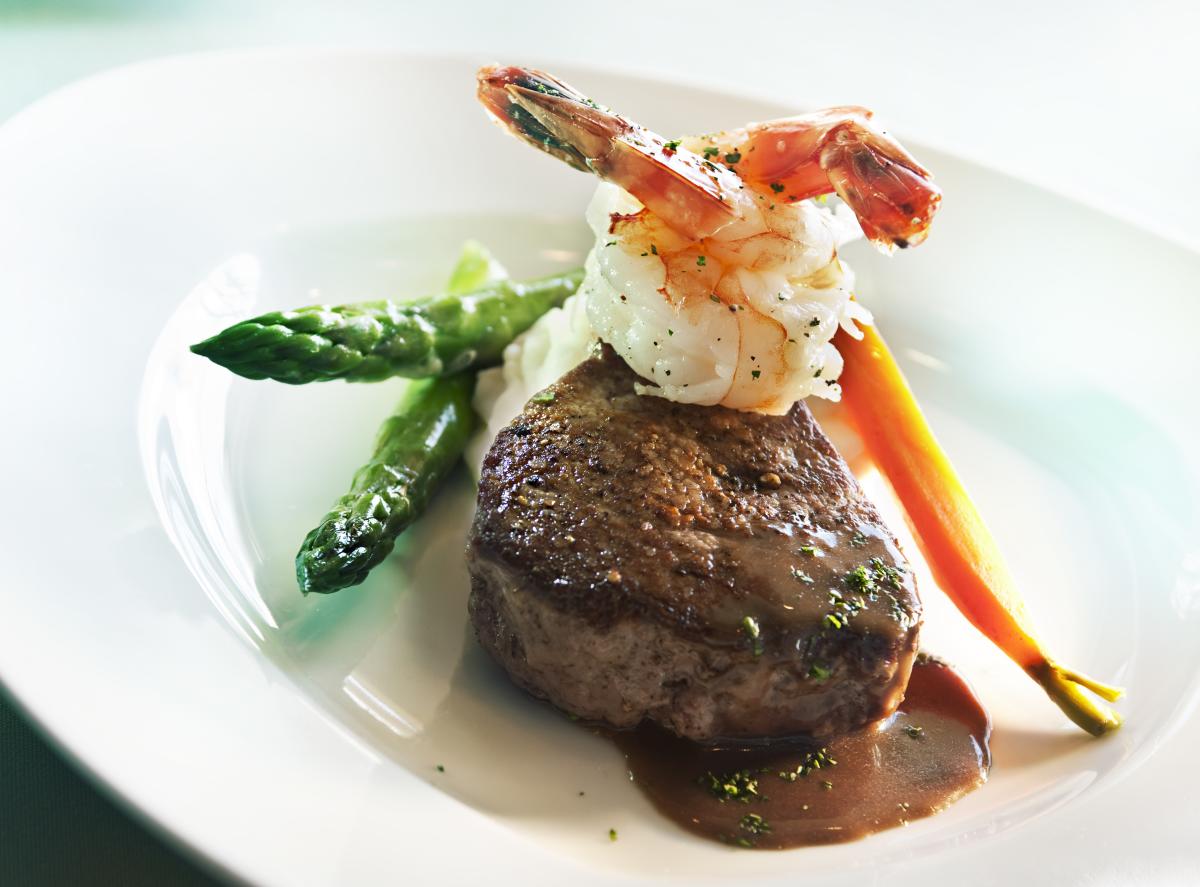 Restaurant 506 at The Sanford House Inn & Spa
If a guest or customer walked into your business on or before Valentine's Day and said "help, where do I start", what would you suggest?
Board & Brush: You need to reserve your seat in advance and let us know what design you would like to do. Everyone can do something different!  You don't have to worry about supplies, you don't need experience. We have instructors who will guide you through the process, and we prepare your wood and stencil in advance, so your experience is smooth. By the way: We are BYOB, so feel free to bring in your alcoholic or nonalcoholic beverages and snacks. There are many great restaurants in the area, such as Tipsy Oak, Grease Monkey Bar & Grill, Babe's Chicken, and Mellow Mushroom, where you can get takeout or have dinner before or after class. Also: If you are looking for a great Valentine's Day gift, consider one of our gift certificates."
Sanford House: "Dinner at restaurant506 [the Sanford's in-house restaurant] is a must, featuring a special prix fixe menu of items you don't regularly see on our standard menu. For something really romantic, consider booking a couple's massage at our spa, or staying overnight in one of our rooms to get away from work/kids/life. Also: If you're buying a gift, you might ask us about our spa packages—these can be purchased now but used any time."
Gene Allen's: "Check out our extensive selection of greeting cards, plush animals, jewelry and more—and don't forget that we have complimentary gift wrapping for purchases over $10. (Men love this.) Or try something sweet—our homemade fudge hearts are a Gene Allen's tradition for over 40 years! Also: All three of our stores have an old-fashioned, glass showcase candy department filled with over 30 flavors of Sweet Shop chocolate truffles and brags (nuts covered in caramel and chocolate), as well as bulk candy (by the pound or packaged up for grab-and-goes), an beautiful chocolate heart boxes from Godiva. We even have the 'Perfect Man', a chocolate-shaped man in a box!
Ventana Grille: "Our highlight for Valentine's is a four-course meal for $40, with select wine specials of $4 glasses and $12 bottles, as well as an amazing Love Martini (which is a strawberry martini). We'll also have a cellist performing live music. By the way: If you can't make it on Valentine's Day, consider coming to see us on one of our 'Date Nights', when we offer a special three-course meal for two."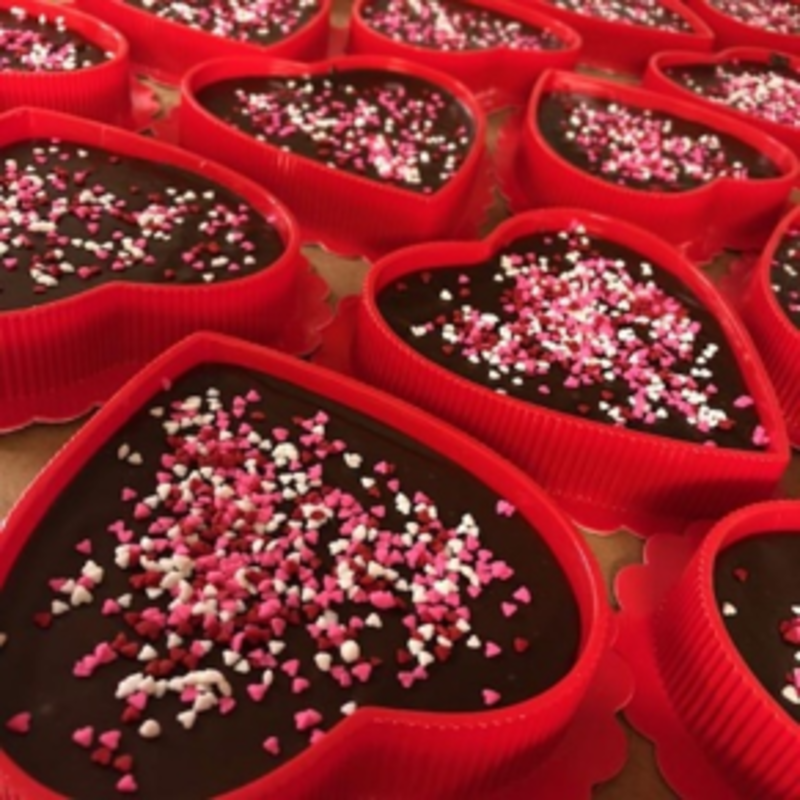 Gene Allen's famous fudge hearts
Any funny stories to share from past Valentine's Days?
Gene Allen's: "We have a lot of experience and we truly enjoy helping our male customers who come rushing in with the 'deer in the headlights' look. They have no idea where to start, but by the time they leave they are so proud of themselves for finding the perfect card and gift."
Ventana Grille: "One year a couple came out to have a lovely dinner, but unfortunately they were arguing by the time they arrived. It got to the point to where other couples noticed and ordered more wine as they watched the entertainment. In the end, the lady ended up leaving the guy by himself and he had to figure out how to get home (and as a kicker, his cellphone was dead, and they didn't live nearby)."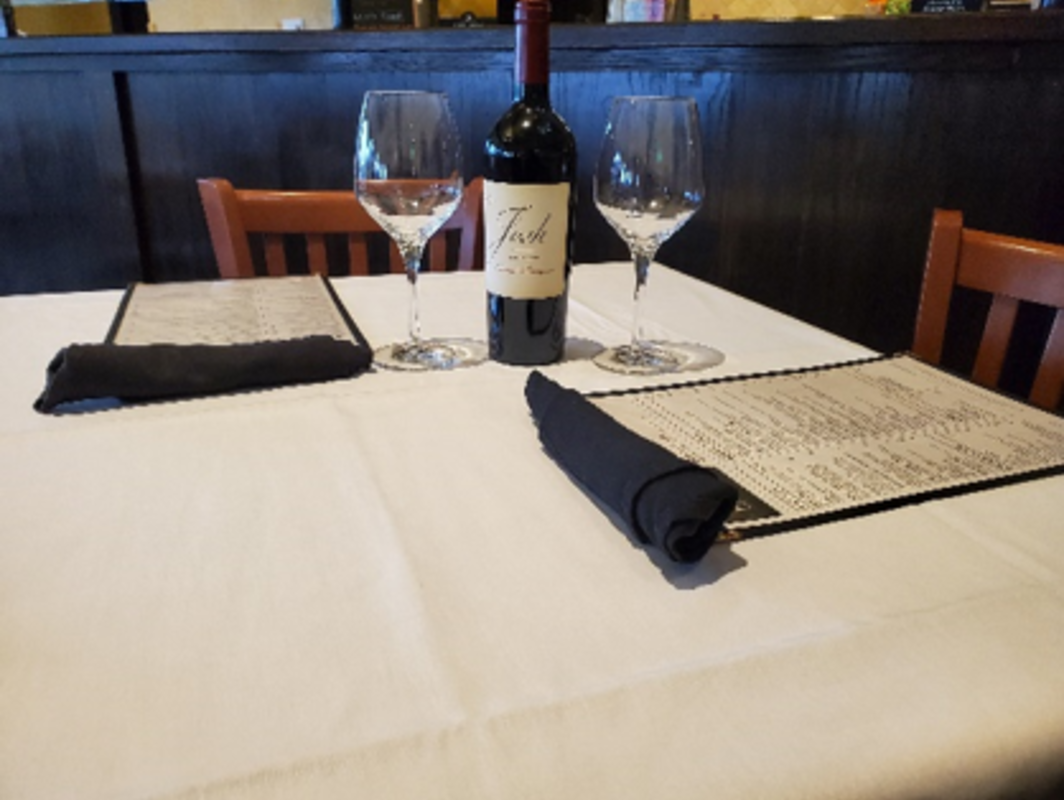 Ventana Grille at Tierra Verde Golf Club
What does Valentine's Day look like for your business?
Board & Brush: "We start planning about a month in advance. We have a buy one, get one half-off sale and can seat 12 couples or 24 projects on Friday and Saturday nights."
Sanford House: "We actually start planning for Valentine's Day around Thanksgiving, and typically have the menu finalized by New Year's Eve or shortly thereafter. We're already completely booked for Valentine's Day this year and are booking up for the 13th and 15th as well."
Gene Allen's: "We start planning in October, and we have our stores decorated and ready at the beginning of the year. However, Valentine's is a pretty last-minute holiday—the true shoppers don't usually come in until the week of Valentine's. As far as staffing, it's 'all hands on deck' the 12-14. We stay open late the two nights before Valentine's, and then we stay open late on Valentine's Day if we need to."
Ventana Grille: "Valentine's is the beginning of the busy restaurant season for us, and we can work as late as 11 p.m. that night. We normally start planning the menu around Thanksgiving."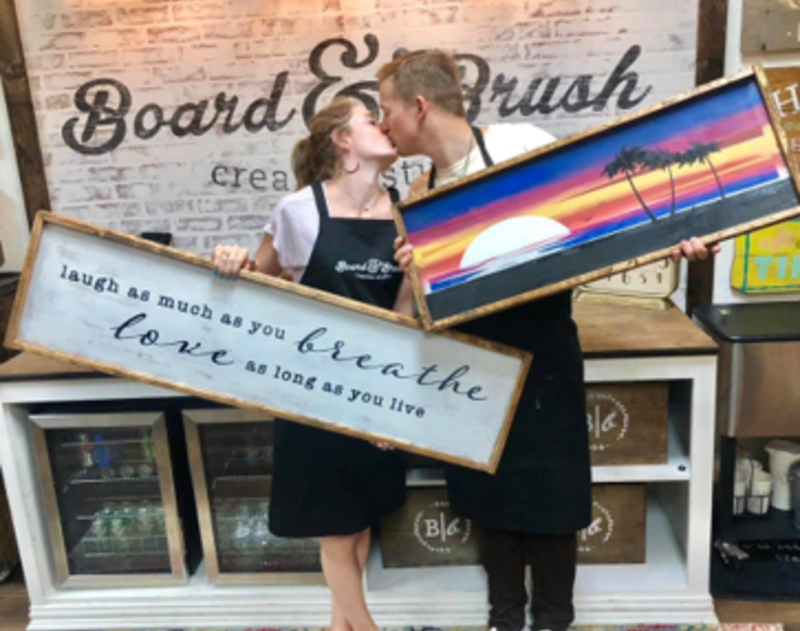 Board & Brush in Urban Union
What do you like most about Valentine's Day at your business?
Board & Brush: "We love Valentine's Day because it gives us a chance to have couples in the studio, where we can show them how to create their own 'wall worthy' piece of customized art. It's very satisfying and we have a lot of fun—we've had people visit us on their first date, and we've even had proposals in our studio!"
Gene Allen's: "It's always a fast and furious few days, but we have so much fun helping our customers and giving them the true 'Gene Allen's experience' that we've been offering for over 54 years!"
Sanford House: "We love interacting with our guests and helping them create memories. Our guests are so thoughtful for one another – it's beautiful to see and hear the love that is shared. We LOVE love!"
Ventana Grille: "We enjoy bringing loved ones together for a memorable culinary experience!"
See other places to woo your boo for Valentine's Day
Arlington's most decadent desserts