Bright colors. Bold lines. Big. That just scratches the surface of the Knox Martin: Living Legend exhibit at the Arlington Museum of Art. Looking for socially distant and A/C filled things to do? Be sure to add this to your list. Located in Downtown Arlington, the museum is open and spacious, which is great for seeing huge paintings and social distancing. This exhibit is only here until October 11, so make sure you put it on your calendar!
TIP: You can buy your tickets online at the Arlington Museum of Art website. This cuts down on in person contact, and you can plan your visit in advance.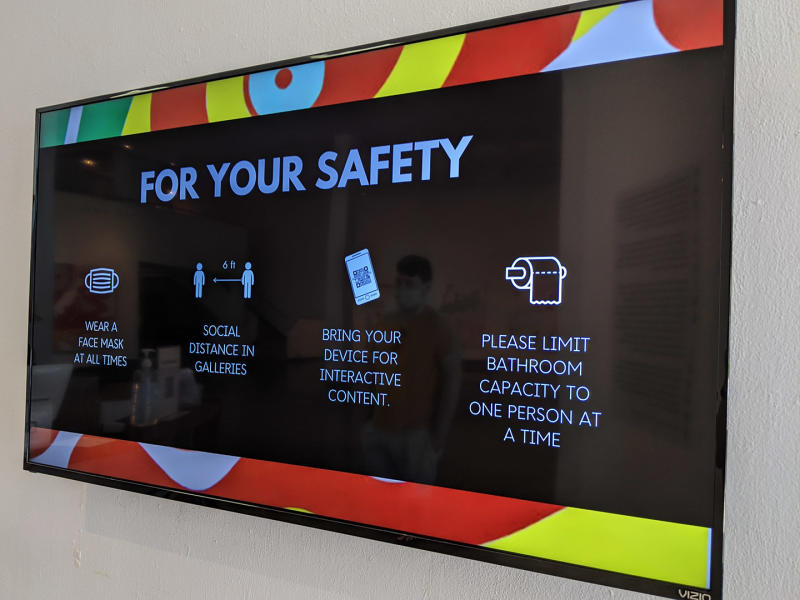 Right away, we were met with friendly volunteers to check in (just tell them you bought tickets online and what kind: adult, senior, student or kid) and this awesome reminder for health and wellness guidelines. The volunteers were wearing masks and the front table even had hand sanitizer and masks – if you forget yours at home!
After a quick, contactless temp check, they showed a short presentation about Knox Martin and abstract expressionism (the style of art in the exhibit). The museum makes the visit enjoyable for everyone, from the scholarly artiste to the casual observer. Even kids can have fun taking in the bright colors and massive shapes.
The series "SHE" is filled with layers of color and lines that take your eye across the canvas. Even if you don't see yourself as an "art person" the towering paintings and striking colors really cheer you up and have a summer feel. Another interesting thing, as the exhibit title states, Knox Martin is living and still creating. A lot of times when I think of art, I imagine artists from some distant time, but these were made by someone very much alive who has impacted and continues to impact the art community.
We spent about 45 minutes between the first and second floor. (No worries, they have stair and elevator access.) It was just the right amount of time to take everything in and work up an appetite for a post-museum snack. The whole atmosphere is very relaxing – you can take your time or make it a quick visit. It's also so spacious we could easily social distance. Plus, A/C. That's just the icing on top.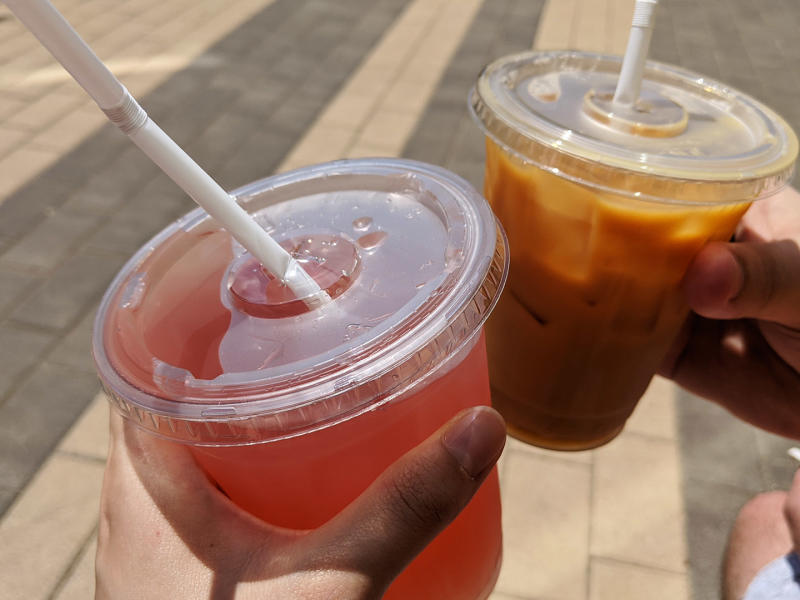 TIP: Get some pre/post museum snacks just a short drive over. Inclusion Coffee has a variety of cool drinks and pastries or chill out with some frozen treats at Rita's Italian Ice & Frozen Custard. If you're around during lunch or supper, Kintaro Ramen is next door to them and has mouthwatering, did-I-just-eat-that-whole-bowl kind of ramen.
Don't miss out on some beautiful outdoor murals and Instagram-worthy spots nearby! Just down the street, Theatre Arlington has bright murals on both sides of the block. Across the street from the museum, you can practice your ballet in front of "En Pointe" behind Miss Persis Studio of Dance.
Find restaurants in Downtown Arlington