Keeping your social media feed on fleek is a vacation must-do. We're going to let you in on some of the best places in Arlington with help from a very special (and recognizable) guest to get that Insta-worthy influencer-level selfie photo that will guarantee a double tap. Don't be rude – share those photos with the world on #NationalSelfieDay for your comeback story. Scroll through the gallery to see Kim's favorite spots.
Theatre Arlington  I  305 W. Main St. Arlington, TX 76010
Theatre Arlington, located in the heart of Arlington, Texas in the Downtown Cultural Arts District, has provided the community with high-quality, award-winning theatrical productions to more than 30,000 patrons each season. Before catching a show, Kim stopped for a paparazzi photo in front of mural on their outer wall.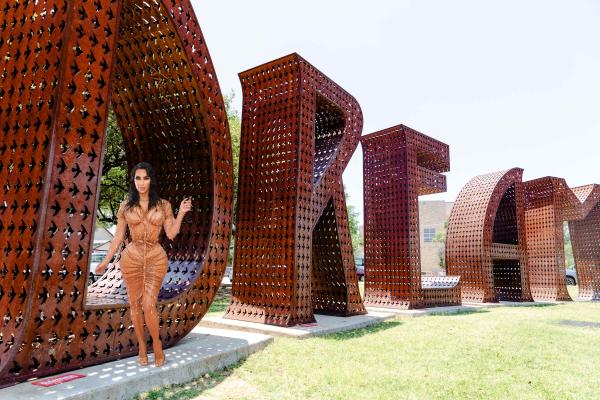 Dream Sculpture  I  200 W. Abram Arlington, Texas 76010
Arlington is the American Dream City, so it's only fitting that a physical reminder stands tall and proud in Downtown. The letters are constructed of heavy sheet-metal steel, with cutouts of flying birds. Achieving your dreams comes with drip, which is why Kim decided to re-wear her 2019 Met Gala fit. It's also her tribute to the late fashion designer Thierry Mugler who designed her outfit – may his legacy fly on like his dreams.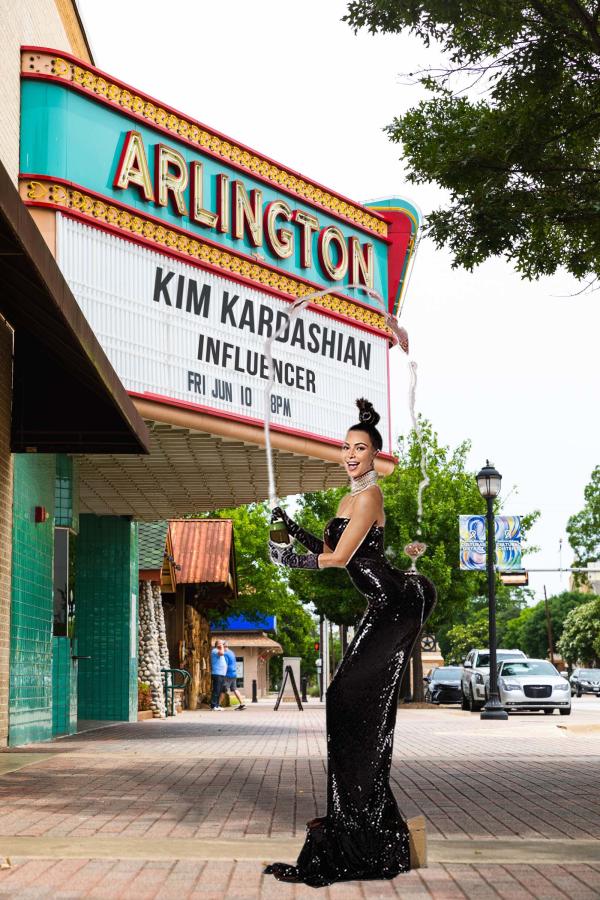 Arlington Music Hall  I  224 N. Center St., Arlington, TX 76011
Pop the bubbly because Kim did! Grab a quick shot in front of the Arlington Music Hall's marquee before a show. On the side of the Music Hall, you can find a brightly colored Howdy mural to welcome you to Arlington.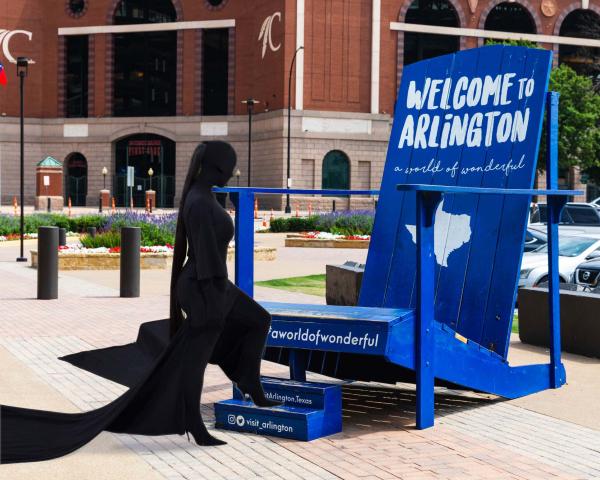 World of Wonderful Chair at Globe Life Field North Plaza  I  1600 E Randol Mill Rd. Arlington, TX 76011
Re-wearing her iconic 2021 Met Gala look, Kim is ready to get her photograph to show off being in a World of Wonderful. You can sit (or stand) in our World of Wonderful chair at Globe Life Field too – just be sure to follow and tag us as the steps show.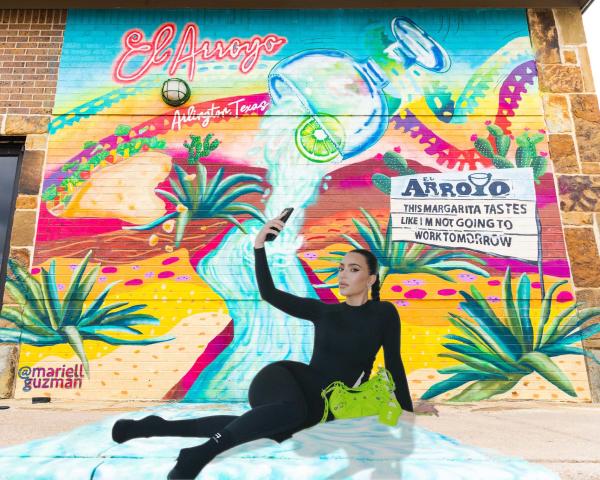 El Arroyo  I  5024 S Cooper St, Arlington, TX 76017
Grab your selfie before you eat and drink (for best viewing purposes). While Kim did in black Balenciaga, we don't recommend a full black outfit – cause it's summer in Texas. You can also take a selfie with their sign out front – every day brings a new change to their witty marquee sign.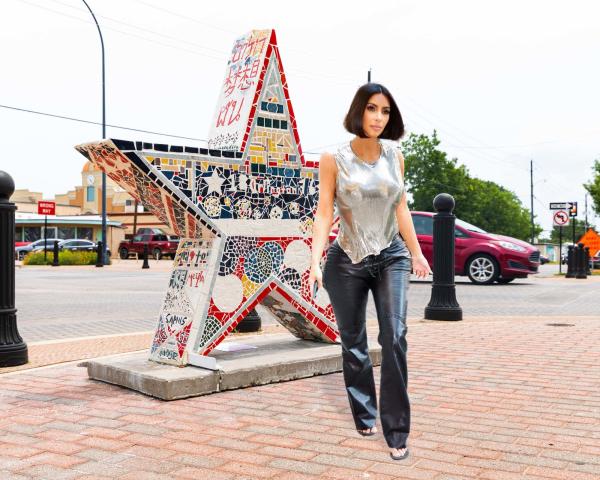 Stars of Texas  I  Find All 20+ Stars
Go on a scavenger hunt and find all 20+ star sculptures throughout Arlington! Kim stopped by "The Dream Lives On" star sculpture. Check out this map from the City for all the different stars and their locations throughout town.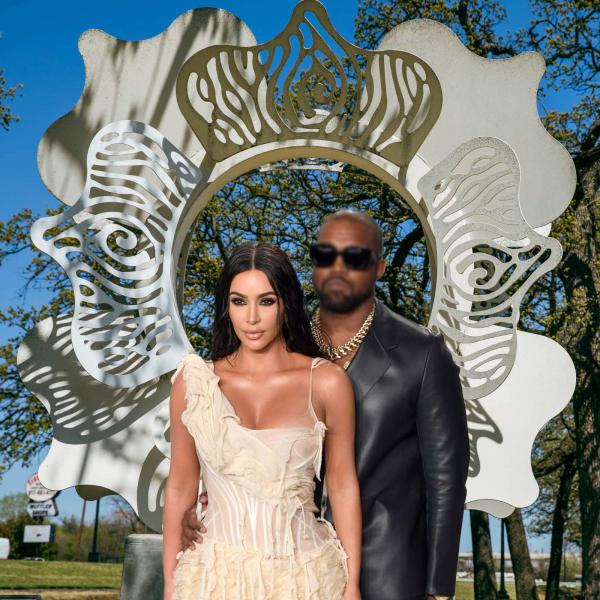 Meadowbrook Park  I  1299 Golf Dr, Arlington, TX 76010
Located just one mile east of downtown Arlington, The Meadowbrook Sculpture Garden is the artistic focal point of historic Meadowbrook Park, Arlington's first city park and its first municipal golf course, both of which opened in 1924. "Leave Your Mark" is an eight-foot white rose sculpture that incorporates what looks to be a human "mark," fingerprint patterns. Though it appears delicate, the sculpture weighs in at a hefty 1,400 pounds. Kim is photographed here with a dude named Ye.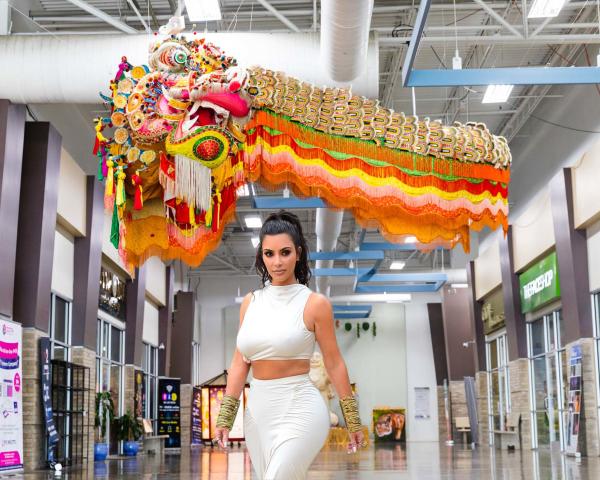 Asia Times Square
The Teletron building at Asia Times Square is always full of colorful objects hanging from the ceiling for a perfect backdrop. Kim is pictured with a dragon strung from the ceiling, in preparation for the upcoming National Lion Dance Competition at the Asia Times Square Grand Ballroom on Saturday, June 25.
---
Be sure to tag your selfies in any of these spots with #myarlingtonselfie2022 for #nationalselfieday on Tuesday, June 21.