Fall in the Lone Star State wouldn't be the same without our beloved State Fair of Texas®, and the fair wouldn't be the fair without cotton candy, candied apples, funnel cake, and an annual lineup of over-the-top (and mostly fried) menu items. As we head into the fair's last week, here are the dishes on my need-to-sample radar:  
Deep Fried Seafood Gumbo Balls
2022 Big Tex Choice Winner: "Best Taste - Savory" and "Most Creative"
From Gourmet Royale (Greg Parish)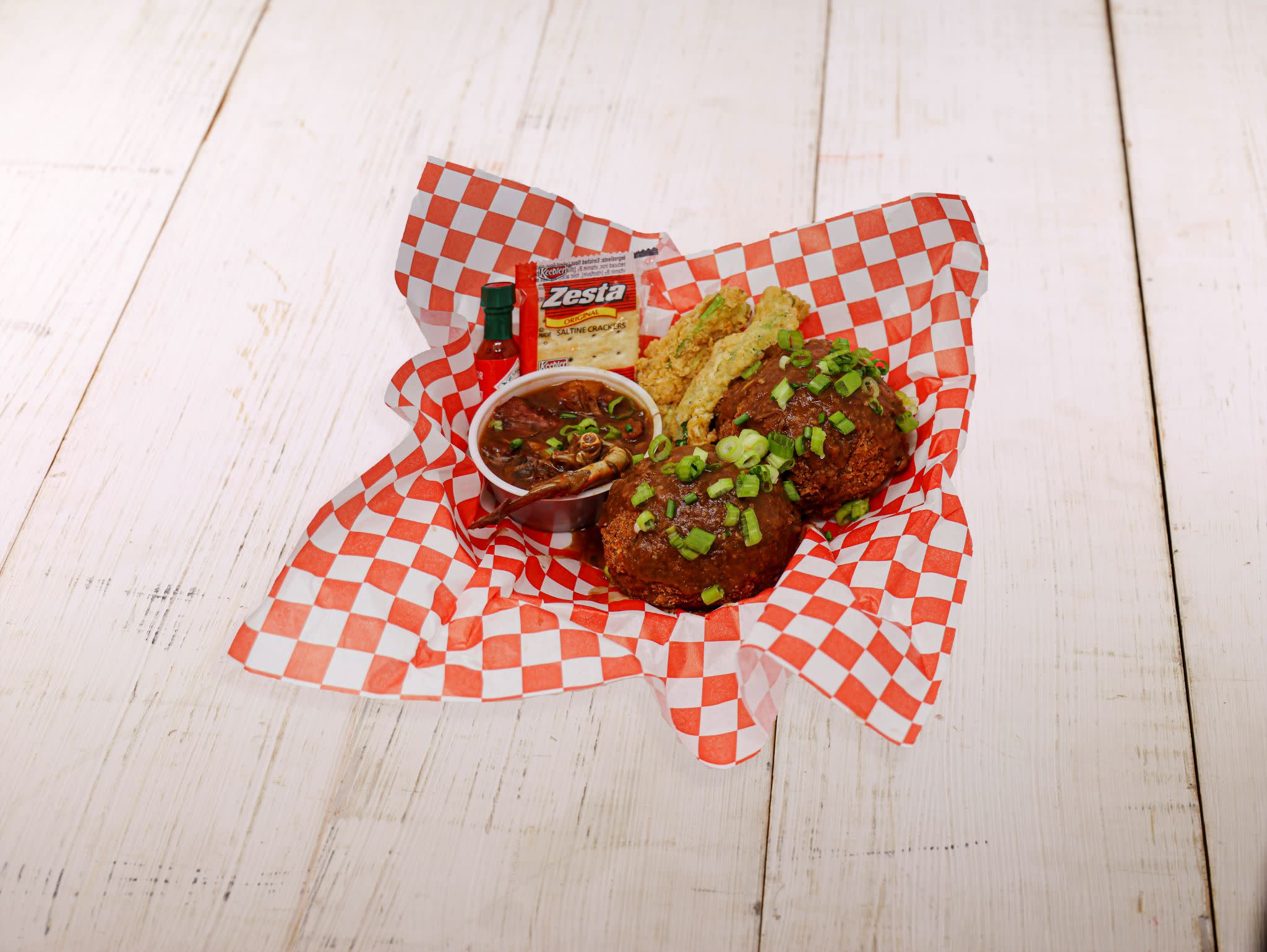 Deep Fried Gumbo Balls - from Gourmet Royale
Although I'm a Cajun/seafood fan, the Deep Fried Gumbo Balls' touching backstory is the main reason this item tops my 2021 must-try list. Not only did the gumbo balls pull off the rarely-achieved feat of bringing home double honors at this year's Big Tex Choice Awards, this history-making entry hails from a family that has worked for the fair for decades; the family matriarch, Norma Parish, passed away shortly before her son's dish made it to the award finals. 
The Deep Fried Gumbo balls begin with a roux (sauce) that "represents the true essence of New Orleans," then adds Gulf Coast shrimp, stewed chicken, blue crab meat, and andouille sausage, all rolled in a cracker-and-breadcrumb batter and served with a side of dark gumbo roux, chicken fried okra spears, crackers, and hot sauce. Here's where to find 'em           
Bag of Eggrolls
New in 2021
From Crunchies Eggrolls and More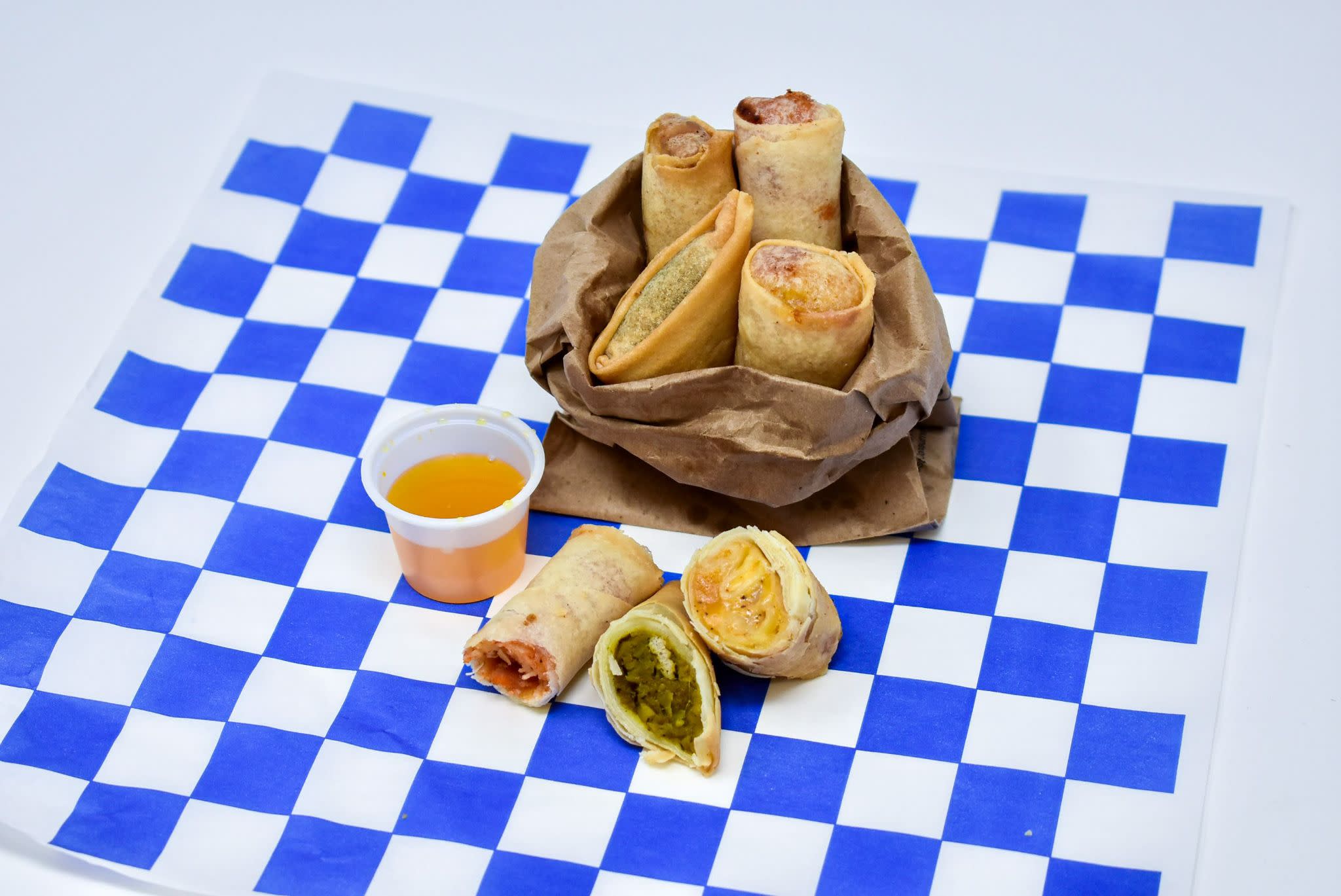 Bag of Eggrolls - from Crunchies Eggrolls and More
I have a bit of a sentimental attachment to egg rolls, because I associate them with a long-departed favorite lunch destination from my long-departed high school days...but like everyone else, I also like egg rolls because they're yummy and fun to eat. The state fair egg rolls sound like they deliver in both categories,  promising a "Texas-sized taste" as well as a variety of flavors: "original" (I assume this refers to a traditional egg roll experience), mac and cheese, pizza, and samosa. Here's where to find 'em  
 
Texas Fried Fritos® Pie
From Bert's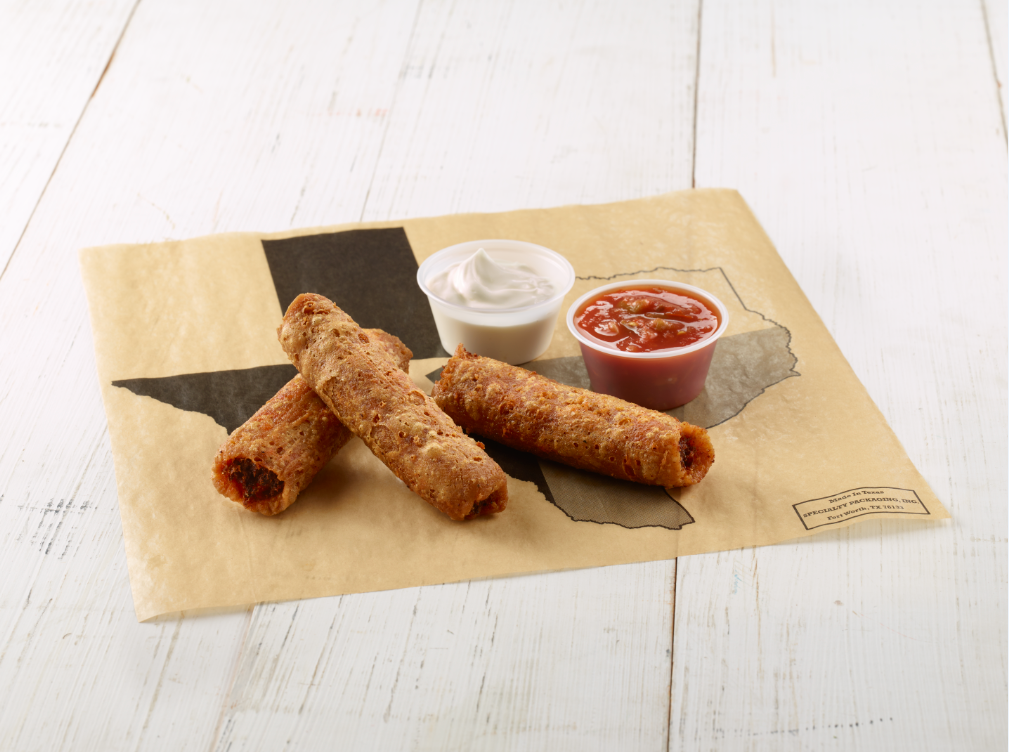 One of my guilty pleasures is a big ol' bowl of Fritos topped with chili, so if you're looking for me at this year's Texas State Fair, head to the nearest Bert's concession stand.  A returning favorite (and the 2010 Big Tex "Best Taste" winner), this comfort food creation serves up "a generous portion of savory Texas chili and a hint of sharp cheddar encased in everybody's favorite corn chip", which is then "fried to a golden-brown perfection...transporting you back to the golden age of fair food." Available at Bert's concession stands throughout fair grounds - check out the fair's visitor's guide or head to a guest relations booth on site to learn more.  
Texas Pumpkin Poke Cake 
2022 Best of Big Tex Semifinalist - "Sweet"
From Michelle Edwards (located at Highland Park Soda Fountain)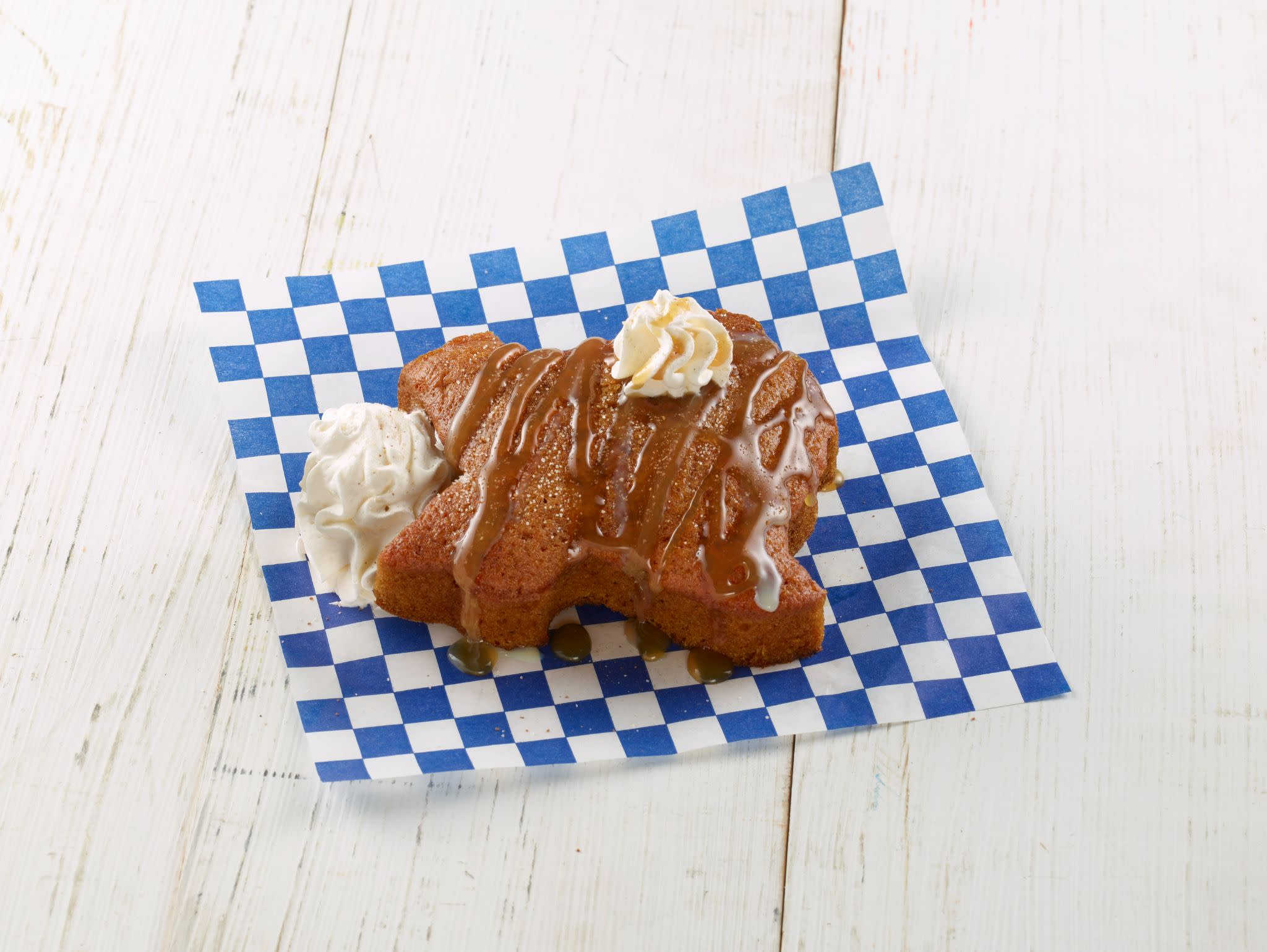 Texas Pumpkin Poke Cake  - at Highland Park Soda Fountain
Pumpkin cake is always tasty, but when it's cooked in the shape of Texas and soaked in a "finger-licking, gooey vanilla glaze and silky caramel" then finished off with whipped cream and a "secret" spice, you know it's going to be extra satisfying. Here's where to find it   
Fernie's Fried Toffee Coffee Crunch Cake
2021 Best of Big Tex Choice Semifinalist - "Sweet"
From Winter Family Concessions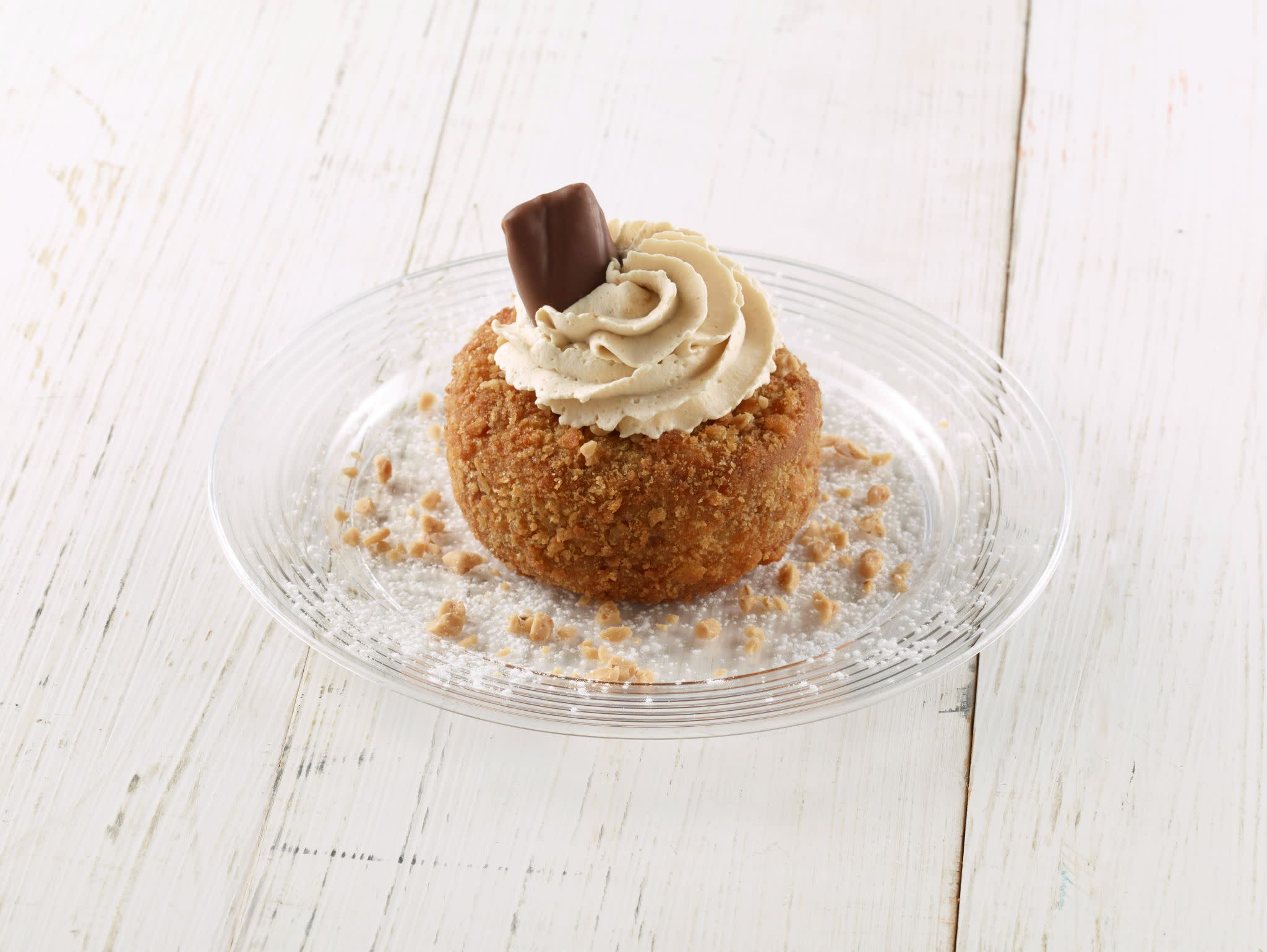 Fernie's Fried Toffee Coffee Crunch Cake - from Winter Family Concessions 
This rhyming confection is another dish with extra points for backstory, since it was created by no less than the family that originated the classic State Fair of Texas funnel cake. The Winters' new offering features a glazed cake doughnut base buttered and combined with English toffee, almonds, and custard, which is then panko-and-cookie crumb breaded, fried, and topped with a hint of powdered sugar, toffee, and coffee-flavored whipped cream. From Dallas Morning News food writer Sarah Blaskovich: "Fernie's Fried Toffee Coffee Crunch Cake tastes like your grandma's best cake recipe, but with a toss in the fryer for some fair-food fun."  Here's where to find it  
Texas BBQ Brisket Banh Mi
2021 Best of Big Tex Semifinalist - "Savory"
From BW's Fried Ribs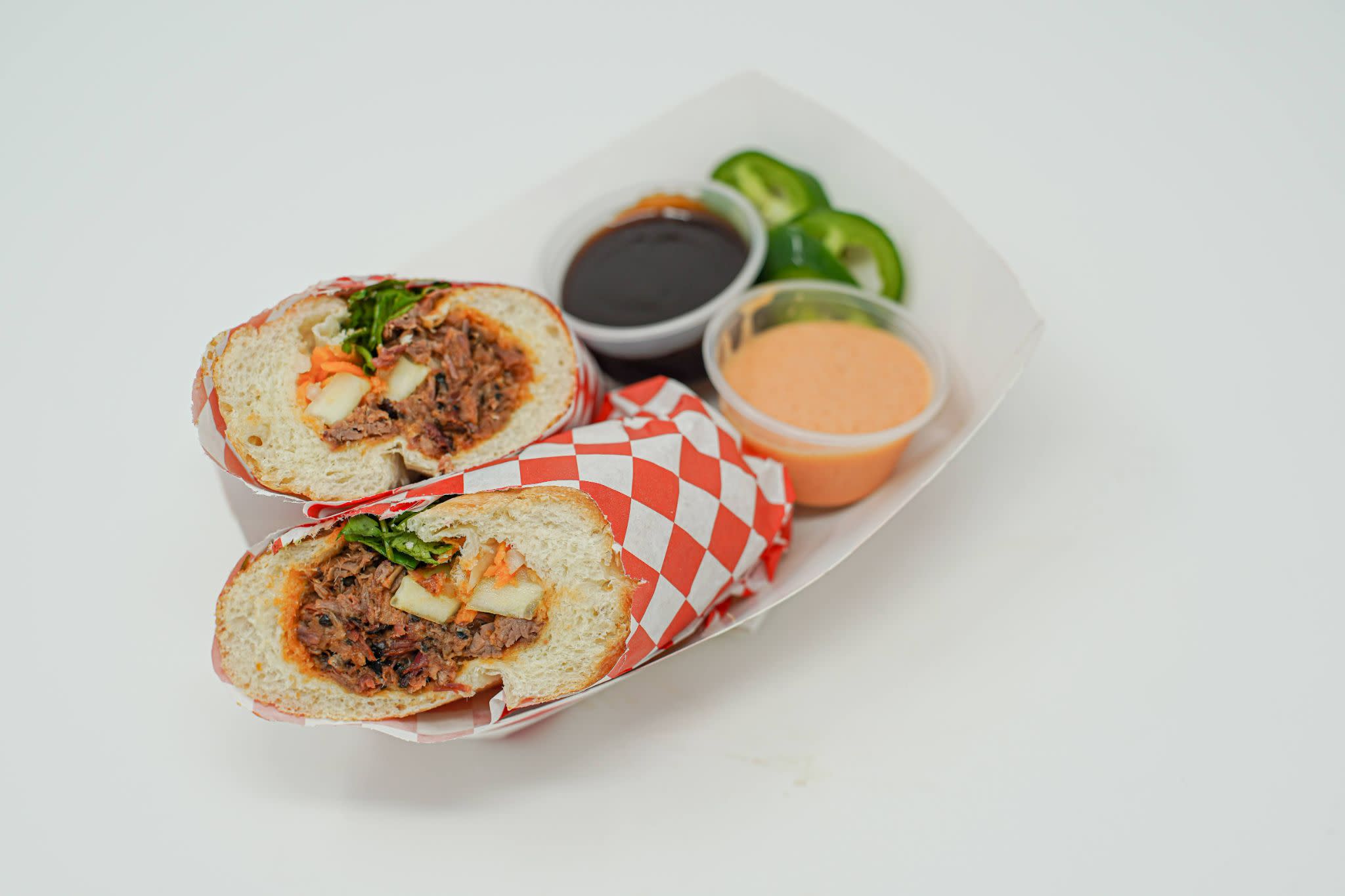 Texas BBQ Brisket Banh Mi - from BW's Fried Ribs
The friendly culture collisions of this Texas-twisted banh mi appeal to me, not to mention the sandwich's description: it's served on a "toasted Vietnamese baguette topped with chopped smoked brisket lightly coated in BBQ sauce," and also includes cilantro, cucumber, homemade pickled radish and carrots. Where to find it  
Twice-Fried Albondigas 
2021 Best of Big Tex Semifinalist - "Savory"
From the Garza family (available at Deep Fried Love and Ranchero Norteno.)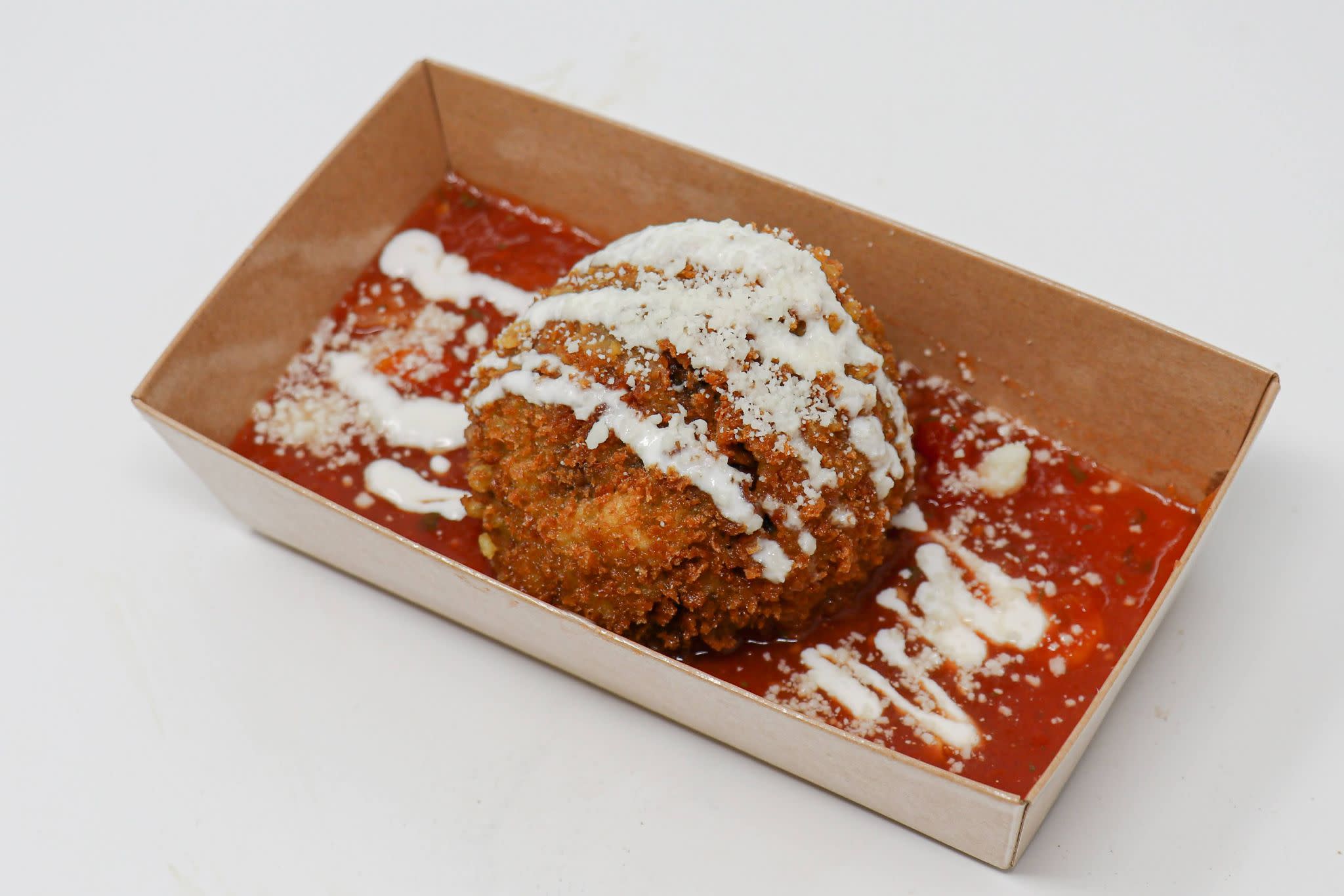 Twice-Fried Albondigas - from the Garza family
If you're not familiar with the term: albondigas are spicy Mexican meatballs, and BW's Fried Ribs offers a tasty-sounding variation on a theme by rolling their meatballs with browned rice, chopped vegetables and seasonings, frying them up, then dipping in bread crumbs and frying them again. "Biting into an Albondiga will be a culinary surprise of flavors reminiscent of our abuelitas' kitchens." Finished with a  Crema Mexicana and a sprinkle of cotija queso. Here's where to find 'em   
Happy eating! By the way, here are a few links to help you have tons of State Fair fun: 
State Fair FAQs and COVID-19 Safety    
Download a State Fair Visitor's Guide    

All images courtesy of the State Fair of Texas®