I'm always amazed by how many hidden opportunities there are in and around Arlington to enjoy nature, like at River Legacy or the Southwest Nature Preserve. It's hard to believe that these green spaces are located just minutes from places where the Rangers play and rollercoasters dot the sky, but it's true. When you just need a break on a weekend to stop and breathe in some outdoor air, there are options all around that make it possible! Take a look at these two destinations and add them to your outdoor fun to-do list.
Storm Farms
3010 S. Bowen Road
Arlington, TX 76016
Storm Farms is located in Dalworthington Gardens, a pretty and pastoral section of Arlington that is one of those "best kept secret" areas known mostly to super-savvy locals or "old-timers."
In addition to enjoying the fresh air, you can pick your own strawberries (Storm Farm's most famous crop) or purchase pre-picked produce, fresh salsa, herbs, and honey, depending on what's available and in season. Everything is organic, fresh from the ground or vine, and bursting with color and flavor. It's a chef's and fruit and veggie lover's paradise! I mean, seriously, there is nothing like a tomato that actually tastes like a tomato, freshly picked, a little warm from the sun, with just a hint of sweetness and dripping in goodness to pair with some mozzarella, oil and a balsamic fig vinegar. (By the way, if you need some of the best oils and vinegars ever, visit Bella Vita Gourmet Olive Oil and Balsamic located in Gracie Lane. The way you cook will change forever! YUM!)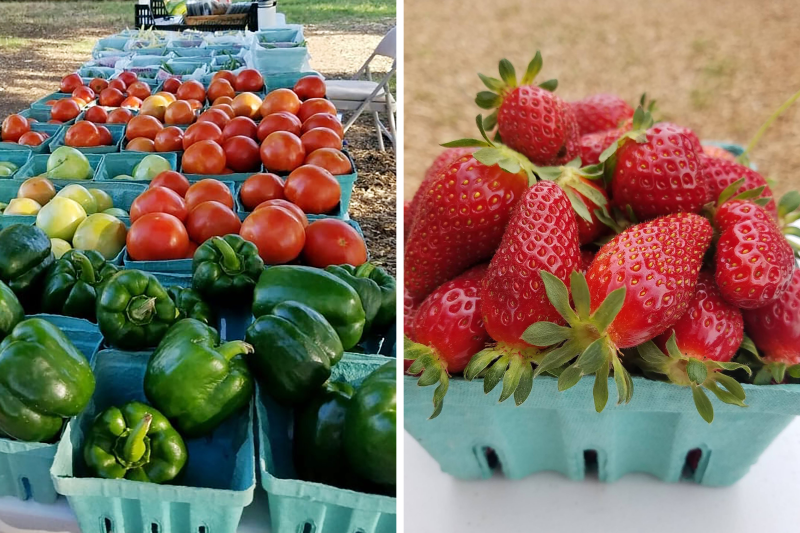 Love cooking with farm-fresh produce? Load up your basket with colorful goodness from Storm Farms! Storm Farms is best known for its pick-your-own strawberry crop, available in the spring and early summer. (Image from Storm Farms Facebook)
There's some cool historical backstory on Storm Farms: It's owned by Johanna Storm, a horticulturist and former Dallas Arboretum employee who only began farming a few years ago. Johanna's farm is located on the site of the former Gnismer Farms, a long-time Dalworthington Gardens staple that was famous for its fruit and vegetable crops for the better part of two decades.  When I first heard that Gnismer Farms was leaving, I was so disappointed. There were times on a lunch break, I would go pick strawberries – that's how much I loved that place! So, when I heard it was brought back to life by Johanna, there was a happy dance! 
Like Gnismer, Storm Farms is modern-day representation of the history of Dalworthington Gardens, which the Texas State Historical Association calls "one of the most unusual communities in Texas." Not many people know this, but this tiny community was established during the Depression as part of President Roosevelt's National Industrial Recovery Act.  From The Handbook of Texas:  "The idea was to locate homestead projects near large industrial centers where city workers could live, grow gardens, and raise farm animals to supplement their regular food supplies. Dalworthington Gardens was one of five such projects located in Texas and the only one still in existence today."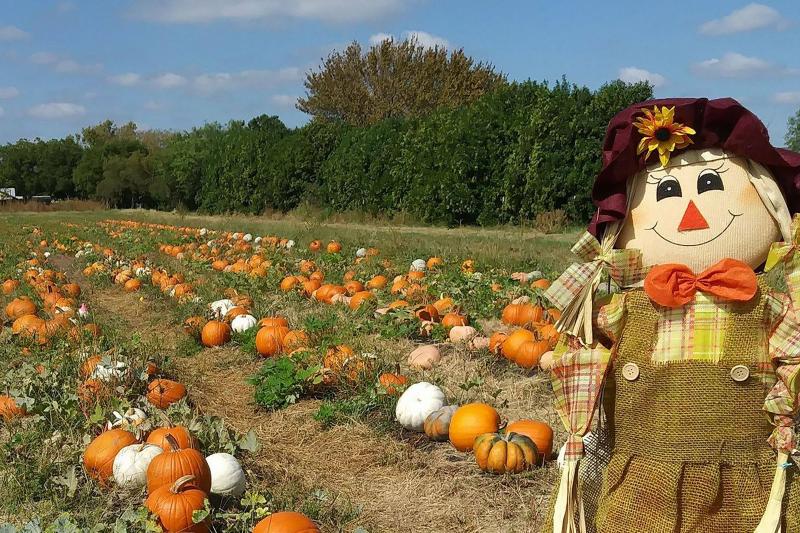 (Image from Storm Farms Facebook)
While strawberries are gone for the season, fall is right around the corner. We all know what that means! PUMPKIN season. In the fall, Storm Farms transforms itself into a photo-worthy pumpkin patch, where you can also pick and take home for all of your fall pumpkin needs.
Find out more about Storm Farms
Pastured Steps Family Farm
Midlothian, TX
After finding out about it on a local neighborhood app and making an appointment online, my husband and I visited this wonderful farm, located about 30 minutes southeast of Arlington in Ellis County, and haven't stopped talking about it since.
At Pastured Steps you can pick all kinds of fruits right off the plant, bush, vine or tree—blackberries, strawberries, peaches, apricots, pears and more, depending on the season. The farm also specializes in grass-fed beef and pastured, fresh poultry and eggs. During our visit, in addition to picking peaches and berries, we also purchased farm fresh eggs and chicken that had been processed less than 12 hours earlier. And can I just tell you, after slow roasting the chicken in a Dutch oven pot, the difference in taste from store bought was so obvious we have made it a mission to try to buy local every chance we get!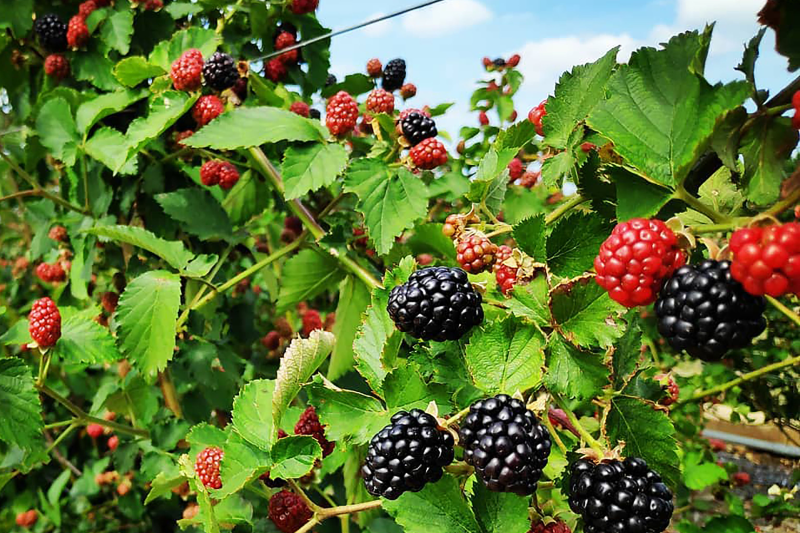 Learn more about Pastured Steps "U-Pick Fruit":  www.pasturedsteps.com/u-pick-fruit
Pastured Steps is farmed by Dan Walter, a former engineer who explained on our visit that he and his wife Stacey decided to open up Pastured Steps after many years of working stressful jobs. They are so passionate about what they were doing, and you can tell the love they have for sustainable farming.
"As an engineer, I've always enjoyed building, refining, and learning new designing systems," Dan says.  "About seven years ago, I stumbled upon the concept of permaculture, which is a design philosophy that ties together all the components of food, soil, health, and growing systems in an environmental and ecologically responsible way. This ultimately led to me selling my previous company and working towards the goal of starting a sustainable farming operation."
Pastured Steps also offers farm tours where you can learn more about the approach to "regenerative agriculture," a farming technique that promotes soil health, animal health, and other environmentally friendly practices that result in higher quality, more nutritious food products. "It's not just about raising chickens, feeding cows, and growing trees, but really the interactions between these different components," Dan explains. "Nature is all about the diversity of organisms and interrelationships between them, not a monoculture of one."
So true.
One of Pastured Steps' most popular products is their farm fresh eggs. "Store eggs can't compete in freshness," says Dan. "In fact, store eggs can be up to 60 days old by the time you buy them.  Then you have another 30 days to eat them, so you are potentially eating a 90-day old egg."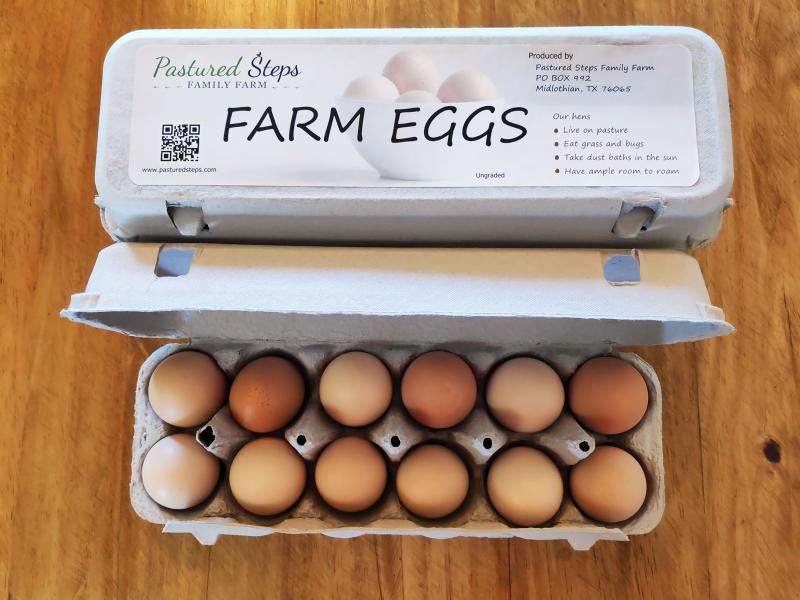 "Pastured Steps hens…'live on pasture, eat grass and bugs, take dust baths in the sun, and have ample room to roam." (Image from the Pastured Farms Facebook page)
Other Pastured Steps favorites include the farm's pasture-raised beef and the pick-your-own-blackberry experience (called "U-Pick"), available mid-May through mid-June.
You can order online for pick up or delivery, but I really encourage you to visit the website to make an appointment and go for a visit. Even if you're not much of an organic foodie type, Pastured Steps offers a nice day of just going slow and really enjoying the outdoors, which is something we all need to do now and again.
Find out more about Pastured Steps