Visit AT&T Stadium
Sports fanatic or not, a visit to AT&T Stadium (sometimes affectionately known as "Cowboys Stadium") is just one of those you-gotta-do-it-at-least-once life activities.
For football fans, watching a game at AT&T Stadium is pretty much as platinum as it gets: 140 acres, three million square feet, a colossal video board that's the only one of its kind in the world, retractable roof, and steel arches that soar nearly 300 feet over the playing field. Did we mention the oh-so-comfortable climate-controlled interior?
The stadium boasts seating options from luxury suites to "standing room only" sections that will satisfy even the smallest piggy bank. And forget ordinary stadium food. Lick your chops and prepare for fire-roasted turkey burgers, gourmet nachos, sushi and dozens of other out-of-the-ordinary menu items. Flat screen TVs and lounging areas everywhere you look.
And when we say state-of-the-art, we emphasizes the 'art.' The brainchild of Mrs. Gene Jones, visitors with a flair for the arts can check out the unexpectedly artsy side of AT&T Stadium. Immerse yourself in something you've never seen before...breathtaking sculptures, murals and paintings. No other stadium houses such aesthetics! Afterward, make your way to the gift shop, where you can find merchandise based on your favorite pieces of art from the tour. It gives a whole new meaning to "keeping up with the Jones'!"
From tailgating to the final touchdown, the stadium's atmosphere is alive with an excitement and anticipation you'll remember for a long time, so book your AT&T Stadium vacation package now.
Here's everything you need to know about AT&T Stadium:
---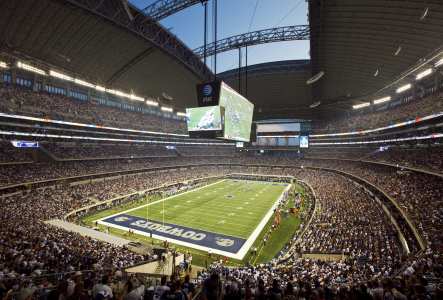 2015 Football Game Package
Experience football in Arlington, the right way, while still being able to stay close, tailgate and tour AT&T Stadium. Great Cowboys tickets are included in every package. Book Now!
AT&T STADIUM TOUR PACKAGE
Did you know AT&T Stadium is the only NFL stadium with an art gallery featuring over 52 world renowned artists? Tour the world's largest domed structure and get ready to be WOW'd! Book Now!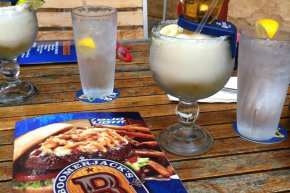 Hit a homerun with one of Arlington's sports bars for high fives, cold suds and yummy gameday grub.
If you are a sports fan, a golfer or an outdoor enthusiast, you'll find a wealth of opportunities in Arlington.