Visit Six Flags Over Texas
Six Flags has it all...every kind of excitement you can ask for. Like the Judge Roy Scream, a classic wooden roller coaster that boasts a shivery six-foot drop. Or the New Texas Giant, the tallest roller coaster of its kind on the planet, and its twists, turns, and drops that come at a heart-pounding 65 miles per hour. 
But if you like to keep your roller coaster action more scene-ish than scream-ish, there's the Runaway Mine Train, a Six Flags signature ride and a generational favorite. Bugs Bunny Boomtown offers hours of fun and play, or try out the Loony Tunes Adventure Camp.
This summer, grab a stun gun and get ready to take out the bad guys in the all-new interactive Justice League: Battle For Metropolis, a thrilling "dark ride" that features lifelike animatronics, cutting-edge special effects, 4D video and "real time" gaming technology.
In between rides, check out one of the live shows or take in the views on the observation deck of the legendary Oil Derrick. Or relax in the shade with an icy cold Pink Thing – and maybe a tasty funnel cake or two.
We could go on – but we're betting you'd rather stop reading and start planning your vacation now. Just remember to save a few Pink Things for the rest of us!
And speaking of planning, here are some resources to help you put together an awesome itinerary: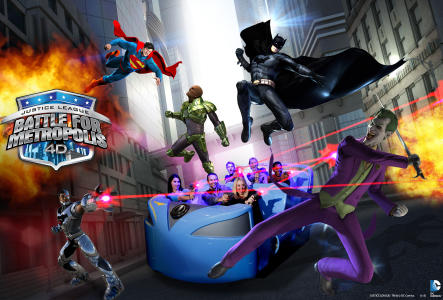 A Six Flags Over Texas Summer
POWerful thrills await on the all-new Justice League: Battle for Metropolis! Book your summer getaway with a room, plus tickets for exclusive savings through arlington.org! Book Now!