Texas Rangers Baseball
The smell of popcorn, hot dogs, and nachos fill the air and the crowd cheers as the Texas Rangers bring in another home run. Take baseball season to the next level in Arlington. Root for our hometown heroes, the Texas Rangers, in the brand-new Globe Life Field. Did we mention it has AC? Ahh yes, now you can enjoy America's pastime—without the back sweat.
With seven division titles and two American League pennants, the Rangers' roster has included some of the best players in the history of baseball, with plenty of Hall of Famers to prove it: Harold Baines, Iván "Pudge" Rodríguez, and Nolan Ryan, to name a few.  
Now housed in a massive, brand-new stadium in the heart of Arlington's Entertainment District, seeing the Rangers is a must for any baseball fan.
Globe Life Field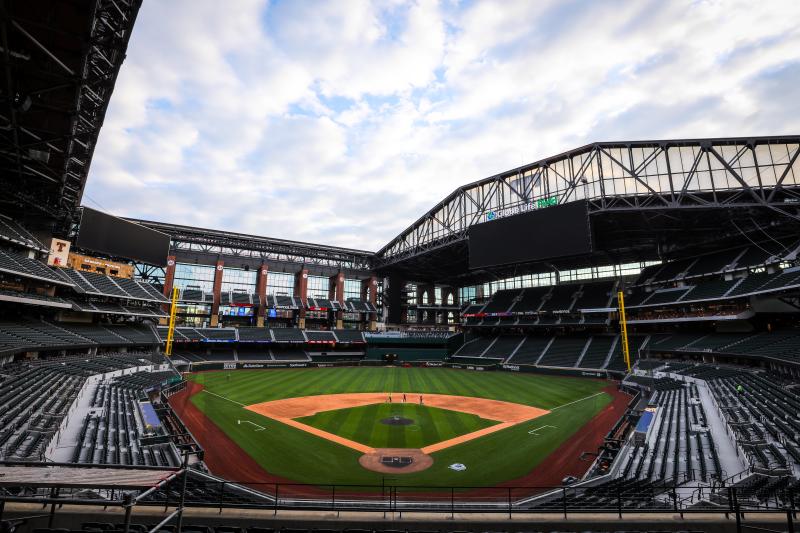 Over their nearly 50 years in Arlington, the Rangers have played in a few stadiums—most notably, Arlington's Globe Life Park, from 1994 to 2019.
But now, you can grab some peanuts and Cracker Jacks and get ready to celebrate America's pastime in one of the league's newest and most impressive ballparks. Beginning in the 2020 season, their new home is the stunning Globe Life Field.
The new and improved facility is loaded with amazing features: ample concession space, a 5.5-acre retractable roof that provides much-needed shade and helps keep the average temperature in the mid-70s, and incredible views from every seat in the house. With an overall capacity of 40,000, the stadium features seven seating levels designed to bring fans closer to the action from every seat. Take a tour for an even closer look at all.
Getting Texas Rangers Tickets
Looking to score tickets for a Rangers game? Head to the Rangers' website where you'll find a variety of seats and prices available for all of their games, including Rangers' opening day.
Baseball season typically runs from late March/early April to late September/early October, and Rangers ticket options include single-game tickets, 20-game plans if you're planning to stick around a while, season tickets for die-hard Rangers fans, group tickets, and more. If you just want to head to the ballpark for a single game, you can grab Grandstand Reserved tickets for as low as $9.