Welcome to the Esports Stadium Arlington
Arlington, Texas is ahead of the curve when it comes to embracing the culture of esports. Thanks to our new Arlington esports arena, we're where the action is. Be part of history in the making—visit now to watch your favorite gamers compete or come to play a game or two yourself.
Introducing Esports Stadium Arlington + Expo Center
At 100,000 square feet, the brand new Esports Stadium Arlington + Expo Center is the largest dedicated esports stadium in North America, making Arlington a global destination for competitive gaming. A renovation to the Arlington Convention Center, the stadium was custom built with esports in mind. The arena seats 2,500 spectators and all are sure to enjoy the state-of-the-art, 90-foot LED stage display. This lavish setup guarantees no one in attendance misses out on the fun of tense one-on-one matches or lively team bouts. Arlington sure knows how to put on a show!
The stadium also includes areas for socializing, shopping, and, of course, gaming. The unique needs of avid gamers and game lovers have all been accounted for. Those with a competitive streak will want to take advantage of the eight private team training rooms, available to book for boot camps. If you're here to watch the excitement, you're sure to love the VIP hospitality available. No matter why you're here, we know the experience will be unforgettable—particularly after you pick up an exclusive souvenir to take home! Be sure to stop by the ESA Retail Store before you leave.
Calling All Gamers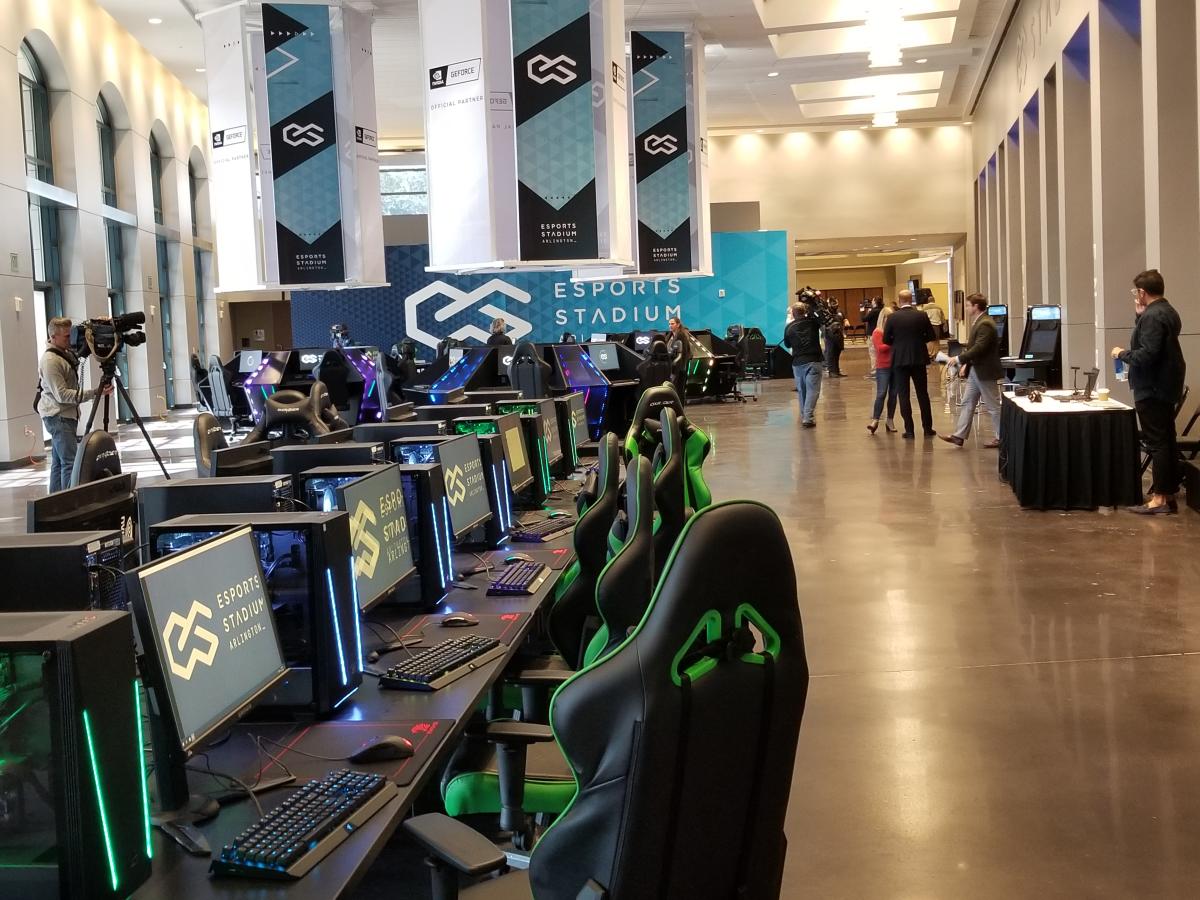 Gaming Center inside Esports Stadium Arlington + Expo Center
More than just your average arena, Esports Stadium Arlington + Expo Center also operates as a community hub for gamers from all over. Outside of our big events, you can enjoy gaming daily at the Gaming Center. Of course, all of the latest and greatest games are available for you to try—or beat! You may even want to try out the future of gaming at the VR Arcade. It is also an ideal spot to chat with other passionate fans in real life at the weekly meetups and member nights.
We're proud that Esports Stadium Arlington + Expo Center is peerless in both size and sophistication. Don't forget to sign up for the Venue Tour to learn more about this first-rate facility as well as the history of esports. Interested in throwing your own party or tournament? Contact our sports team today for help planning any Esports Stadium Arlington + Expo Center events. 
Easy, Convenient Location
You'll be happy to know that Esports Stadium Arlington + Expo Center is conveniently located in our Entertainment District. That means that when you enjoy Arlington esports you are also in a prime location to feast at delicious restaurants and visit happening night spots. Both budget and luxury hotels are nearby and easily accessible via the Arlington Trolley. Plus, parking is free with validation for all Gaming Center attendees.
The world of esports is waiting for you in Arlington, Texas. Are you ready to level up?