Globe Life Field in Arlington, Texas
Gone are the days of melting away in the grandstands watching the Texas Rangers play—we have entered the golden age of air-conditioned play at Globe Life Field, the Rangers' stunning new home. Yes, A/C. At a baseball game. With a retractable roof that can open or close in a matter of minutes, you're guaranteed to have perfect weather no matter what's going on outside.
And if you think it can't get much better than that, you'll be happy to hear about everything else the stadium has to offer. In which case, it does get better.

Globe Life Field Amenities
A fan-favorite at Globe Life Field — besides the A/C, of course — is all the drool-inducing food at your fingertips.
Tantalizing options like the Rattler, a rattlesnake sausage specialty, and the Grit Dog, featuring former Ranger Nolan Ryan Beef and creamy cheese grits, will make you feel like you've won the World Series.
Elevate your experience to the upper deck. Globe Life Field boasts a range of club and VIP experiences—from specialty bars like the Balcones Speakeasy, where they pour Waco-based cocktails, to premium suites that will wow your guests.
In addition to enjoying an all-inclusive food and beverage menu, domestic and craft beer, and upscale wine, StubHub Club guest seats are located along the first baseline—so close to the action attendees could help the team warm-up between innings.
Hotels
Stay close to the action and plan to book one of the dozens of hotels near Globe Life Field.
Options include budget-friendly lodgings like Comfort Suites or Days Inn by Wyndham, as well as more luxurious digs, like the Hilton Arlington or Aloft Arlington Entertainment District.
Other Globe Life Events
Even though Globe Life Field is the Ranger's home turf for most of the year, there are plenty of other Globe Life events to enjoy during baseball's off-season. Globe Life Field hosts numerous concerts and other live events throughout the year.
Of course, if you want to host your own event at Globe Life Field, that's an option, too. With a number of venues to choose from, you can host your next gathering, reception, or meeting in one of Arlington's most sought-after buildings.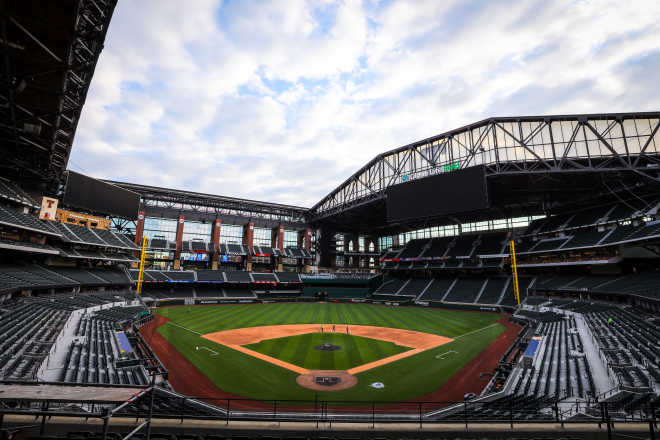 Globe Life Field: Know Before You Go
You know we like to have a good time, especially when there are major event happening in The District! Globe Life Field isn't just home to baseball, but to massive concerts and global events. When you're here, we want you to have THE BEST time. Here's all the tips and tricks you need to know before you go to Globe Life Field: 1. Rain or shine,
View All