This blog was updated on 9/24/2020.
The amazing Globe Life Field is open, thus ushering in an exciting new era for Texas Rangers Baseball in Arlington.
Whenever I'm thumbing through the pictures in my mental scrapbook of time spent in Arlington, I don't have to think too long before I'll come across a lovely memory of an outing at a Texas Rangers game, either at Arlington Stadium as a kid or Globe Life Park as an adult. I've had many wonderful times at Texas Rangers games over the years, whether it was cheering on the Rangers, watching post-game fireworks, or enjoying a great concert. Like thousands of other fans, I'm looking forward to creating new memories at Globe Life Field for many years to come—so in honor of this historic occasion, let's take a look at some of the most noteworthy aspects of the majestic new home of our Texas Rangers: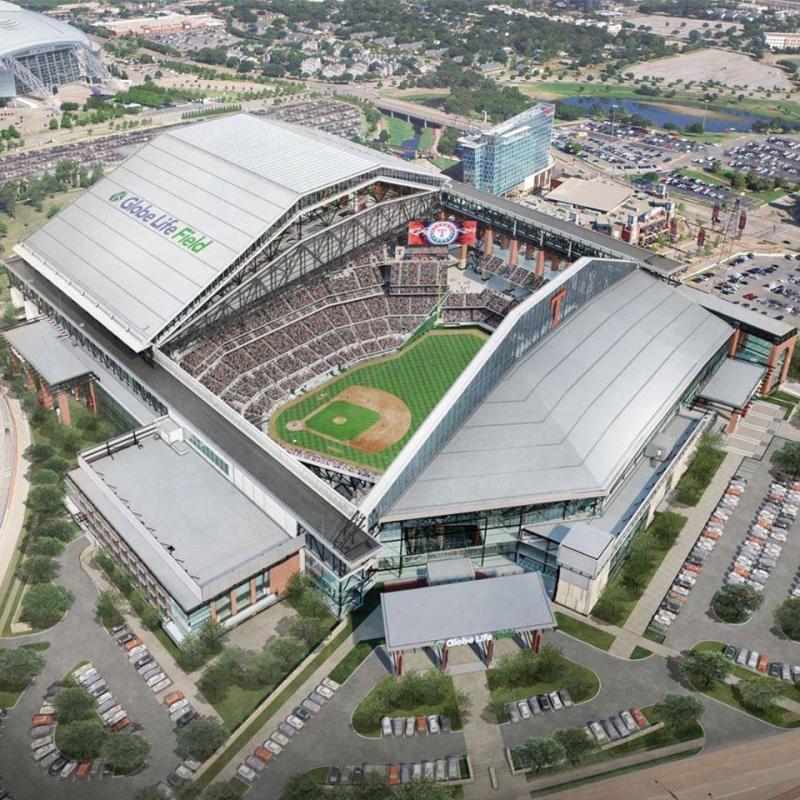 Image from Texas Rangers Facebook.
Globe Life Field is one impressive (and enormous) venue.
The new stadium encompasses a massive 1.7 million square feet (or 13 acres, depending on how you want to look at it) and can accommodate about 40,000-plus people. After you've memorized those stats, here are a few other numbers you can impress your friends with:
5 entry gates
120 wheels on the retractable roof
725 concrete columns
2 giant videoboards (each are 52-72% larger than the video boards at the Rangers' former home)
Mid-70 degrees, the average temperature of the stadium when the roof is closed (this is my personal most favorite fun fact of all!)
Here's another fun fact for number nerds: According to Ballpark Digest, the dimensions of Globe Life Field were selected to honor key moments and people in Texas Rangers' history: "Left Field Line: 329 feet (Adrian Beltre's #29); Left Field Power Alley: 372 feet (Rangers' first year in Arlington–1972); Center Field (straightaway): 407 feet (Ivan Rodriguez' #7); Deepest Distance of Park (both left and right of straightaway CF): 410 feet (Michael Young's #10); Right Field Power Alley: 374 (The Turnaround Gang, 57 to 84 wins–1974); Right Field Line: 326 feet (Johnny Oates' #26)."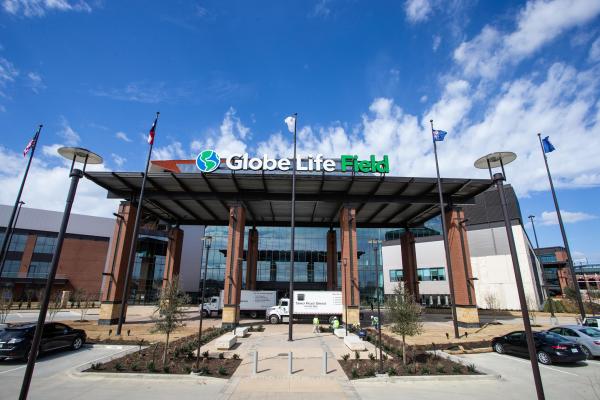 The new stadium is packed with amenities, including a retractable roof and climate-controlled interior. Image from Texas Rangers Facebook.
The roof is the only one of its kind in Major League Baseball.
Unquestioningly, the most eagerly-anticipated features of Globe Life Field are the retractable roof and the air conditioning. Let's talk about that roof first. It spans 240,000 square feet and stands about 230 feet from the field. Many portions are fashioned with a high-tech transparent material that is very lightweight, thus retaining that all-important outdoor ambiance that baseball fans love while also  keeping out the brutal Texas sun and other elements. Let me tell you, this is one powerful roof—in addition to keeping us comfy temperature-wise while we're enjoying the game, it can do its open-and-close routine pretty dang fast—so fast, in fact, that the stadium folks can keep it shut until 15 minutes before the first pitch.
We've got air conditioning—and lots of it.
The stadium's air conditioning system is 10,000 tons and cools the entire park, and it's ABSOLUTELY heavenly in summer. Bring on those day games!  
You'll also love the extra-comfy seats.
You don't have to purchase the most expensive seat at the stadium to sit in comfort, because they're all deluxe, offering padding and an overall seating experience that's more along the lines of what you'd find in a nice theater.
And speaking of seating…
Globe Life Field will have additional levels of seating over the Rangers' previous home, as well as additional premium clubs (including a "speakeasy" club, can't wait to check that one out!) Many of the seating options are much closer in to the field than what we're used to, and an estimated 70% of the seats are in between the foul poles. That all translates into great views, improved sightlines, plenty of options, and an increased feeling of being closer to the action throughout the stadium. Check out this Globe Life Field seating map.
There's gourmet grub, and lots of it.
If you're a Texas Rangers fan, you know they are legendary for over-the-top concessions and a general abundance of great eats. In fact, I look forward to each year's lineup of new menu items almost as much as I look forward to Opening Day! Two chicken eateries (Pluckers and Golden Chick) have announced Globe Life Field locations, as has Bahama Buck's, which is famous for shaved ices. 
One new menu item is (drum roll, please)…Brisket egg rolls! The dish was chosen by voters following a 48-hour Twitter poll held in February, when people were asked to weigh in on possible new menu items created by fans. They look pretty yummy: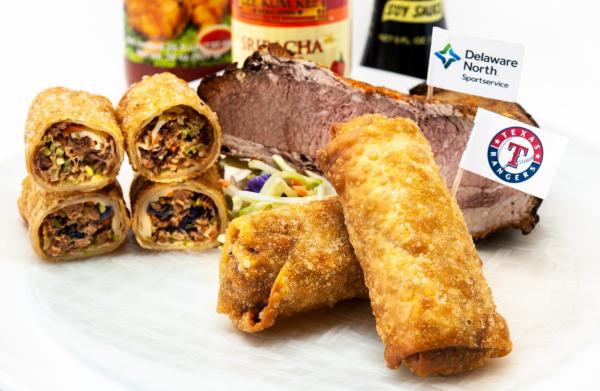 Introducing Texas Rangers Brisket Egg Rolls, a fan creation that's sure to be a fan favorite. Image from Texas Rangers Facebook.
Upgraded Suites
I first experienced the suite life at the old Arlington Stadium as a kid in the '80s, and boy, did I feel fancy. It looks like the suites at Globe Life Field will not disappoint, offering amenities like flexible walls (so you can change the room configuration to suit your needs), waiter service, HDTV, parking passes, upgraded concessions and catering options, and dazzling views.
Texas Live!
Strictly speaking, Texas Live isn't a new aspect of the Texas Rangers experience (it debuted in 2018), but as the dining and entertainment venue continues to expand it will also continue to enhance outings to the new stadium. Located next door to Globe Life Field, Texas Live offers something for everyone—craft beer, creative cocktails, great dining options (from pizza to barbecue to burgers to tacos), live entertainment, outdoor seating, bar games and more, not to mention an absolutely enormous TV screen that means you can watch the Rangers up close even if you don't have a ticket. Plus there's a luxury hotel next door if you want to make a night of it!  
Robust Apps
Again, this is not an entirely new feature, but the apps available to Texas Rangers fans continue to add more functionality, which will undoubtedly come in handy as we get to know our beautiful new stadium. If you haven't already, check out MLB Ballpark (which allows you to manage your tickets, access interactive stadium maps, view Rangers schedules and more) or MLB At Bat (a must for serious fans, featuring streaming games, tons of stats, replay reviews, and more). Find more apps here.
Find out more about Texas Rangers single game tickets