My family and I recently attended a good ol' baseball game at the new Globe Life Field. I was excited to finally experience the new stadium in the company of friends and family! It was a great game, and I learned a few things to help your family navigate the Rangers new ball field!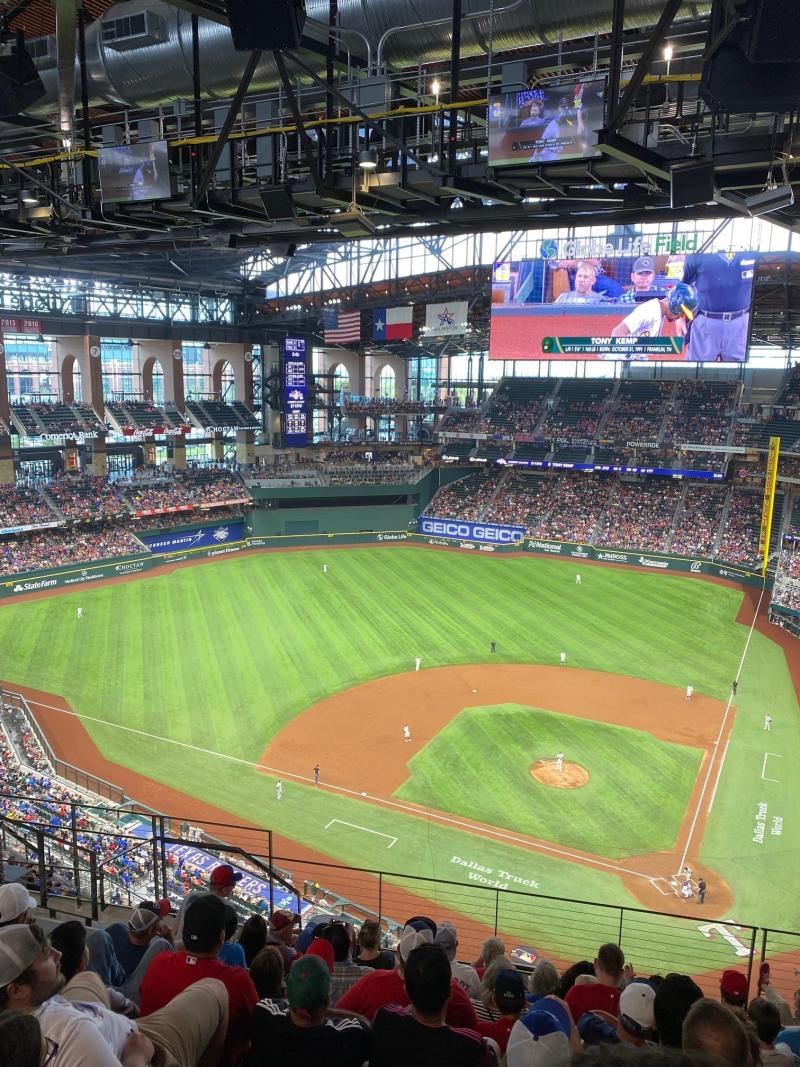 My goal was to make everything as stress free as possible, so this meant downloading the MLB app first. The app is free to download and free to create an account. Many may ask, do you really need the app to go to game? The answer is no, but here are some reasons you may want to consider having the app. First, sharing tickets is super easy! We were part of a group and someone else purchased the tickets. The app allowed them to share our tickets seamlessly. So no losing paper tickets, or trying to access email when wifi or cell service might be questionable. The app also helps you plan your parking. The app provides seat and parking maps so you can target the right parking lots and pre-game entertainment options. The app also provides a map of food options! Looking for a Boomstick, nachos, bbq, or ice cream? The app highlights all the concession locations. Heads up on the food information; the app provides very limited menu information, but it will help you narrow down your options by vendor type and location.
Planning your parking ahead of time is another great way to save time and stress. There are lots of parking options around the stadiums in Arlington. But using the MLB app or Texas Rangers website, you can purchase a parking pass good for general admission parking in several different lots. It will automatically show up with your tickets under your account on the app for easy access. But there are lots of other options for parking. We decided to use a local-owned and operated company, Stadium Parking. They manage several private lots around the stadium, but we parked in Lot 1 directly across from the Northeast entrance to Globe Life Field. Reserve parking online at stadiumparking.net and get ready for great customer service! We love the crew at Stadium Parking! As you are driving around the stadiums, you will spot plenty of other private lots (with signs out) offering parking. Know that these lots have to be permitted with the city in order to operate, so, look for one of those signs.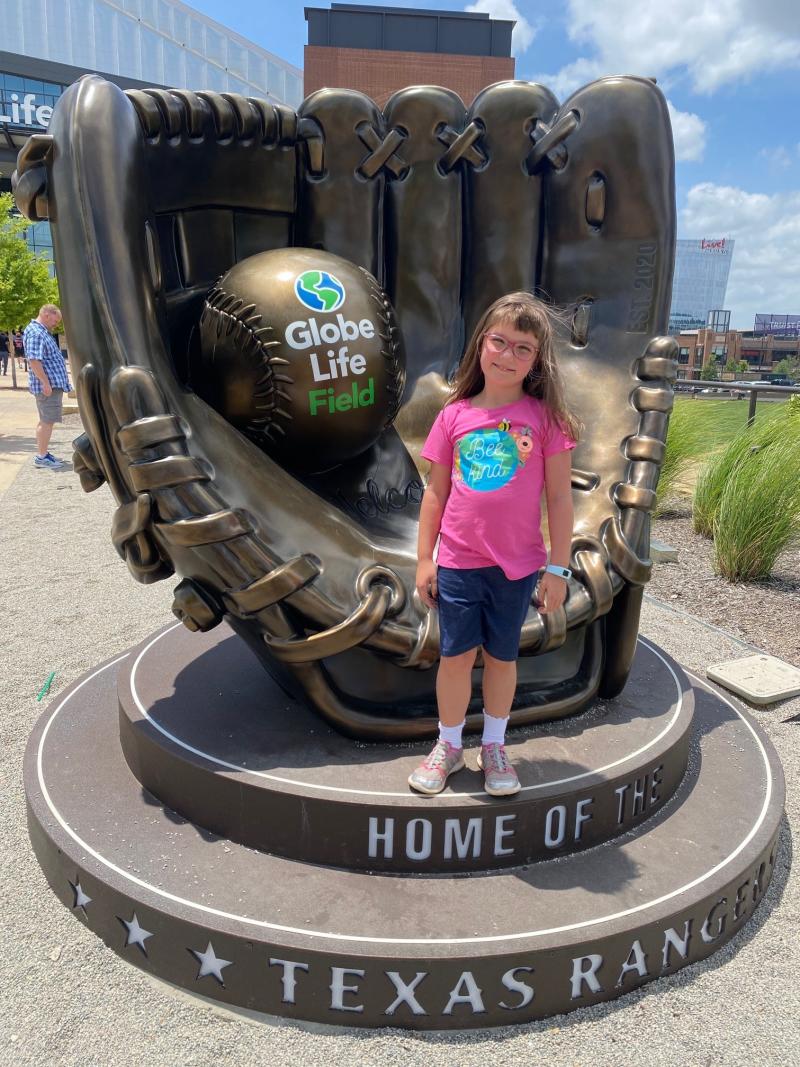 On game day, we had tickets on our app, parking secured and were ready to for some baseball!  We arrived about an hour before the game so parking was a breeze, and we did not feel rushed. As we walked toward Globe Life Field, we saw that there is no shortage of photo spots in and around the stadium. So game or no game, there are plenty of statues and spots with great views for the ultimate Instagram story. We spent a few minutes snapping pics and checking out the view of Texas Live!, Globe Life Park and AT&T Stadium. I have been to Texas Live! many times, and I can say, if you are looking to make a day of coming out for a game, put that on your list of to dos. Also, you can book a tour of either stadium, then grab some food before the game and never move your car.
As always, the Texas Rangers staff are amongst the friendliest. The security team was quick and efficient, and they were very sweet with my 7 year old as she put her colors and coloring book on the table for them to check. The person at the door patiently talked me through switching through the tickets on the app, and we were in! Of course, the first thing you notice is the wonderfully cold (not cool) air. I don't know who designed their A/C, but I want them designing my next system. The concourses are well marked and there are plenty of escalators and elevators for anyone needing multi-level assistance. The other thing that struck me is how the stadium feels smaller…or rather you feel so much closer to the action.
We took a few minutes to take it all in, then we headed down one level to the main concourse. Of course, we wanted to check out our food and drink options! There is no shortage of bar options with choices like Arlington's own Legal Draft. And there is no shortage of waist-expanding food options, including new options from Chicken Express and Pluckers, along with gameday favorites.
Once we checked out some of the concessions and the bathrooms (very clean and lots of them), we headed to our seats. As I said earlier, we were part of a group of families and so cost was a big factor in our seat locations. We were up on the third concourse right behind home plate, section 310 to be exact. I have to say, there is not a bad seat in the new stadium. Now the question about the a/c being so close to the top? Well, it was not as cold as the lower concourses, but if you ever attended a game at the old stadium, a few degrees warmer than freezing cold is a lot better than hotter than hot and the new design allows even the "cheap" seats to feel like you are close to the action. With concrete floors, traditional seats, organ music and Chuck Morgan, it felt like a cloudy spring day at the ball park! Nice and cool with all the sites and sounds you want from a baseball game.
With budgets in mind, several families in our group opted to bring in their own treats. This is a great way for a family to save some money! You can bring in anything that fits in a clear gallon ziploc bag and one sealed bottle of water per person. By bringing in some of their own food, these families were then able to share some ballpark favorites such as nachos, cotton candy and ice cream later in the game. So they got the full experience AND saved a few dollars.
My daughter was the first to want a treat, so we headed down to get some Blue Bell Ice Cream in the Rangers signature "ballcap" bowl. This is obviously the more expensive option, but you get two scoops! And my daughter said the rainbow sprinkles were definitely "the bomb" on her chocolate ice cream. Next, my husband grabbed a slice of pizza. The pizza was alright, but why order pizza when you can have the original ballpark nachos anyway?
When I decided to check out food, I opted for the Chicken Express. This new addition to the ballpark provides their signature chicken tenders, fries, yeast roll and Zing sauce in an easy to carry box. After checking out the hot dogs, nachos and food around me, I think I came out the winner. At $12.50, I could not finish everything and felt I got my money's worth. Not the healthiest of options, but I definitely did not leave hungry.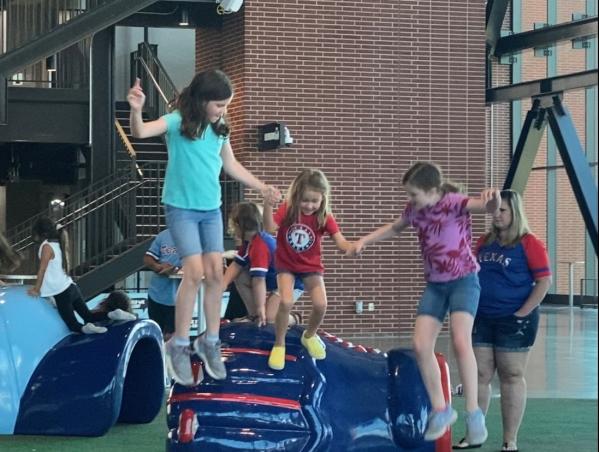 The game went into extra innings, so part of our group (moms and kids) headed to the new play area. This was a good call, because the kids were able to work off some energy. The larger than life baseball gear are a fun distraction!
All in all, it was a great day out with family and friends. Although the Rangers lost after playing 11 innings, we all came away winners, being able to spend time together while enjoying a game inside the new Globe Life Field.