We love Texas like no other, but let's be real: When you're in a place that has only 2 seasons, melting or freezing, summer can become hard to handle if you don't have a cool down plan in your back pocket! Luckily for us, there are a number of chill options for splashing and swimming in and around Arlington, all while still enjoying the best of the Texas sun:
Six Flags Hurricane Harbor
1800 E Lamar Blvd (Arlington, TX)
Typically open early May through late September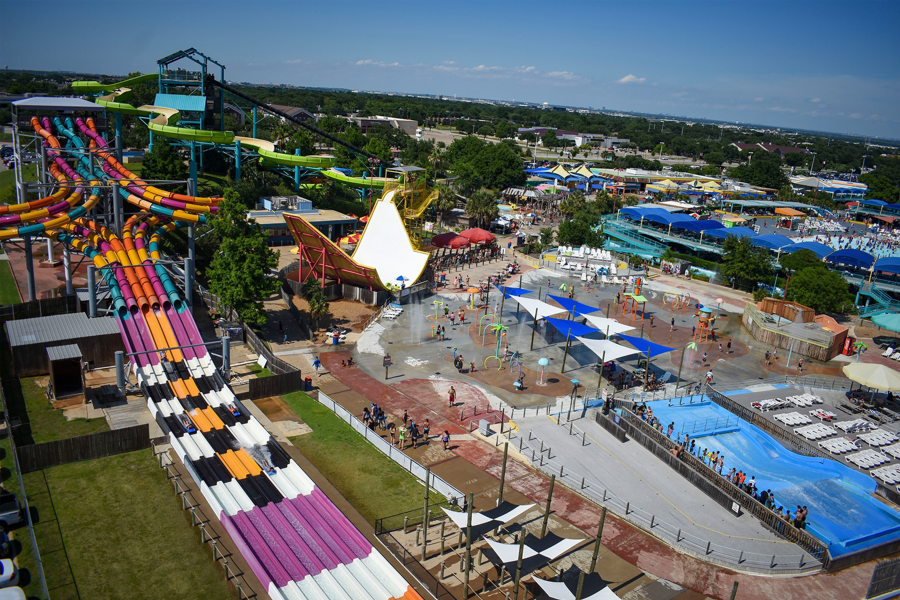 Hurricane Harbor is known for its colorful views and expansive offering of rides and attractions. Image from Facebook.
The granddaddy of DFW's waterparks is Hurricane Harbor, the largest watery playground these parts have to offer. Visitors can slide, splash, and catch some sun on more than 20 slides and attractions, depending on your level of bravery, willingness to get soaked, or your mood for thrills vs. chills. Some favorite experiences at the park include:
DER STUKA: Der Stuka is a 72-foot free fall slide, and they aren't kidding about the "fall" part—this sucker drops you straight down into the water at a breathtaking rate of speed. Not for the faint of heart, and the adrenaline rush will make you want to get right back in line and do it again!
LAZY RIVER: The Lazy River is the best! You can relax and float along a quarter mile of cool blue river, all while enjoying the sun, friends and the sounds of the park and the city. Just remember one thing, falling asleep on a float is easy when you're chilling, and highly unrecommended. Just saying. 😊
HURRICANE BAY BAR: This is a prime spot for anyone ready for a break. It's located right in front of the wave pool (Surf Lagoon) and features draft beer, specialty beer, frozen drinks, and nachos, plus big screen TVs for game watching. Tip: one glass of water for every drink consumed.
WAHOO RACER: The Wahoo Racer is fun because you can set up a little friendly competition with your family members or friends. Riders are propelled on an intense, winding stream of water through colorful tubes that ultimately shoot out into racing track-type lanes that end at a checkered flag. Each race is timed, so get ready to make a few bets and see who will emerge victorious!
MORE TIPS: It's easy to lose track of how much time you're spending in the sun at Hurricane Harbor. Bring sunscreen with you and reapply often. Also, hydrate, hydrate, hydrate! Rent a locker where you can store your gear—they're only $13-$18, depending on the size, and worth it to have your hands free while you wander the park. (Hint: Choose a locker closest to a lounge area, so that you can easily access your stuff before and after a break.) Better still, consider splurging on a Hurricane Harbor Cabana, which offers semi-private shaded seating, loungers, a fan, a storage locker, and full food service.  You'll feel like a rock star! 
Epic Waters Indoor Waterpark
2970 Epic Place (Grand Prairie, TX)
Open all year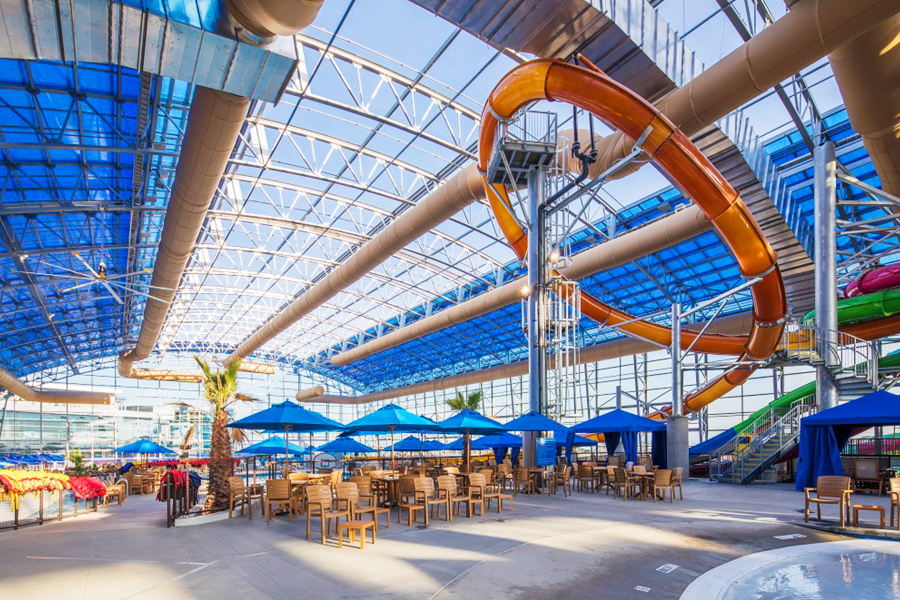 Rain or shine, you can enjoy the best of summer year-round at Epic Waters. Handout image.
Located less than 20 minutes from Arlington's entertainment district is the beautiful Epic Waters Indoor Waterpark in Grand Prairie, where you can splash and slide year-round, rain or shine, thanks to an enormous retractable roof and climate-controlled interior.
In the summer, you can choose to soak in the sun on the beaches of Epic Waves, the park's 10,000 square-foot outdoor wave pool featuring four-foot-high interval wave surges—or, retreat indoors to pursue adventure on the park's signature waterslides, the FlowRider surfing simulator (beginners welcome!), or Rascal's Round-Up (an aquatic fort that's equipped with tot-friendly geysers, slides, and spray guns).  Epic Waters amenities include private cabanas, free parking, and café and concession service, as well as a cool little indoor arcade and prize counter.
TIPS: For shorter lines and more "breathing room". visit Hurricane Harbor and Epic Waters during the week, and try to arrive as early as possible. Both parks tend to have more traffic on weekends, holidays, and after lunch. Also: Cabanas at both parks fill up fast—book early.
Bad Königshofen Family Aquatic Center
3811 S Cooper St. (Arlington, TX)
Typically open Memorial Weekend through Labor Day Weekend
Arlington's Bad Königshofen offers a charming and affordable option for swimming and splashing. Image from Facebook.
While it's true that Bad Königshofen and Randol Mill (below) can't compete with Hurricane Harbor or Epic Waters in the thrills department, they do offer a pair of budget-friendly options for swimming and splashing, and they're perfect for families with younger kids or anyone  looking for a simple "day at the pool" experience. Features at Bad Königshofen include an interactive spray pad, shallow water play pool, lap pool, diving area, and two water slides, plus concessions and a shaded pavilion.
FUN FACT: Bad Königshofen is named for Arlington's German sister city, and the park incorporates a number of design elements that reflect the agrarian style of that region of Germany, including wooden columns and a European clock tower.
Randol Mill Family Aquatic Center
3811 S Cooper St. (Arlington, TX)
Typically open Memorial Weekend through Labor Day Weekend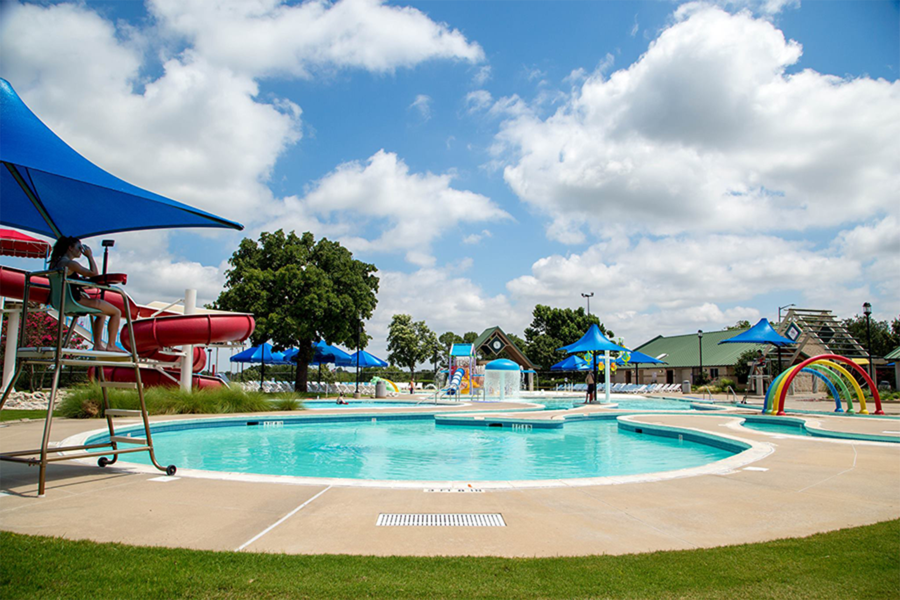 Family members of all ages can find something to enjoy at Randol Mill Aquatic Center. Image from Facebook.
Visitors to Randol Mill can enjoy vortex pools, a shallow water play structure, a current channel, and a water slide, in addition to concessions and shaded pavilions. Randol Mill is also known for its summer "Dive-In Movie" series, which you can learn more about by following Arlington Parks & Recreation on Facebook.
Arlington Splash Pads
Typically open Memorial Weekend through Labor Day Weekend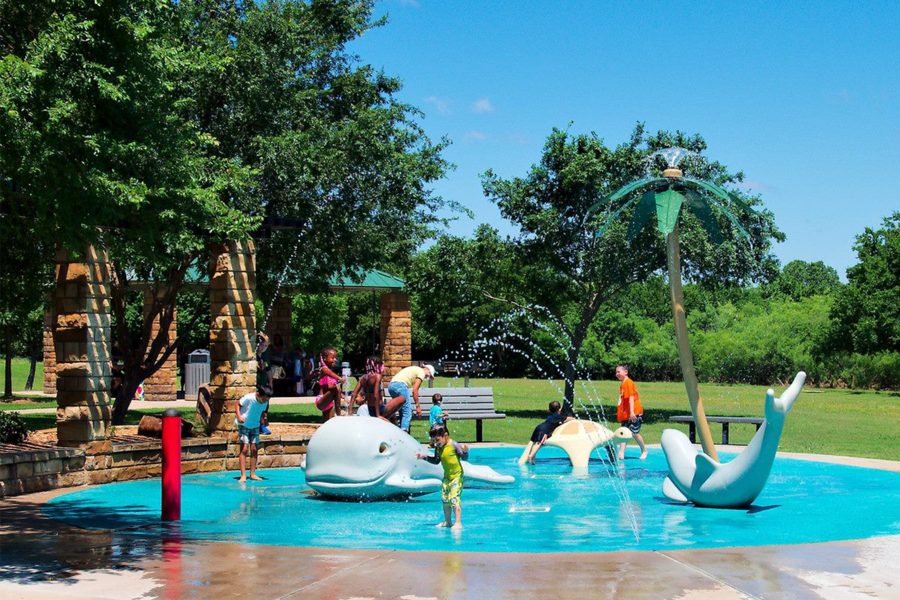 Don Misenhimer Park includes a splash pad, playground, walking trail, and picnic area. Image from Facebook.
It's hard to beat a splash pad for a quick cool-down on a hot summer day, particularly if you have toddlers and younger kids.  Two things to like about splash pads: They offer a ton of picture-perfect photo opps, and they also let your kiddo get as wet as they want, while you can retain the option to stay (relatively) dry. Best of all, they're free! Bring a sack lunch or a snack and enjoy as much splash time as you like (plus playground time, too) at: Brantley Henshaw Park (2121 Overbrook); California Lane Park (2001 California Lane); and Don Misenhimer Park (201 E Lonesome Dove Trail).