No doubt about it, Arlington is a great place to be if you're an adrenaline junkie or thrill seeker. In fact, between the out-of-this-world rides and slides at Six Flags Over Texas and Hurricane Harbor (did you know that there are more than 70 altogether?), it's fair to say that Arlington is the "scream capital" of Texas—and we're dang proud of it! In fact, just thinking about our favorite rides and slides makes us want to take a whirl right now—which we can do anytime, anywhere, thanks to these amazing POV (point-of-view) videos that will have you gripping the edge of your seat:]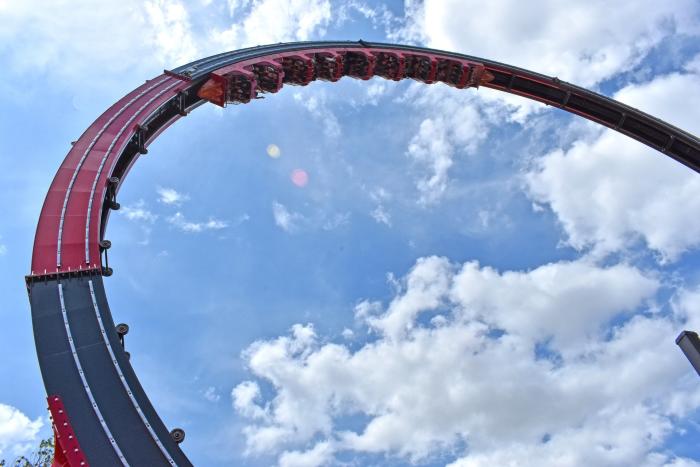 El Diablo
The world's largest "loop" roller coaster may look simple, but your experience riding this baby will be anything but. El Diablo's unique curved passenger train builds up to its climax slowly, beginning with a back-and-forth rocking that takes you closer to the top of the loop each time, ultimately resulting in a 100-foot swing that's punctuated with a heart-stopping hang time. As a bonus, the train offers face-to-face seating, so you can laugh at your family's reactions while enjoying a few screams together. Climb aboard here.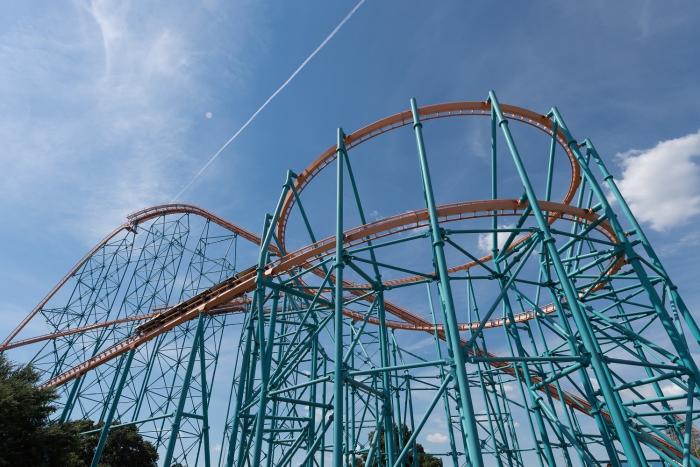 The Titan
This gigantic "hyper twisted coaster" (oversized roller coaster on a twisty track) is most definitely not for the faint of heart. Prepare for a blow-your-mind, 225-foot drop on the "gnarliest", twistiest track you've ever experienced, PLUS a 540-degree spiral and high-banking turns—all happening at a pulse-pounding 85 miles per hour. Are you brave enough to try it? Take your seat here—if you dare.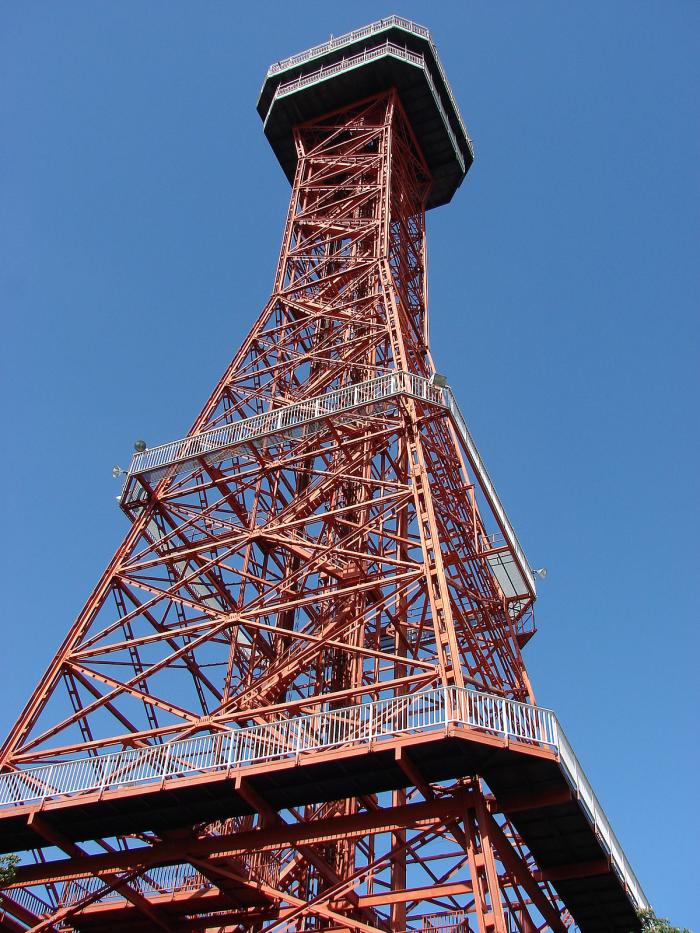 The Texas Oil Derrick
The legendary Texas Oil Derrick may not flip you upside down or inside out, but there's no denying that the ride to the top of this 300-foot Six Flags icon (not to mention that stunning view, the only one like it in North Texas) is thrilling indeed. From the Six Flags website: "As you ride up in the open-walled elevator with the breeze blowing right through, watch as those giant roller coasters below seem to get smaller and smaller, the higher you go, until you're on top of the world. Up on the observation deck, enjoy the supreme scenery of nearby DFW. Then take your time on a leisurely stroll around the top – if you don't mind the heights at 30 stories in the air!" Experience the Oil Derrick for yourself. BONUS: Are you a history buff? Watch this fun video about the Oil Derrick's 50th anniversary.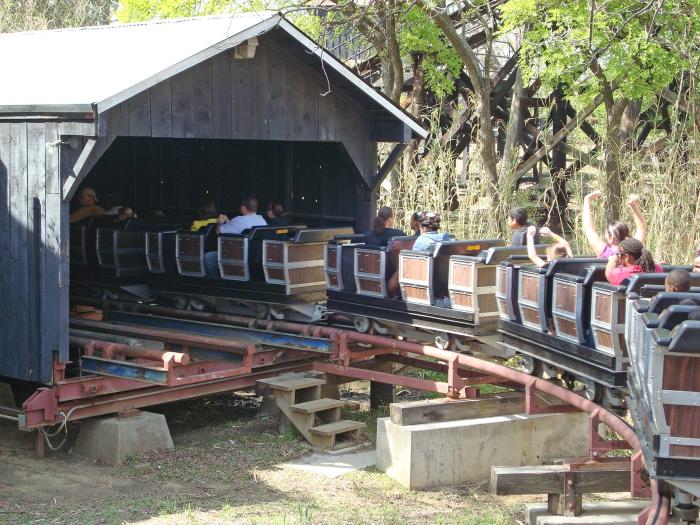 Runaway Mine Train
Getting big enough to ride The Runaway Mine Train has long been an important rite of passage for generations of young Six Flags visitors—and this classic ride has a way of remaining an all-time favorite even when they've graduated to more advanced thrills. Take a trip down memory lane here. FUN FACTS: Did you know that the Runaway Mine Train is the world's first mine car-styled roller coaster, and dates back to the earliest days of the park? Find out more here.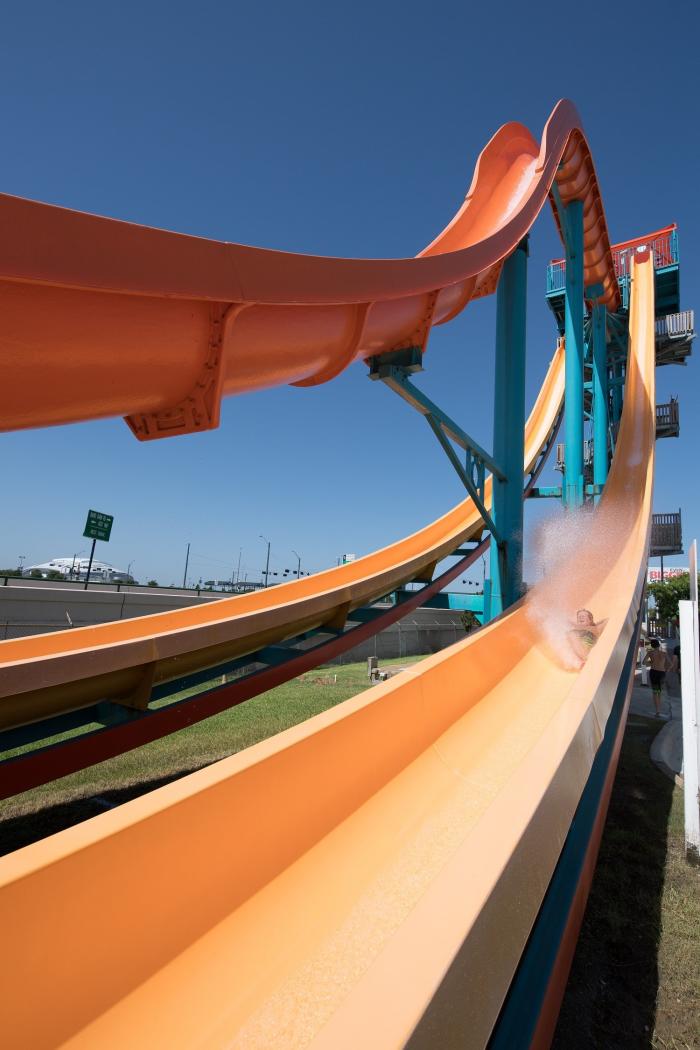 Der Stuka
Like the Titan at Six Flags, Hurricane Harbor's Der Stuka waterslide looks deceptively simple—but the massive thrill this seven-story slide delivers is unforgettable, which is why it's been a signature Hurricane Harbor attraction for decades of loyal fans. Are you ready for the freefall of a lifetime? Climb to the top and take the plunge now.
Additional COVID-19 Related Resources:
Arlington Coronavirus (COVID-19) Updates
Restaurants offering curbside and takeout