We all deserve some treat-yourself-time! Whether you want to order to go or dine in, these restaurants always hit the spot. Plus, their patio spaces are the perfect way to take in the breeze and enjoy happy hour.
Check with each restaurant for hours as things change.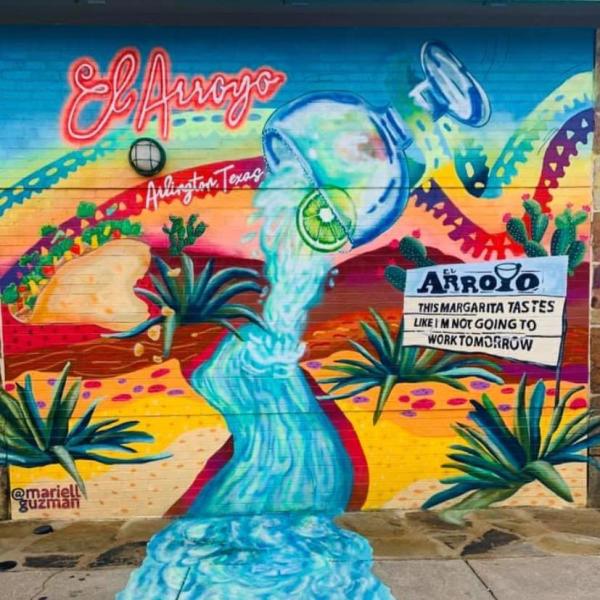 Image from El Arroyo Facebook page.
El Arroyo
(817) 468-2557
5024 S Cooper St, Arlington, TX 76017
If you love TV and the outdoors, El Arroyo has you covered. On top of their fresh Mexican food, they have 15 flat screen TVs to kick back and watch while you eat. Plus, their margarita mural is the perfect photo op to celebrate happy hour!
Daiquiri Depot
(817) 459-2696
2544 E Abram St #100, Arlington, TX 76010
There's just something about soul food and summertime that feels right. As summer comes around, head over to Daiquiri Depot for your fill of Southern home cooking – and daiquiris of course. 
Image from Social House Facebook page.
Social House
(682) 276-3830
1705 N Collins St #101, Arlington, TX 76011
Enjoy their slow roasted bourbon butter chicken and other tasty eats on their breezy patio. The white umbrellas and string lights at Social House create the perfect relaxing mood.  As their Facebook page says, "Stay social safely!"
Hurtado Barbecue
(682) 323-5141
205 E Front St, Arlington, TX 76010
You'll have to stop by during lunch since Hurtado Barbecue is open until sold out, but grab your hand-crafted barbecue and enjoy it on one of the picnic tables outside. Pre-order online and check their Facebook page for specials like pico de gallo beef sausage and raspberry chipotle spare ribs.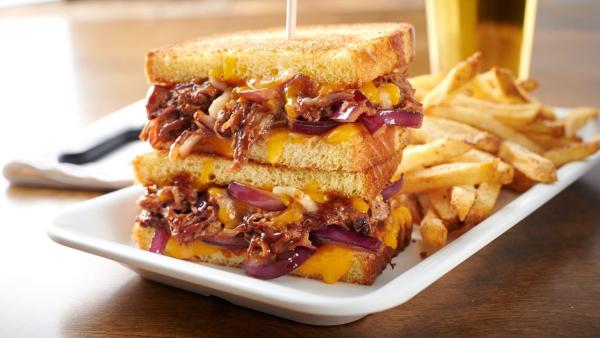 Image from Boomerjacks Facebook page.
North Arlington Location
(817) 275-5400
522 Lincoln Square, Arlington, TX 76011
South Arlington Location
(817) 375-5188
4000 Arlington Highlands Blvd #172, Arlington, TX 76018
This regional favorite is perfect for kicking back with a great burger and cocktail. Right now, Boomerjacks is doing happy hour all day every day – yes please! Take a look at their specials and start planning your happy hour.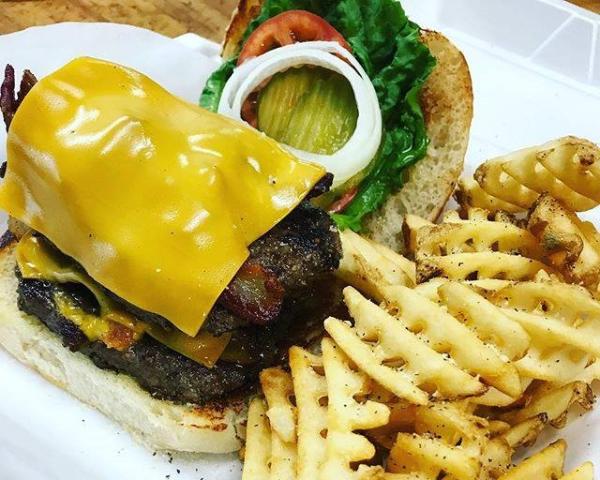 Image from Grease Monkey Facebook page.
Grease Monkey
(817) 665-5454
200 N Mesquite St #103, Arlington, TX 76011
Their mouthwatering burgers keep you coming back, and now there's even more room to wine and dine. Grease Monkey just expanded and renovated their patio space! Plus, check their Facebook page for the next night with live music.
Tipsy Oak
(817) 962-0304
301 E Front St, Arlington, TX 76011
Fresh takes on classics, like the brisket grilled cheese, make Tipsy Oak a must for comfort food lovers. Their shady patio and bright colors end the day on a cheery note. Go to their Facebook page for live music and specials.