Taste of Europe
1901 W Pioneer Parkway / Arlington, TX / 76013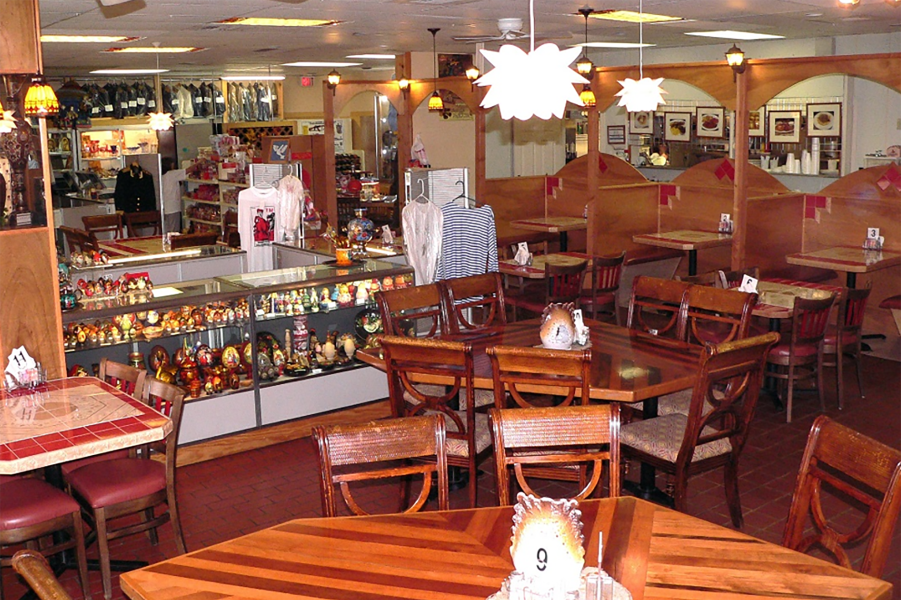 Arlington's Taste of Europe has long been considered a "hidden gem" by Arlington locals and visitors in the know, especially after the restaurant was featured on The Food Network's "Diners, Drive-Ins, and Dives". [Handout image]
I absolutely love unusual and different spots and immersing myself into cultures that aren't my own. The love probably comes from my own background, growing up in different places and countries. So, when I discovered this gem years ago, it was quick to become one of my favorite places to have a great meal. Visualize herringboned tables and unusual candies. World War II military gear and Russian nesting dolls. Intriguing menu items that make you want to try every dish! Welcome to Taste of Europe, where you're immediately transported into another world and another time, one that seems far away from bustling Pioneer Parkway just a few yards from Taste of Europe's front door. We sat down with owner Mikhail Frumkin, a native of Belarus who has lived in Arlington since the 1980s (his wife Irina Frumkin is also an owner and runs the kitchen), to find out more about one of Arlington's favorite international restaurants (that's also a gift shop and grocery, by the way):
What made you decide to open an Eastern European restaurant in Arlington?
Mikhail Frumkin: "Many years ago, when I was working as a civil engineer, a friend who worked at a museum in Dallas asked me to help with the Catherine the Great exhibit that was coming to the area. This experience led me to open an Eastern Europe import store and café that was located in different malls in Dallas-Fort Worth. I eventually decided that I wanted a business here in Arlington, so I purchased this building when it became available in 2001 and opened the following year.
"I chose Russian and Eastern European food because I wanted people to know more about these cultures. It was difficult and slow at first, because the food was 'different'. People doubted our success. But I said, "Good food will bring all people." People try our food, they bring their friends, their friends bring their friends. Now we're as busy as anyone. People call trying to sell me advertising—I tell them 'I have enough business; I don't need it'. Plus, I'd rather have quality over quantity any day. My wife is the chef and I do the cash register, wait on tables, manage the grocery store and gift shop. We like to do and learn about everything. "
When you opened, where did you think you'd be 10 years later?
MF: "Well, I wasn't sure. But I did know that when I start something, I can deliver. So I felt like it would come out well."
What are some of your most popular menu items?
MF: "I get asked this a lot. The truth is that everything is popular—if it isn't, we remove it from the menu. When people ask me for a recommendation, I ask them questions: 'Do you like meat, and if so what kind? Or do you like other things?' We do everything fresh, everything from scratch. We also have a very good selection of beer and wine from Russia and other places in Europe. "
Author's note:  TIPS for your first visit-   My husband and I have tried almost everything, so here's a tip: Gather a group of friends to join! Start off with the cup of borscht. Yes, borscht is beet soup, but leave everything you think beet soup will taste like behind, because this stuff is magic, served with sour cream. Trust me, you'll be surprised by how much you like it. Then do a family style table order of cabbage rolls, kolduny (meat stuffed potato pancakes, yum!) and Chicken Kiev (stuffed chicken breast) or the goulash. End the meal with a plate of crepes with your friends, stuffed with everything from Nutella (how can you go wrong with anything spread with Nutella?!?) to Russian preserves. Also, ask Mikhail about his favorite wine pairings, he won't steer you wrong. 😊 Enjoy!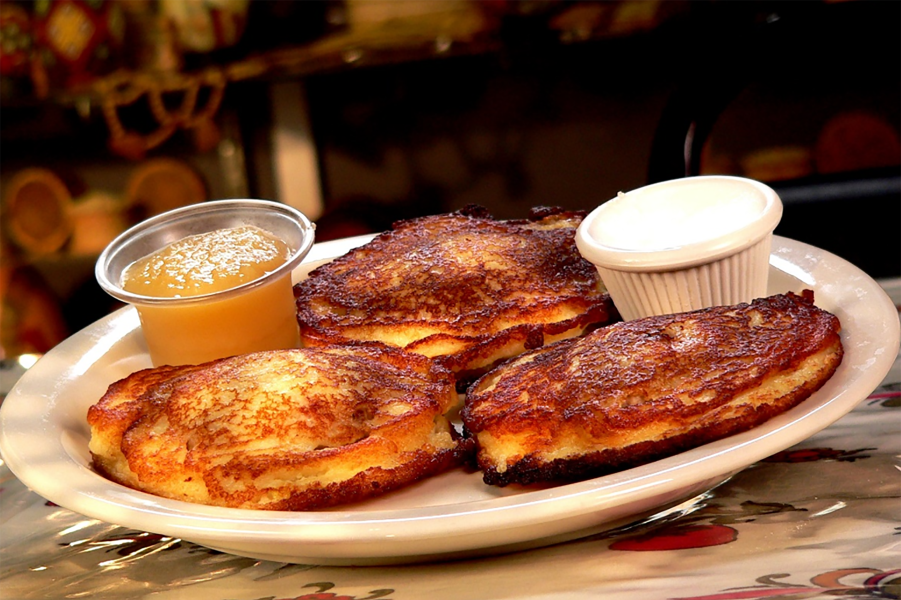 Kolduny is a popular stuffed pancake/dumpling dish at Taste of Europe [handout image].
What was your favorite dish growing up, and do you serve it at Taste of Europe?
MF: "Beef Stroganoff was one of my favorites, and yes, we serve it. But I like everything (especially meat) and am never afraid to try anything new."
I absolutely love your gift shop. Can you tell us more about it?
MF: "We sell home décor, jewelry, collectibles, antiques, art. Almost everything is handmade or even one of a kind. The items are from Belarus, Russia, the Ukraine, the Czech Republic and other countries. I like to select conversation pieces, things that people haven't seen before."
(Authors Note: If you love unusual pieces of hand-crafted jewelry, you will love the collection at Taste of Europe!)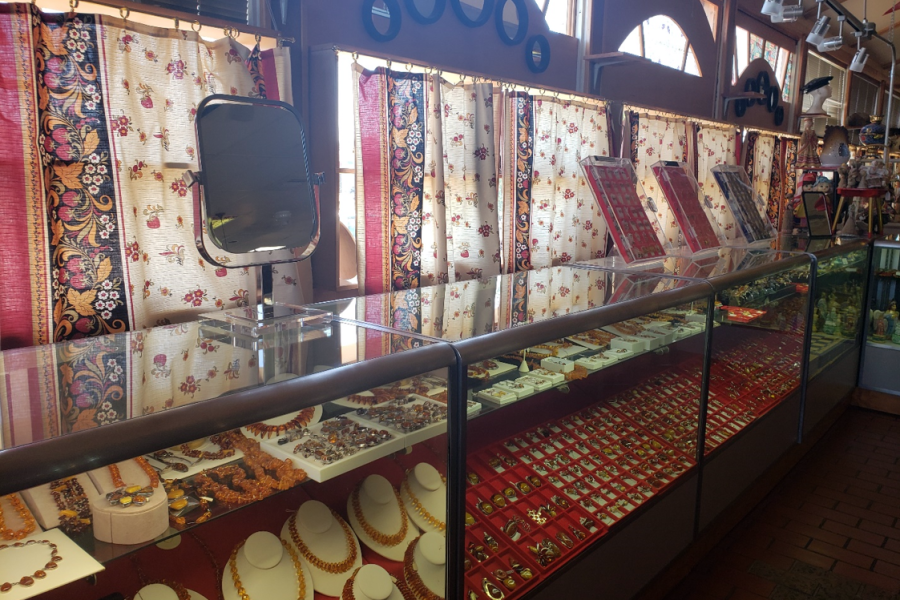 Make sure your Taste of Europe visit allows time to browse the store's intriguing gift shop.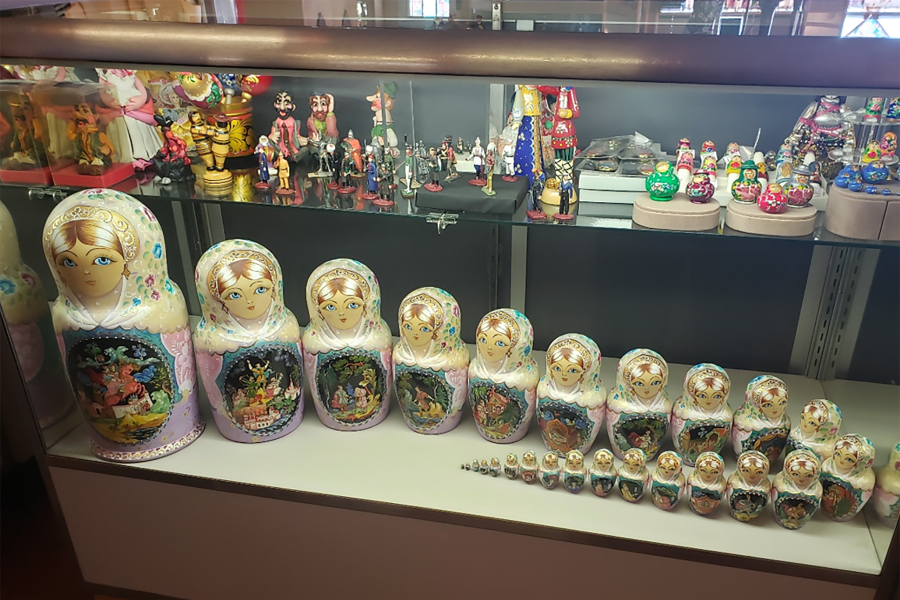 Collectibles and curiosities like these Russian nesting dolls abound at Taste of Europe…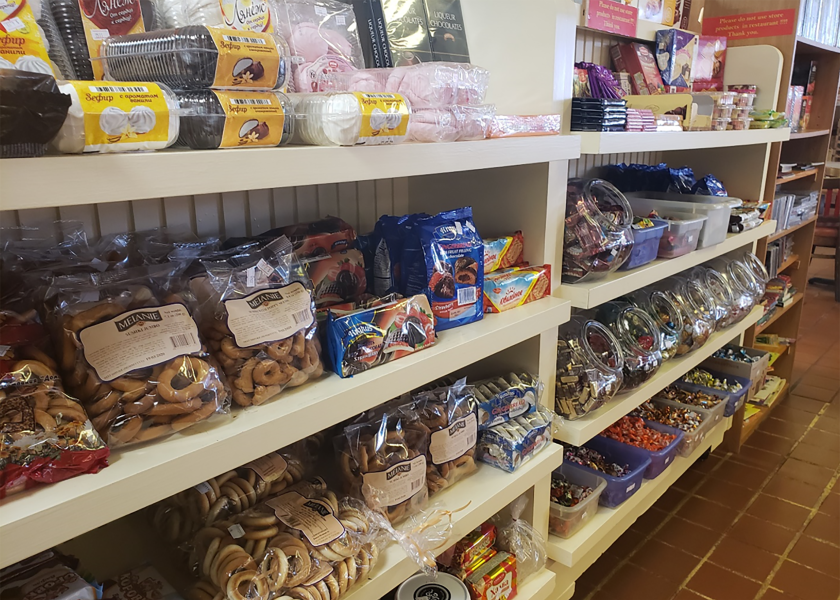 The Taste of Europe grocery is small but fascinating…
What's the story on the beautiful mural on the side of your building?
MF: "It was painted by a friend, the artist Yuri Trushin. He was very meticulous, worked on it a half a year. I think it's very nice."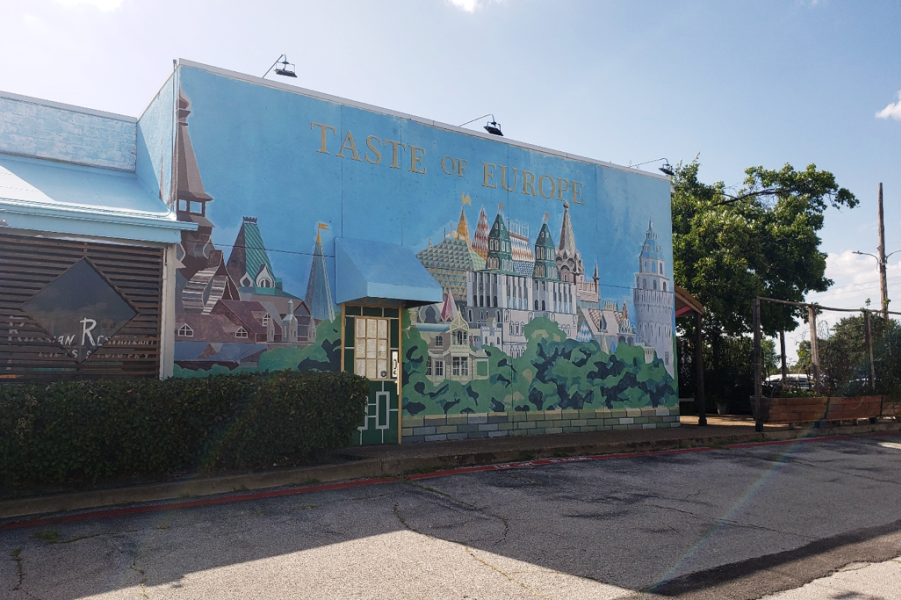 What do you love the most about your guests?
MF: "I like talking to them, and I also really like it when guests are interested in trying something new. One time a guest came in and said that he wanted to try Russian food, and you could tell by the way he said it that he thought it might kill him. But he wanted to give it a shot. I respected that. Our food is not for everyone, but until you try, you don't know. Most people end up really liking it, which is one reason why we have excellent reviews."
How have you seen Arlington tourism change over the years?
MF: "We have a lot more tourists in our restaurant now. About half of our guests are local, and half are from other areas. We have people driving hours just to come here, from San Antonio, Oklahoma, Louisiana. We get a lot of people from the East Coast, from countries around the world who are visiting the area and learn about our restaurant. Arlington does a good job with tourism. Summertime can be slow for a lot of restaurants, but summers are great for us with all the visitors coming to Arlington."
Find out more about Taste of Europe