Arlington has changed considerably over the years, evolving from a small cotton-ginning and farming community to one of the largest cities in Texas. But if there's one aspect of life in Arlington that's remained consistent, it's tourism, which has long played an important role in the Arlington story, growing in size and stature along with Arlington itself. Let's take a quick stroll down Memory Lane and enjoy a few fun facts (and pictures) about Arlington tourism, then and now:
Downtown Arlington—THEN: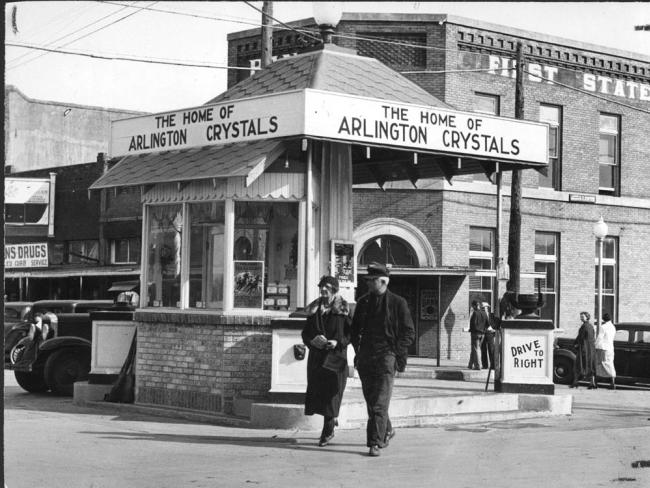 (Mineral Well at Main and Center Streets, 1930. From the Special Collections at the UTA Library.)
For nearly 60 years, both locals and out-of-town visitors flocked to Downtown Arlington to partake of the "healing waters" of Arlington's famed mineral well, which was eventually shut down in 1951 to make way for downtown auto traffic. Contemporary landmarks near site of the Arlington well include Arlington City Hall, the new George W. Hawkes Central Library, and the 404 Border apartments (see below).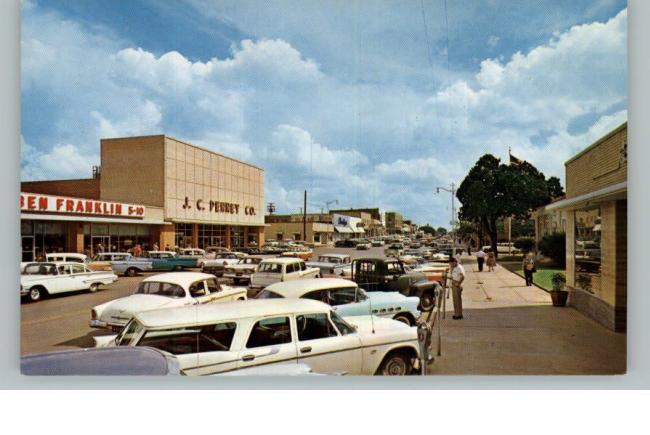 (Eastward view of Main Street in Downtown Arlington, circa 1960. Postcard by Western Fotocolor.)
Shopping was the big draw for Downtown Arlington way back when, but today, most visitors to Main Street are probably there to catch a show at Theatre Arlington or an exhibit at the Arlington Museum of Art, the current occupant of the J.C. Penney building seen in this vintage postcard.
Downtown Arlington—NOW: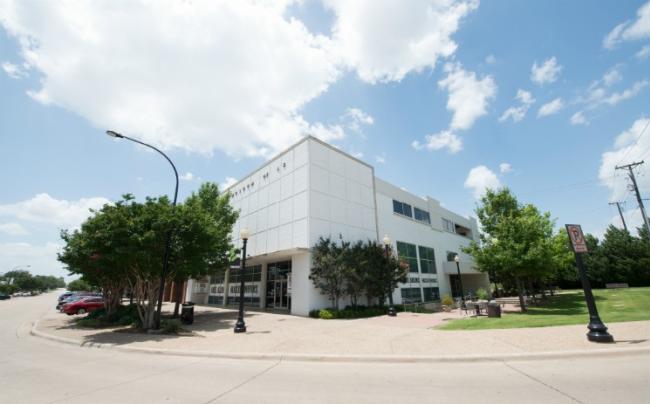 (Arlington Museum of Art. Image from the City of Arlington.)
Here's what the J.C. Penney building looks like today. The Arlington Museum of Art hosts a number of internationally-noted exhibitions each year –such as Picasso, Warhol and Dali to name a few—as well as lectures, classes, workshops and film screenings. The museum is also a popular venue for weddings, parties and other special events.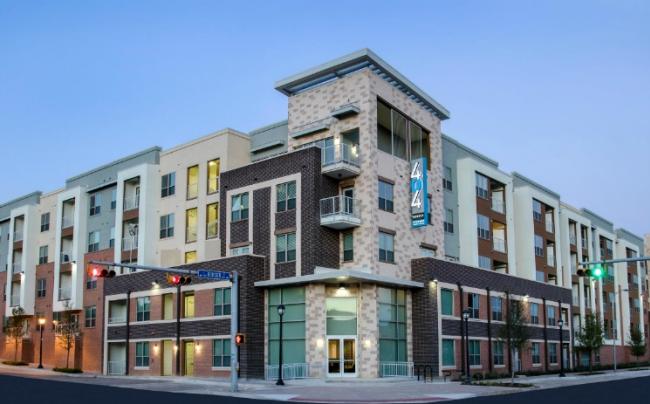 (404 Border Apartments. Image from Downtown Arlington.)
For years, residency in and around Downtown Arlington was stagnant and mostly limited to housing for UTA students—but recently, new developments like the luxury 404 Border apartments are bringing new life to Arlington's revitalized downtown district. Among the perks of living downtown is easy proximity to destinations like Urban Union, Sanford House Inn & Spa, and the Levitt Pavilion.
Arlington Music Hall—THEN: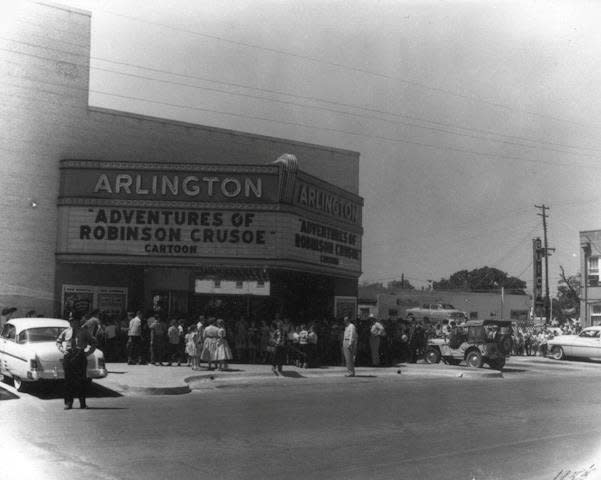 (Arlington Music Hall at 224 Center Street, circa 1954. Image source unknown.)
Arlington was still a small town in the early post-war years, which meant that residents frequently had to go to Fort Worth or Dallas to catch a movie or a live show. But all that changed in 1950, when the glamorous Arlington Music Hall opened with a showing of "The Story of Seabiscuit", starring Shirley Temple.
Arlington Music Hall—NOW: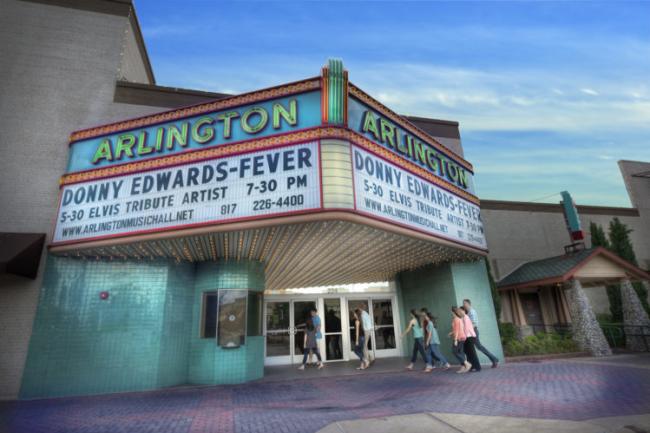 (Image from Downtown Arlington.)
Today, Arlington Music Hall is alive and well as a 1,000-plus seat concert and event venue with a cool vintage vibe—and yes, that's the original marquee! Music acts that have graced the velvet-curtained stage include LeAnn Rimes, Willie Nelson, Rick Springfield and Eddie Money, just to name a few. Arlington Music Hall is also the official home of Symphony Arlington.
Six Flags Over Texas—THEN: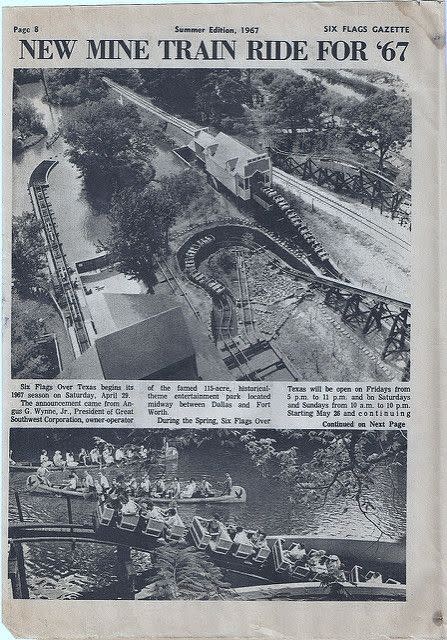 (Photo of the Six Flags Gazette, 1967, from the Museum of Public Relations)
One of the highlights of the seventh season at Six Flags Over Texas was an updated version of the Runaway Mine Train, an Old West-themed steel roller coaster that had opened the previous season.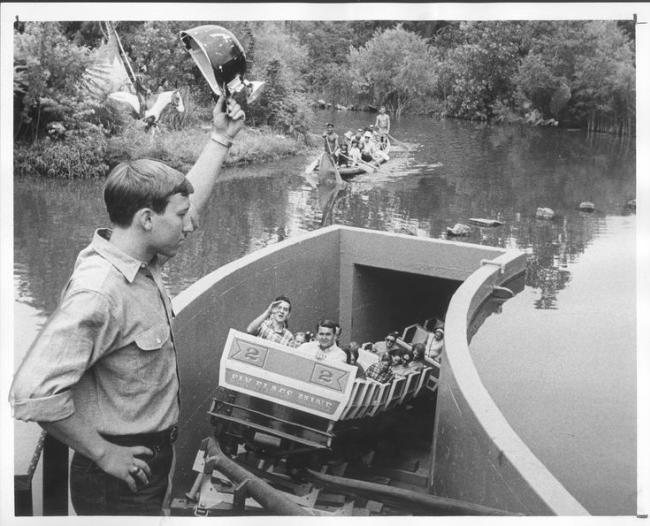 (UTA Library Special Collections)
The Runaway Mine Train intersected with the LaSalle River Adventure, a popular Six Flags ride/experience that operated from 1961 to 1982.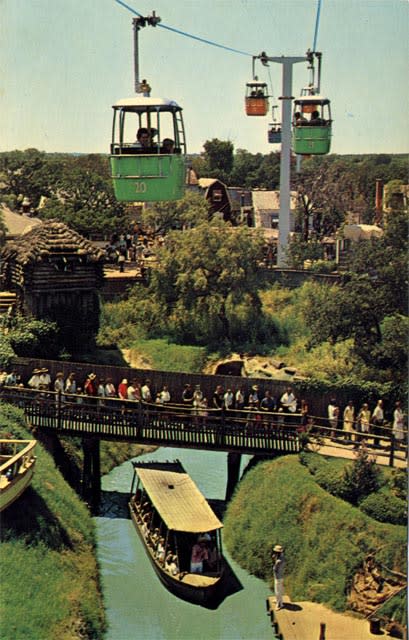 (The Six Flags Astrolift, as seen over an expedition of the LaSalle River Adventure. Image source unknown.)   
From 1961 to 1980, Six Flags operated the Astrolift, a suspended cable gondola ride that also served as a way for guests to travel between the park's USA and Texas sections. The ride offered stunning aerial views of the park that Arlington types of a certain age still reminisce about today.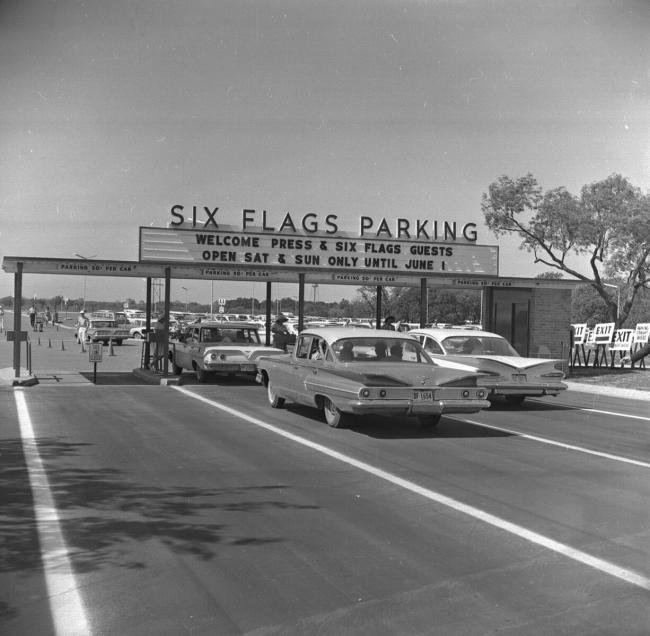 (Six Flags Opening Day, 1963. Image from the UTA Library.)
During the park's first decade of operations in the 1960s, Six Flags added a number of attractions that are still in operation, including Boomtown, the Oil Derrick, and El Aserradero. By the decade's end, the theme park had become one of the region's primetime family entertainment destinations, drawing nearly two million visitors a year.
Six Flags Over Texas—NOW: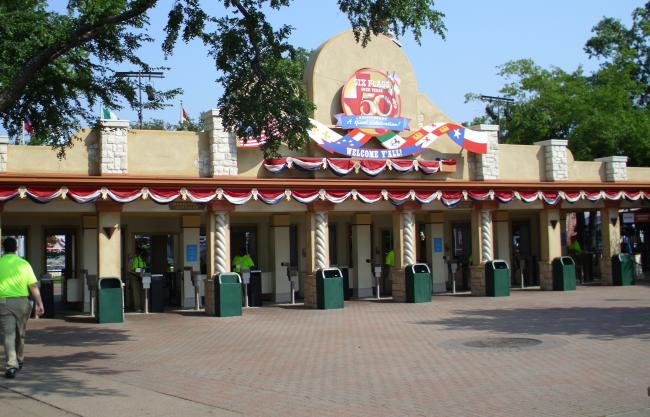 (Six Flags entrance in 2011 – public domain image.)
By the 2010s, Six Flags Over Texas was attracting upwards of 25 million guests each year. A highlight of the park's 2011 50th anniversary season was the opening of the New Texas Giant, a 153-foot thrill ride that's billed as the "best steel hybrid roller coaster in the world".  (A hybrid coaster combines classic wooden roller coaster architecture with high-tech steel engineering.)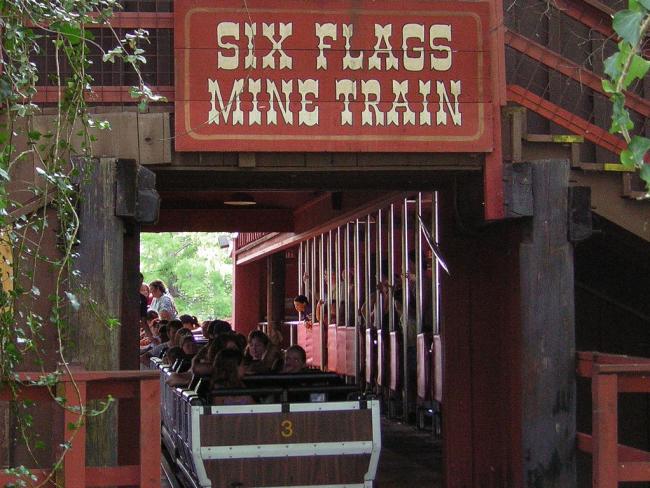 (Image from Six Flags Over Texas.)
Here's the Runaway Mine Train today. Since the ride's debut, the mine train roller coaster concept has been copied at theme parks all around the world, but Arlington will always be home to the original.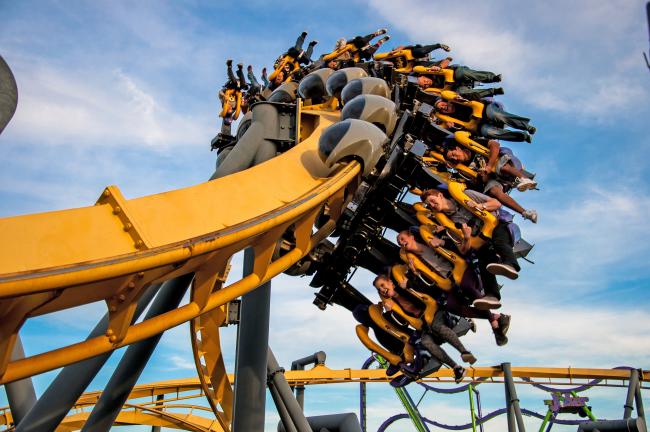 (BATMAN™ The Ride. Image from Six Flags Over Texas.)
One of the most popular thrill rides at today's Six Flags is BATMAN, an inverted-twist adrenaline adventure offering speeds of up to 50 mph and elevations of 100-plus feet.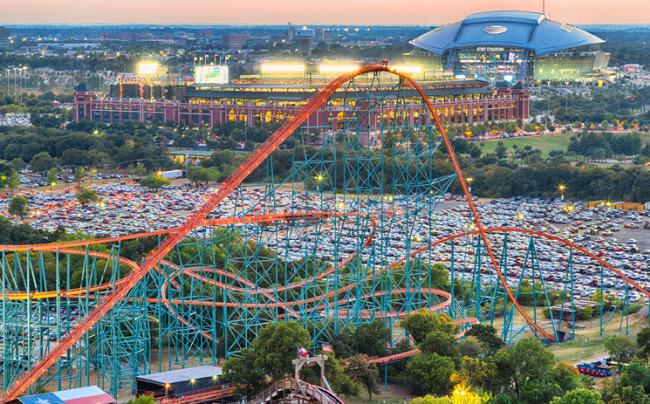 (Image from the City of Arlington.)
This aerial view of today's Six Flags Over Texas, made more dramatic by Globe Life Park and AT&T Stadium in the background, highlights why the Arlington Entertainment District is a destination like no other.
Arlington Shopping—THEN: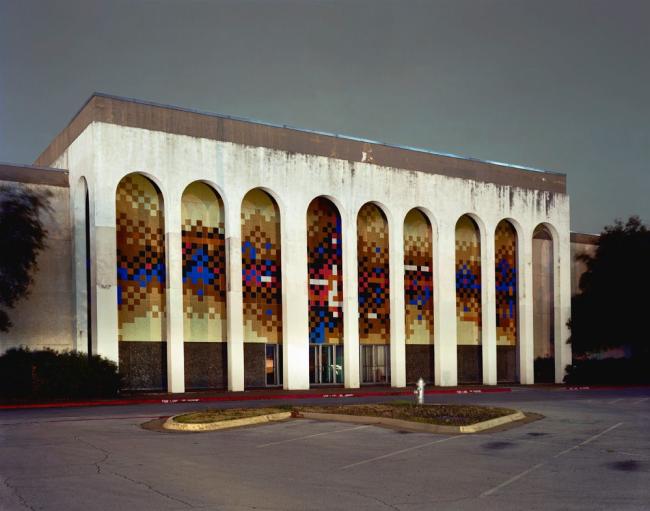 (Entrance to Sanger-Harris—later Foley's—at Six Flags Mall. Public domain image.)
No doubt that Arlington shopaholics were pretty excited about the 1970 opening of Six Flags Mall, the city's first enclosed shopping center. The mall was located off of State Highway 360 in the midst of the industrial complex that borders Six Flags Over Texas,  hence the name.
The Southwest-inspired glass tile mosaic at the entrance to the Six Flags Sanger-Harris eventually became an iconic North Texas image, along with the Sanger-Harris murals at Valley View and Town East malls. The giant murals were the work of Dallas-based artist and architect Brenda J. Stubel, who passed away in 2017.
(Six Flags Mall interior- image source unknown.)
Former Six Flags shoppers still enjoy recalling the mall's "Spanish court" interior and lamp-lit seating areas, as well as lunches at El Chico and Wyatt's Cafeteria.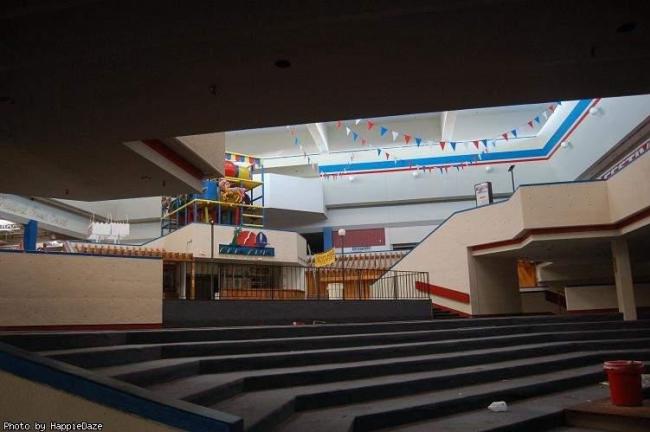 (Forum 303 Mall, located at Pioneer Parkway and State Highway 360)
The other grand dame of Arlington's shopping past was Forum 303 Mall, which also opened in 1970 (a good year for shopping in these parts!) and operated until the late 1990s. The mall was famed among locals as the home of Arlington's first Chick-Fil-A, late night Friday night screenings of "The Rocky Horror Picture Show", and a small amphitheater where many a tiny dancer, twirler, or singer gave performances in front of admiring audiences of parents and grandparents.
Arlington Shopping—NOW: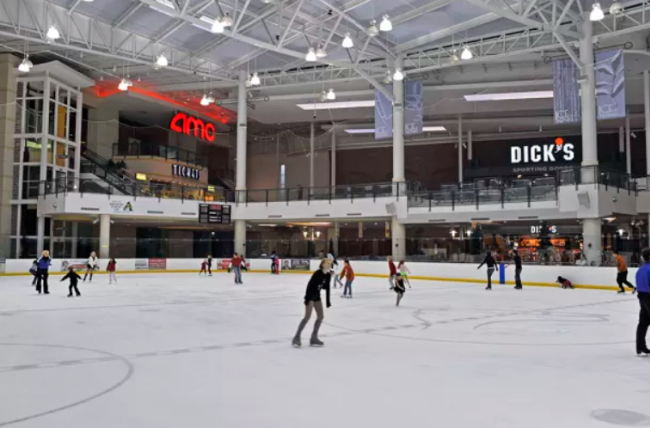 (A day in the life at The Parks Mall at Arlington, which is home to AMC The Parks at Arlington and ICE at the Parks. The Parks Mall opening was highly celebrated by late '80s south Arlington residents, especially teenagers, since shopping and restaurants—hooray for food courts!—were somewhat scarce in that section of town back in the day.)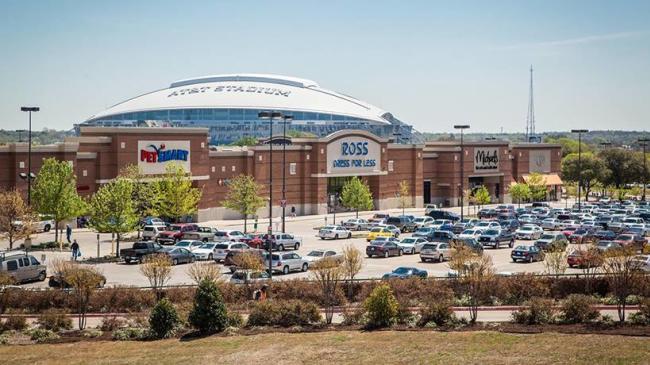 (Lincoln Square shopping center, located in the Arlington Entertainment District. The open air shopping, entertainment and dining destination is noted as the home of one of  Arlington's most famous pieces of public art, the Lincoln Square Horses Fountain. Image from Lincoln Square.)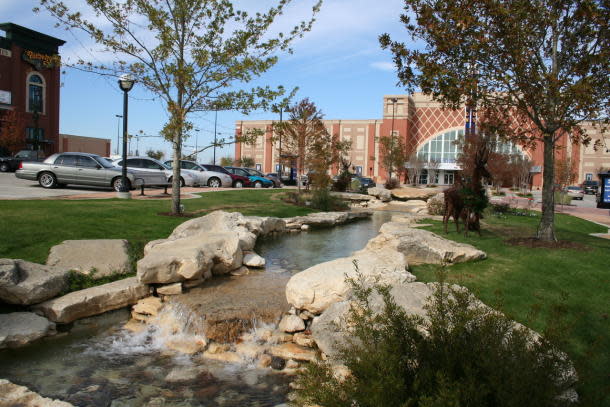 (Arlington Highlands, located in south Arlington along the I-20 corridor a few minutes away from the Parks Mall, is a classic example of the 21st century "lifestyle center". Among the destination's claims to fame is the fact that it's home to one of the region's few Container Store locations.)  
Today, most of Arlington's shopping action happens at Lincoln Square (open since the mid 1980s), the Parks Mall (open since 1988), and Arlington Highlands (open since 2006), which are collectively home to hundreds of regional and national retailers, dozens of restaurants and bars, an ice rink and three movie theatres.
Dallas Cowboys: Texas Stadium—THEN: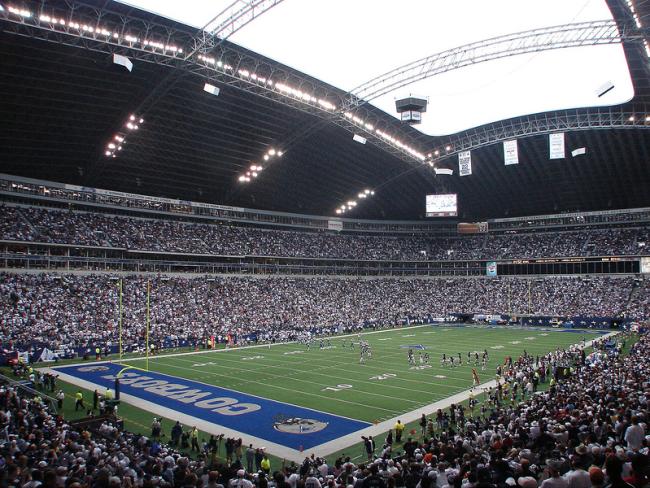 (Interior of Texas Stadium in Irving, TX. Image from stadiumsofprofootball.com)
Texas Stadium, which existed from 1971 to 2010 in Irving, TX, was home to the Dallas Cowboys for 38 seasons. The venue was noted for its distinctive "hole in the roof" architecture.
Dallas Cowboys: AT&T Stadium—NOW:
(AT&T Stadium in Arlington, TX. Image from the City of Arlington.)
On September 20, 2009, the Dallas Cowboys played their first game at the new Cowboys Stadium (later renamed AT&T Stadium), thus forever changing the face of tourism in Arlington, TX. AT&T Stadium is viewed as one of the world's premiere sporting and event venues, playing host to the likes of George Strait, Beyoncé, Reba McEntire, Taylor Swift, and U2 and Metallica, as well as a Super Bowl, NBA All-Star game, and the Academy of Country Music's 50th anniversary celebration. Among the stadium's many noteworthy design elements include a giant retractable roof and a fine art collection.
Texas Rangers: Arlington Stadium—THEN: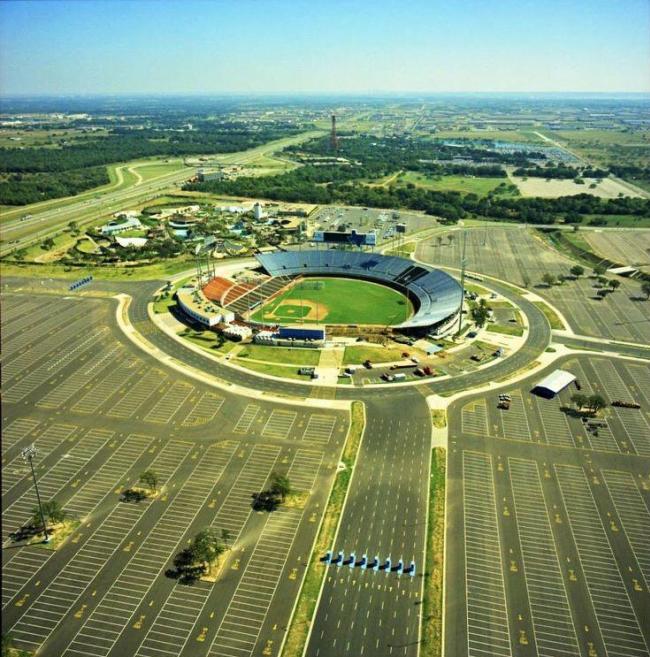 (Aerial view of Arlington Stadium, year and image source unknown. Note the Six Flags Oil Derrick in the background).
Arlington Stadium, formerly Turnpike Stadium, existed from 1965 to 1994 and was home to the Texas Rangers from 1972 to 1993. Among the venue's more notable moments were Nolan Ryan's 5,000th strikeout in 1989 and the introduction of ballpark stadium nachos in 1976.
Texas Rangers: Globe Life Park—Now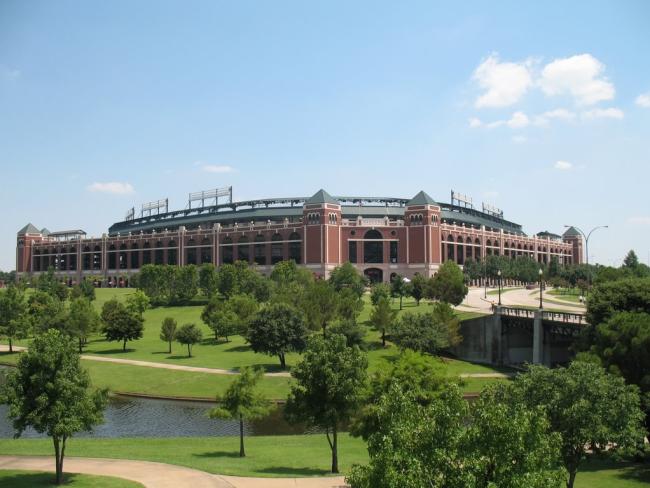 (Globe Life Park in Arlington, TX. Image from the City of Arlington).
In 1994, the Texas Rangers opened their 22nd season at the team's new home at The Ballpark in Arlington, later Globe Life Park. The foul poles, home plate and some of the bleachers from Arlington Stadium were moved to the new ballpark, which features a retro-themed design, luxury suites and club seating, and a number of Texas-themed design elements.
Texas Rangers: Globe Life Field—FUTURE: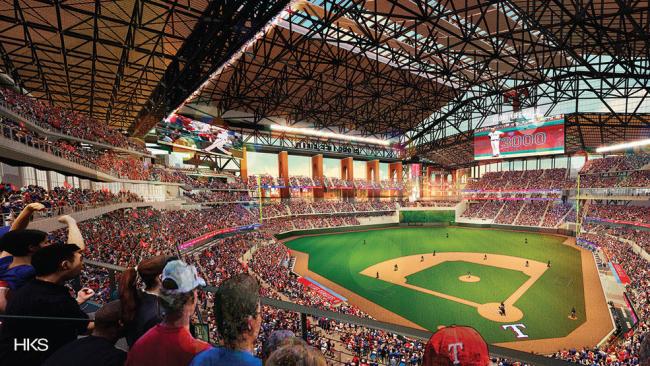 (Rendering of Globe Life Field, from HKS Architects.)
In 2020, the Texas Rangers will move to a new home at Globe Life Field, a 1.7 million square-foot sports and entertainment venue that will include capabilities for hosting high school, college and international sports, as well as concerts and other live entertainment. Like AT&T Stadium, the new ballpark will be a multi-purpose, world-class, retractable roof facility featuring climate control (better known as these parts as air conditioning) and a seating capacity of 40,000.
Find things to do in Arlington TX