It's fall y'all, and there is change in the air!
The changing of the seasons has quickly shifted our focus from planning socially distant summer vacays to balancing the hustle and bustle that comes along this time of year.
And let me just say, you're doing great!
That said, the last six months of quarantine have brought to light just how important leaning into and supporting our community is, and more specifically, our Black community. The good news is putting your dollar into Black-owned businesses, and in this case restaurants, is the easiest and most practical way to do so!
In June the Facebook group DFW Black Owned Restaurants, boasting more than 284k members to date, was created to support Black owned restaurants, chefs, and food trucks in the DFW area by providing helpful resources and a community for owners to share ideas.
This is another example of how our community has come together to lift the Black-owned restaurant marketplace here in Arlington and other North Texas cities. 
We've put together a list spotlighting 13 of our favorite restaurants you can support right here in Arlington! Whether you're in the mood for Soul Food, Cajun, Barbeque, Caribbean, and everything in between, there's a restaurant on this list serving up good eats that will satisfy any appetite!
I know what you're thinking…cake? Yes, cake! Cake Bliss is a bakery known for their uniquely custom designed sweet treats and have been featured on Cake Wars, Cake Hunters and Winner Cake All! Call to set up a an appointment or keep an eye on their Facebook page for their monthly walk-in day, where you can check out their space and purchase ready-made cupcakes, cake pops and other desserts that pique your fancy. Can't make it to a walk-in? Order on DoorDash the day of the event so you can have Cake Bliss treats delivered right to your door!
Address: 2304 W Park Row Dr #23, Arlington 
Phone Number: (682) 800-3882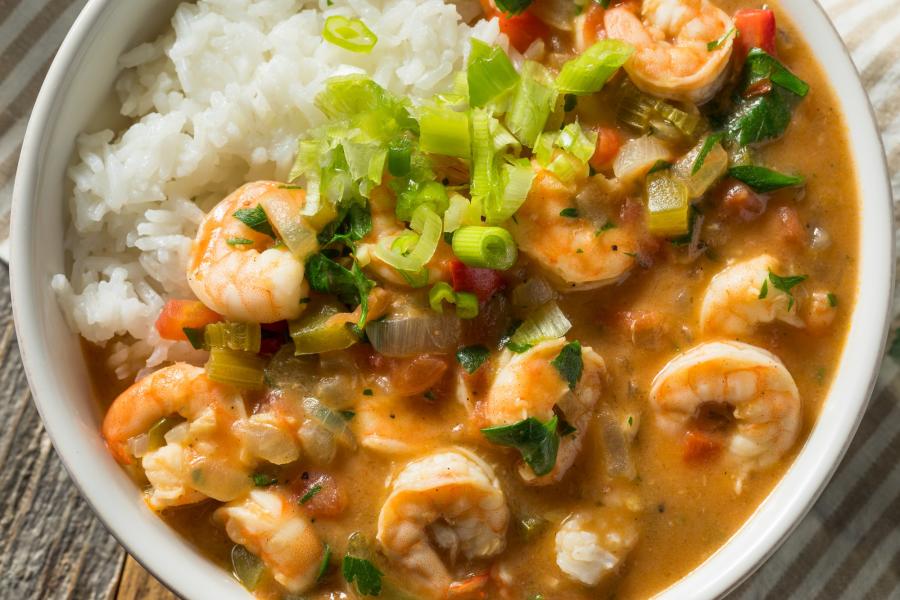 Photo courtesy Damian's Cajun Soul Café Website
This local favorite is your one-stop-shop to indulge in all the authentic Cajun food your soul desires. Owner and Louisiana native Damian L. Placide Sr. serves up everything from seafood etouffee and fried catfish, to smothered porkchops and barbeque ribs! Open from 11-5 pm on Sundays and 11-6 pm Monday-Friday, check out their menu and Facebook for daily specials.
Address: 2001 SE Green Oaks Blvd, Suite 190, Arlington 
Phone Number: 817-649-7770
Photo courtesy Daiquiri Depot on Facebook
Located in the heart of the Entertainment District, Daiquiri Depot offers a variety of colorful, and equally delicious, frozen daiquiris to-go as well as good ol' Southern home cooking. Whether you're in the mood for southern favorites like burgers, oxtail or candied yams; an after work pick-me-up or both, this restaurant has a relaxed atmosphere with indoor and outdoor seating that is sure to meet your needs! Don't feel like dining in? Order online for pick up as early as 8 am! Also, check out their daiquiri flavors of the week on Facebook.
Address: 2544 E Abram St #100, Arlington 
Phone: (817)459-2696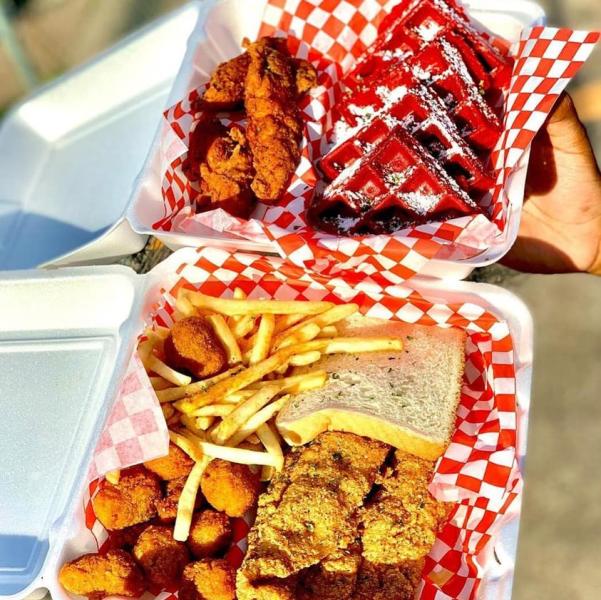 Photo Courtesy D. Smith Chicken & Fish on Facebook
Known for their great food and customer service, D. Smith's Chicken & Fish is open every day, offering up a relaxed family-friendly environment and some of the best wings, fried catfish and desserts around! Keep an eye on their Facebook for daily specials and featured desserts like red velvet waffles and cheesecake.
Address: 2280 N Collins St, Suite B, Arlington 
Phone: 682-323-4027
Photo courtesy Fred's Downtown Philly on Facebook
If you're looking for an authentic Philadelphia cheese steak in Arlington, Fred's are the real deal! This casual family-friendly restaurant serves up east coast entrees including fresh-off-the-grill cheesesteaks, hoagies and their famous Texas-sized Fat Fred burger coupled with main stay sides like Utz chips and spicy mozzarella sticks. They even sell Pennsylvania Dutch Birch Beer to really drive home the east coast experience. Check out their dine in hours, menu and weekly specials online and on Facebook.
Address: 1301 N Collins St, Arlington 
Phone: (817) 987-2093
New to downtown Arlington, Hershey's Palace serves up made-to-order Chicago-style cuisine including deep dish pizza, Italian beef steak sandwiches, wings and much more! Check out some of their dishes featured on the City of Arlington, TX YouTube channel.
Address: 513 E Abram St, Arlington 
Phone Number: (682) 323-5050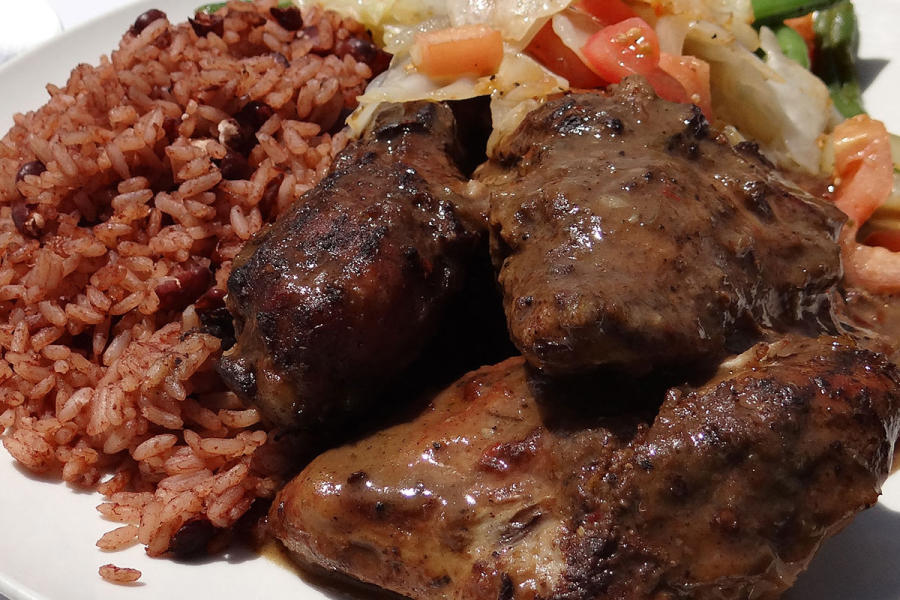 Photo courtesy Jamaica Gates Website
Jamaica Gates is your ticket to tasting authentic Jamaican food right here in Arlington! This restaurant serves up authentic Jamaican dishes including jerk chicken, curry chicken, oxtail and plantains, to name a few. The food here is so good it was even featured on Diners, Drive-ins and Dives.
Address: 1020 W Arkansas Ln, Arlington 
Phone Number: 817-795-2600
In the mood for barbeque? Look no further than OH MY BBQ's exhaustive menu of southern favorites including barbeque chicken, smoked turkey legs, rib tips and more! This family-oriented restaurant has been serving the Arlington community high-quality eats since 2011 and is sure to satisfy all your barbeque cravings. Can't dine in? Call in or order online for pick up to-go or delivery here. They offer online delivery services to Arlington, Fort Worth, Pantego and Grand Prairie.
Address: 901 E Arkansas Ln, Arlington 
Phone Number: (817) 303-1499
Photo Courtesy of Pasta Masta on Facebook
Pasta and sauces and toppings, oh my! This urban American pasta bar serves up fast casual build-your-own pasta bowls in a modern family-oriented environment. The customizable meals also make it vegetarian and vegan friendly! Check out their menu here. In a hurry? Order online for pick up or have your pasta delivered via DoorDash and Uber Eats.
Address: 620 W Park Row Dr, Arlington 
Phone Number: (682) 330-6141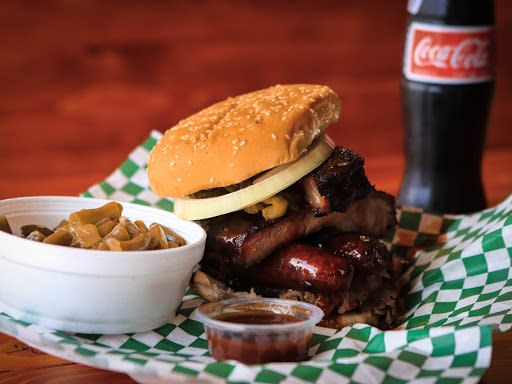 Photo Courtesy of Smoke'N Ash BBQ on Facebook
This restaurant is another barbeque staple in Arlington. They provide delicious barbeque classics like pork ribs, brisket, fried okra, sausage sandwiches and serve crispy fried catfish on Fridays and Saturdays! Smoke'N Ash offers a friendly dine in experience for guests along with the option to call in pick-up and delivery orders.
Address: 7301 Matlock Rd, Suite 127, Arlington 
Phone Number: 817-987-7715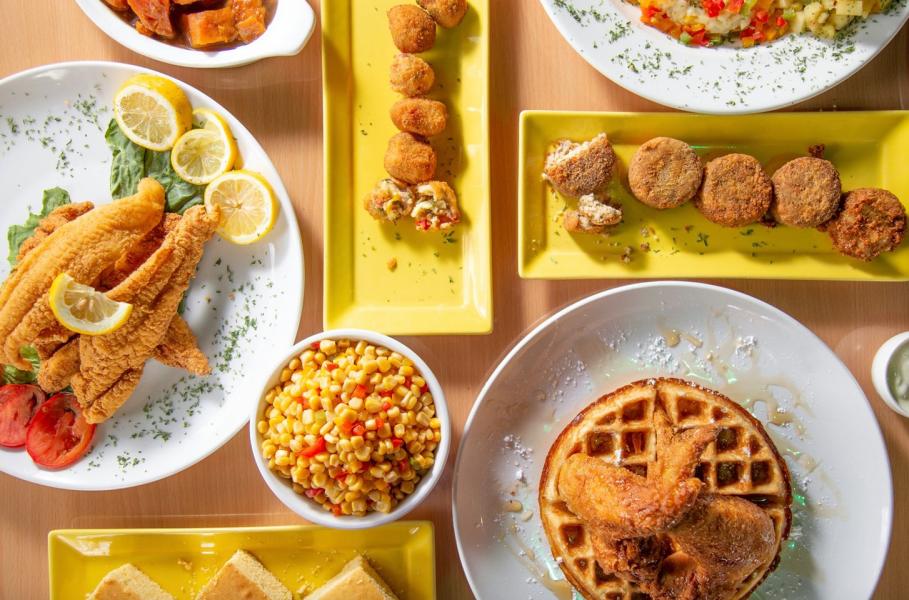 Photo courtesy of Southern Eats on Facebook
In the mood for comfort food, but low on time? Southern Eats has you covered with their convenient drive-through window, serving convenient southern cookin' on the go! Indulge in a plate of southern-fried pork chops, hot springs chicken fried steak, a St. Louis ribs and shrimp platter or a number of other menu favorites to satisfy your soul food hankering. Check their Facebook page for dine-in hours or schedule an online order for pick up.
Address: 6407 S Cooper St, Arlington
Phone Number: (817) 200-6922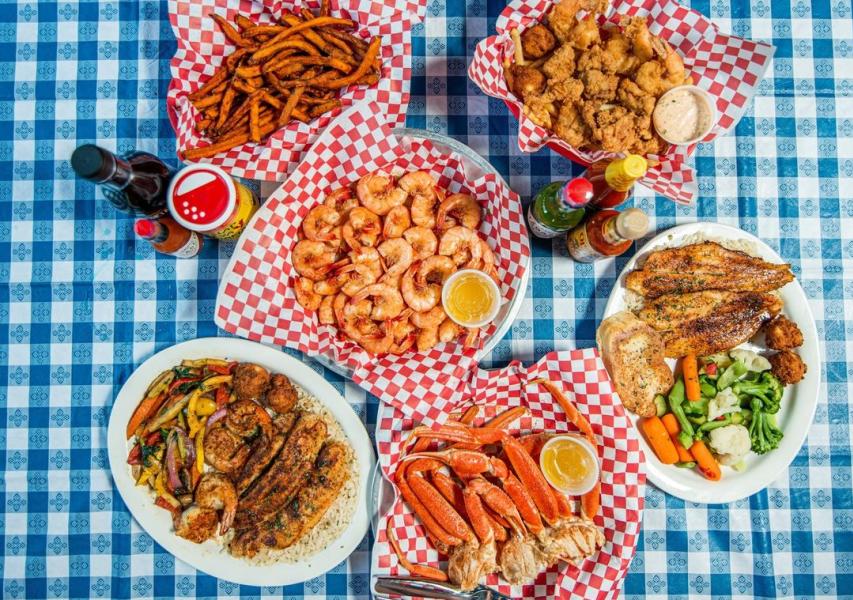 Photo courtesy of The Catch on Facebook.
Known for coastal dishes like oysters, grilled shrimp, snow crab legs and gumbo, The Catch specializes in fresh made-to-order seafood full of flavor. They encourage a "come as you are" environment and pride themselves on their famous Admirals Platter and Homemade Key Lime Pie! You can dine in during regular hours, call in to place a to-go order or have your meal delivered with DoorDash or Favor. Look out for discount specials on their Facebook page here.
Address: 5809 West I-20, Arlington 
Phone Number: (817) 765-2226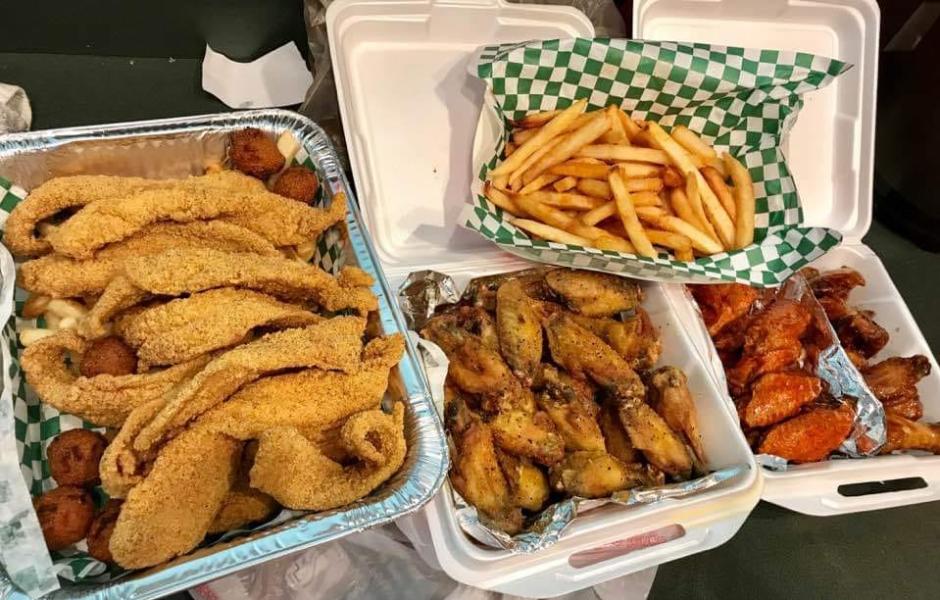 Photo Courtesy of TJ's Catfish & Wings Facebook
In the mood for seafood AND chicken, but don't want to have to choose? Well at TJ's you don't have to! Established in 2002, this local favorite is known for their famous southern-fried catfish and assortment of sweet, savory and extra hot wings. They currently offer lunch specials from 11-2pm on weekdays. Check out The Plug DFW's recent feature of TJ's Catfish and Wings from their Facebook series highlighting Black-owned businesses in the DFW metroplex.
Address: 4261 Green Oaks Blvd, #506, Arlington 
Phone Number: 817-572-1600