If you know me, you know I'm beyond crazy about coffee—and I also love telling people about cool and out-of-the-ordinary destinations in Arlington! So we were happy to get to sit down with Tom Vincent, founder and president of the Texas Coffee School, to find out more about how his business is part of the tourism fabric of our city.
Quick side note: There are three basic categories of experiences at Texas Coffee School: Training for Coffeepreneurs® (the school's main offering); training for working baristas and managers, and experiences for home enthusiasts. Choose from one of the three on the TCS website to find out more.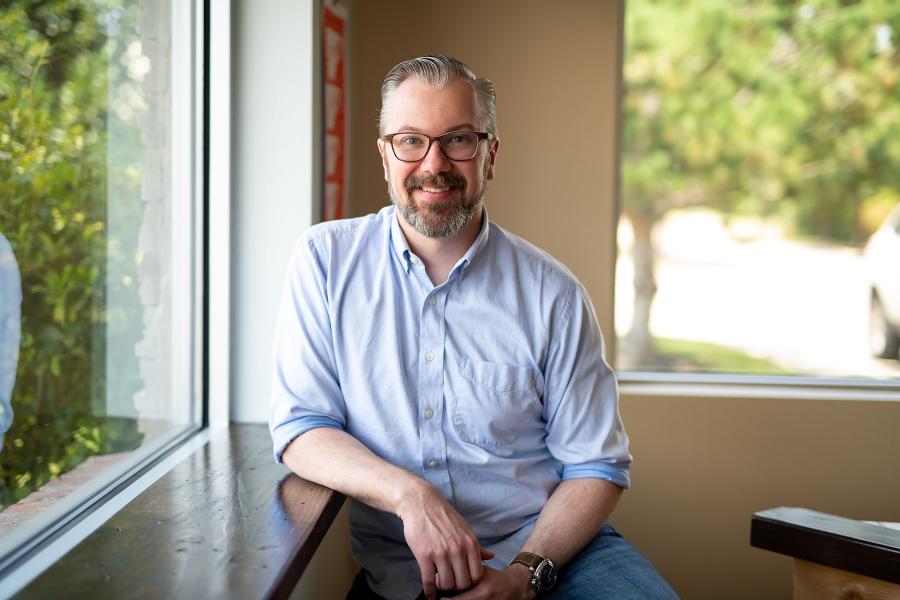 Tom Vincent of the Texas Coffee School (Image from Facebook).
Texas Coffee School
7203 S Cooper, Suite 101 / Arlington, TX / 76001
Why did you decide to open a coffee school in Arlington?
Tom Vincent: "It's a long story, the short version goes like this: Years ago, when I was working as a creative ad industry professional in Charlotte, N.C. I ended up on the elevator with a couple of guys from a prominent East Coast roasting company who invited me to a coffee cupping at their regional office in our building. I had never experienced anything like the coffee—it had notes of blueberry, chocolate, jam. I said 'what did you put in this?' and they said 'nothing', that this was what coffee was supposed to taste like, what it could taste like when it's cared for properly.
"I ended up coming back for more and becoming friends with these guys, who eventually asked me if I wanted to go through coffee training with a new employee. I later realized that I'd hit the coffee lottery, as these mentors went on to assume very prominent roles in the coffee industry. In other words, I learned from the best.
"In 2008, I moved to the Dallas area to work for a regional magazine, only to get almost immediately laid off when the recession hit. This ushered in a pretty rough time for me. One day during this down-on-my luck era, I decided I needed something to make me happy, so I went to an Arlington coffee shop to enjoy a cappuccino. I asked the manager if they ever did coffee cuppings, barista jams, things like that. He said 'No, do you do that?' and I replied that I used to. He then asked me if I taught, and I said 'As a matter of fact, I do!' Next he asked if I had a website, and I told him I would by Sunday." 
"Well, the shop ended up closing down a few days later, but in the meanwhile I threw together a website and starting training coffee enthusiasts in their homes. This eventually led to the launch of a consulting business where early on I consulted for two new coffee shops in Dallas that opened to rave reviews and are hugely successful to this day. I eventually brokered a deal to teach classes in the break room of an Arlington company that sold flavored syrups, but that came to an end when their lease ran out and they moved. 
"By this point I had realized that the training and expertise I provided was in demand—and more importantly, it was working for people. One day I happened to drive by this location and see a "for lease" sign, so I called the owner. He originally thought the Texas Coffee School was too weird of a concept and we wouldn't succeed, but I wore him down. One of my first students was a woman from Louisiana who wanted to open her own shop. She came away with great reviews about our program, and today owns a hugely successful coffee shop. This type of story has now happened hundreds of times at Texas Coffee School with students from all over the world."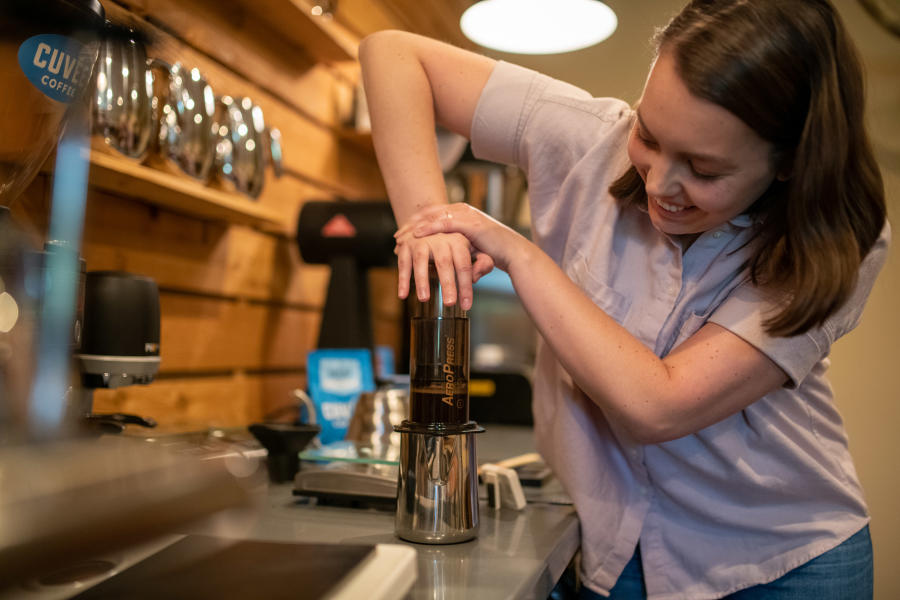 Texas Coffee School offers an intensive, three-day training courses for aspiring Coffeepreneurs®, a term coined and trademarked by Texas Coffee School. (Image from Facebook).
Based on your online reviews, you guys are considered rock stars! What draws people to the Texas Coffee School, and why do they leave as raving fans?
TV: "We offer a three-day Coffeepreneur® (coffee business) course where you learn the ins and outs of how to start a coffee shop business—building selection, hiring, getting a business loan, how to project earnings, equipment, operations, hands-on coffee education, everything. It's a very immersive program. People are blown away that we can teach so much complexity and detail in just three days, and by how organized, detailed, and approachable our real-world training materials and systems are."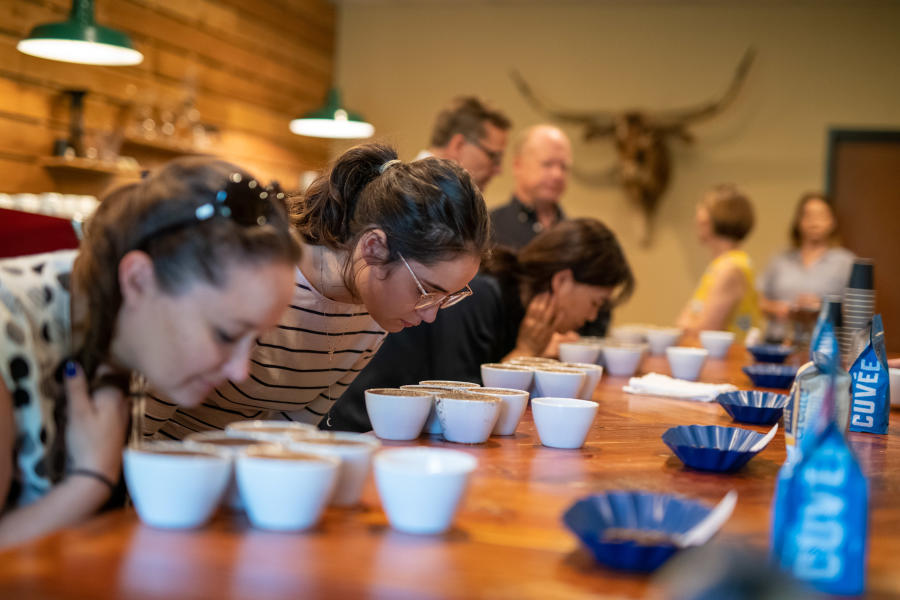 Although professional training is the core offering at Texas Coffee School, Tom and his team also host coffee cuppings and other coffee education events for coffee lovers of all backgrounds. (Image from Facebook.)
Do you offer experiences for the non-professional?
TV: "We have barista classes where people can learn how to use their home espresso machine or take their coffee nerdism to the next level. We really get into the science of coffee—it's not just a matter of pushing a button, there is a real chemistry to it. Water quality has a huge effect on coffee, for example. By the way, Arlington has some of the best water in Texas for brewing coffee.
"We also host coffee cuppings (tastings) because we want all people to be able to discover and explore coffee. These aren't money-makers for us, but it's my investment into the coffee community, a way to pay it forward."
How is Texas Coffee School a part of the tourism scene in Arlington?"
TV: "We've drawn students come from all around the world—Brazil, China, Nepal, Ukraine, Korea, Vietnam, Guatemala, Dubai, Turkey, Mexico, and Nigeria—and from across the U.S. and Canada. They stay in the area hotels, go to Cowboys and Rangers games, and spend a lot of money in the locally owned restaurants and attractions."
What's the best cup of coffee you ever had?
TV: "I haven't had it yet, because I'm always looking for the next best cup. These experiences can come in different ways. Sometimes it's been here at the school. One time it was when I was hiking the Appalachian Trail and I made coffee on a mountain top with my Jetboil. It's always a continuing quest to have the best cup ever, because every year and every season is different for coffee. I always think of it in the future tense."
Do you have any pro tips for people like me who are home enthusiasts?
TV: "First, stop buying coffee at the grocery store. Coffee has a shelf life, and even the good brands sold at the grocery store can be several months old. Instead, you should buy fresh roasted coffee from local coffee shops or local roasters. Be sure to grind it fresh with a quality burr grinder.
"Also, take a class. I know this may sound self-serving since we offer classes, but I'm being sincere. Coffee is the most affordable luxury there is—it can be expensive to get started, but it's inexpensive to maintain. The fact is that life is too short for bad coffee. You start your day with it every morning, so why not learn how to do it right?"
(Author's note: You can find out more about selecting a burr grinder and other tips for at-home coffee brewing on the Texas Coffee School blog."
What does your at-home experience look like?
TV: "I have a Chemex pour-over (hand-brewed coffee) every morning." (Author's note: There's a great Chemex brewing guide on the Texas Coffee School website.)
What's your favorite part of your job?
TV: "Hundreds of coffee businesses around the world have been started because of what people have learned in this small classroom—people who don't have the slightest experience, but who leave here confident with a clear direction ready to take on the world as coffee pros.
"A lot of people who decide to start a coffee business are at a transition point in their lives—layoffs, burnout, even divorces on occasion—and when they come here you can see a lot of uncertainty in their eyes. When I visit their coffee shops later, I see that the uncertainty has been replaced with joy, and I see how their coffee shops are making a difference in their communities. I love making coffee, but my passion—my 'why'—is coffeepreneurship and helping people find themselves, people who in turn make the world a better place through their coffee communities."
Find out more about Texas Coffee School