For several years I've argued that the Dallas Cowboys Cheerleaders' nickname, "America's Sweethearts," should be overhauled because they've become international. Maybe "World's Sweethearts"? Again in 2019, the list of women who came to Arlington's AT&T Stadium to audition for the DCC was educated, accomplished, and from all parts of the United States and around the world.
This is my 18th year to serve as a judge for DCC Auditions, and each spring I'm thrilled to see the worldwide reach of the best dance squad in professional sports.
5 Things to Know about the 2019 DCC Auditions:
1. Not only do the hopefuls – ranging from number 1 to number 350 – hail from 34 different U.S. states, they also come from Japan, Hong Kong, and Jamaica.
2. The diversity of the rookies is not just their zip codes; it's their ages, too. The only age requirement during DCC Auditions is a minimum: you must be at least 18 years old by Day 1 of auditions. This time around, we had candidates from 18 to 50 years old.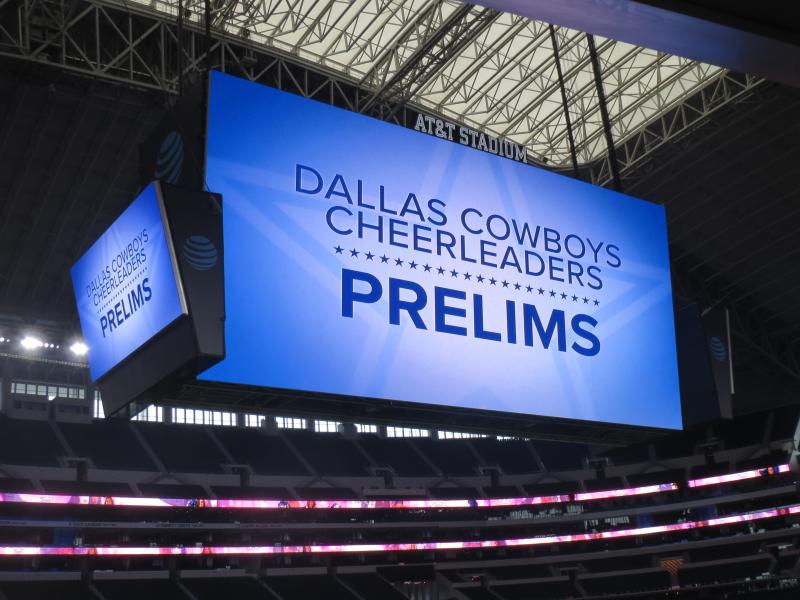 3. The majority of rookies have completed college and started their careers. As for collegiate dance backgrounds, this year's rookie hopefuls danced for a total of 46 different universities. Of the 100+ college graduates, 7 had masters degrees, one has their doctorate, another is working on her Juris Doctor degree.\
The range of degrees and career fields is impressive and includes actuarial mathematics, engineering, criminal justice, geology, broadcast journalism, accounting, occupational therapy, photography, fashion merchandising, interior design and much more.
4. Round 1 does not include the returning DCC veterans. This year, 29 of the 36 DCC members are returning to compete with the rookie hopefuls in Round 3. As for Round 1, 81 rookies have previously auditioned for the DCC. Of those 81, 16 made it to final rounds and 5 made it all the way to DCC Training Camp but didn't survive the final roster reductions.
If you are impressed by perseverance, three women are auditioning for the third time, and one is even auditioning for the seventh time!
Two of this year's hopefuls are "legacies" which means their mothers are former DCC. If you watched the 2018 edition of CMT's "DCC: Making the Team," you know about Olivia, the daughter of former DCC member Tina. Victoria is auditioning again this year…and, yes, she did great and advanced to the Final Round!
5. When we boast that the DCC is the top dance team in professional sports, all we have to do is point to the number of hopefuls who are already members of other pro teams and want to move up to dance for the best! In Round 1, there were hopefuls that have already cheered for 7 other NFL teams, 8 NBA teams and 2 NHL teams. Some were even captains of their former squads!