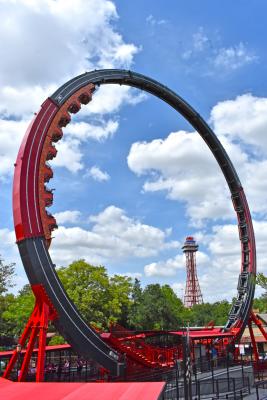 Six Flags Over Texas just unleashed their latest and greatest ride – El Diablo, the world's tallest loop roller coaster. Towering above us at 100 feet, the devilish new attraction was intimidating to say the least. We got a sneak preview of the thrill ride and here's the verdict.
At first glance, the simple circular design seems like no biggie – then we watched the curved train blast riders into the 10-story loop. Gulp. The closer we got, the more the sinister ride towered over us. The 32-passenger train has a unique "face-off" design with thrill seekers seated back-to-back and face-to-face. Watching passengers make the 360-degree revolutions made my head spin.
El Diablo starts off easy, rocking back and forth at the bottom of the loop… but the suspense is looming. As momentum builds, we found out why it got its name! The fiery red and orange coaster propelled us head over heels and changed direction halfway through, leaving us hanging in at the very top. There are no bad hair days on this ride. The halt suspending us upside down felt much longer than the few seconds it really was.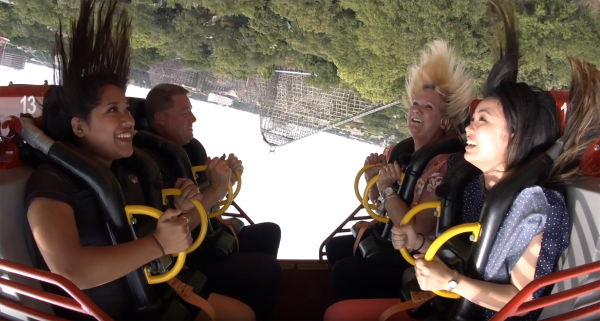 Tip: Make sure you open your eyes while you're upside down. From 100 feet in the air, you can see the whole park from a different view!
You can watch your friends' reactions in the "face-off" style seats and with six inversions, you're sure to make a face or two. Check out our reaction video and let us know when you plan to try it out!
The devil went down to Georgia, but made himself at home in Arlington, Texas. El Diablo is a smooth ride but filled with thrills from start to finish. You can find the park's 14th coaster in the Spain section of near La Vibora. For those who don't need the extra adrenaline, Six Flags has something for everyone with plenty of kids and family rides.
Find more things to do in Arlington