Do you love your local coffee shop? You know the one where the owner says hello every morning and asks how your kids are? Or the local pizza place that always knows what you want on your pizza? Many of these small businesses were some of the hardest hit over the past year, so we want to make sure we show them some love May 2-8, during National Small Business Week!
Check out these 5 ways you can support small businesses.
Shop Local – get your shopping shoes on and spend your dollars at a local shops and restaurants.
Share the love – Check-in on Facebook, share a photo on Instagram and leave positive comments on Yelp and similar outlets to help others find these hidden local gems.
Word of mouth – Tell your neighbors, co-workers and others what a great experience you had at your local favs! People love to follow first-hand recommendations.
Participate in local events – Visit your local farmers market, holiday festival or church bizarre. Support these local events where small businesses get a chance to highlight themselves.
Say Thank you – Let your local businesses know you appreciate what they do. Drop off a card or leave a little extra tip with a note the next time you visit.
National Small Business Week is the perfect time to support your favorite small businesses and explore new ones too!
Here are a few of our favorite Arlington small businesses to get you started:
Gold Pops
This local Arlington gourmet popsicle spot is famous for its Fried Ice Cream On a Stick, but you should also know this is a family business! Established in 2018, fresh fruit and seasonal offerings inspire this family to provide Arlington with flavors from around the world to cool you off as the temperatures rise.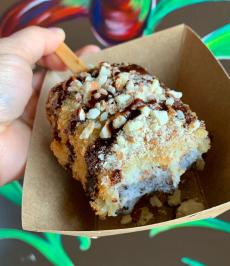 Did you know that you can have a "top golf" experience while supporting a local Arlington business? Golf Center of Arlington offers state-of-the-art driving range technology and the charm and hospitality of a family-owned business. With Spring in the air, stop by the Center to hit some golf balls, and fill up on craft beer and cheery conversation.
Check out Alley Cats the next time you are looking for family fun! This locally owned small business has two locations, and the South Arlington center has been entertaining families and supporting the local community for more than 10 years.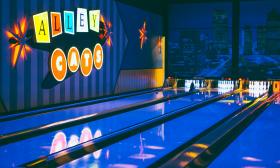 Looking for a staycation complete with a gourmet meal and spa experience? Look no further than The Sanford House. This family owned and run bed and breakfast has been a local favorite for years. Known for their community support along with their outstanding hospitality, visiting this small business will provide you with a very big experience.
Texas Civil War Museum
While the Texas Civil War Museum is located in Fort Worth, we wanted to highlight the fact that this museum is a family affair. Founded by Ray and Judy Richey, it now continues to be run by son, Marcus Richey. Their passion for preserving history and sharing this unique collection, can be seen in the exhibits and the hospitality to those who visit the museum! Consistently ranked as one of the top 10 museums in the area, this "small" museum is a must see.