Arlington's small businesses play a huge role in our community. As the state begins to open, local businesses and restaurants still need our support! Whether you're at home or in person, these are 10 local places in Arlington you can help out – they're just a click or call away.
Check with restaurants and businesses as things change.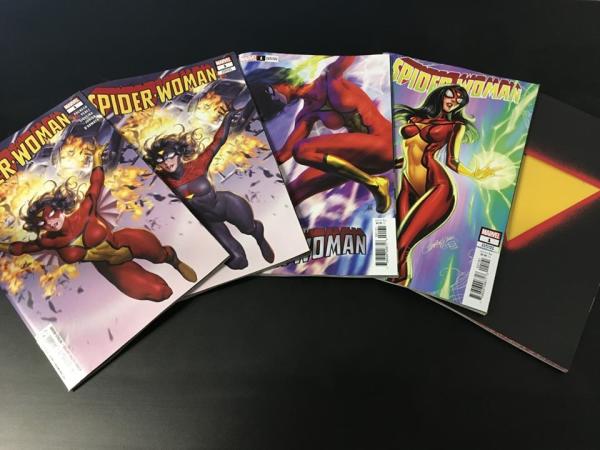 Image from Wild West Comics Facebook page.
1) Wild West Comics
(817) 265-0491
400 E Division St #110 / Arlington, TX / 76011
Wild West Comics has graphic novels, board games and role playing games – perfect combo to cure boredom. Browse their collection on their website and catch up on your favorite graphic novel. Shipping available through their online store and you can also call for pickup orders.
2) Collected Treasures
(817) 275-7444
406 W Main St / Arlington, TX / 76010
Filled with antique and fun finds from furniture and décor to jewelry and clothing, Collected Treasures has endless possibilities. Check out items on their Facebook page and call them to schedule an appointment. You can also browse their website.
3) Wildfire and Lace
(682) 323-5400
103 S Mesquite Street Suite A / Arlington, Texas / 76010
Retail therapy works just as great online! Wildfire and Lace has curbside pick up and delivery available. From comfy chic to dressy accessories, find a fun treat for yourself or a loved one! See their newest items on their website and stay up to date on the latest deals on their Facebook page.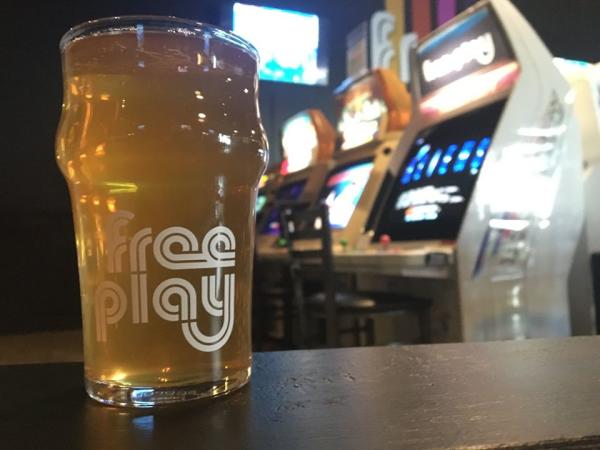 Image from Free Play Arlington Facebook page.
4) Free Play
(682) 320-8544
400 E South St, Arlington, TX 76010
This arcade is a favorite for kids and the ultimate throwback for the kids at heart. Free Play has to-go food and drinks available on weekends. Check their Facebook page for hours. You can also buy merch from t-shirts and hoodies to stickers or gift cards for a fun treat later on.
5) Board and Brush
(682) 238-4537
500 E Front St #150 / Arlington, TX / 76011
Are you crafters and DIY lovers dying to get your hands on something? Board and Brush's projects are available to order. Spruce up your walls, shelves and more with truly customized designs (with a little guidance for first timers). Check out some of their Home Kits and go to their Facebook page for more finds.
6) Bethany Café
(817) 461-1245
705 W Park Row Dr, Arlington, TX 76013
If you've been craving some boba, be sure to stop by Bethany Café. They also have fresh smoothies, teas and variety of Asian comfort food. View the menu on their website, and see their latest deals on their Facebook page.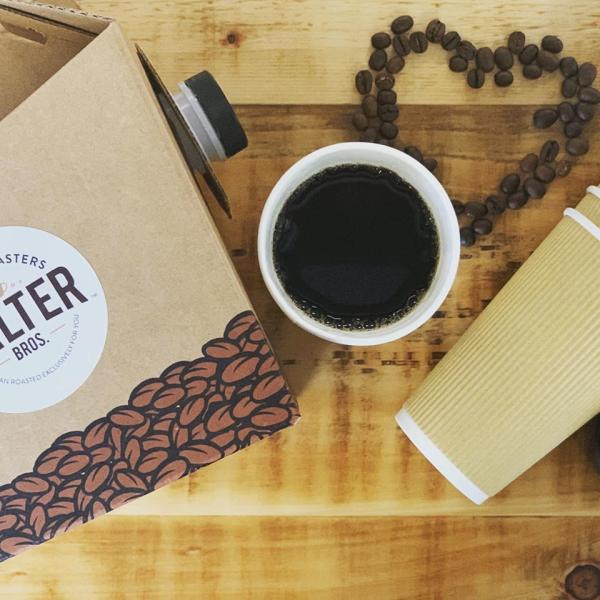 Image from Salter Bros Coffee Roasters Facebook page.
7) Salter Bros Coffee Roasters
(817) 200-7790
400 E Division St #105 / Arlington, TX / 76011
One of the latest additions to Urban Union, Salter Bros. Coffee Roasters has online orders available for pick up in store and shipping. You can even get a custom label on the bag of coffee – a sweet gift for the coffee lovers in your life! Stay up to date with hours on their Facebook page.
8) Pioneer Restaurant
(817) 633-4433
306 109th St / Arlington, TX / 76011
This family diner is a staple among locals. Get your fill of Southern home style classics sure to leave you full and happy. The chicken and dumplings are always a huge hit. Check their Facebook page for updated hours and offers.
9) Maggie and Me Boutique
(817) 987-1100
2220-C W Park Row Dr / Pantego, TX / 76013
There's just something extra fun about shopping for little kids. Those tiny shoes – precious! Maggie and Me Boutique has clothes, children's books, toys and everything for the little ones in your life. You can use their online store or shop through their Facebook page.
10) Anything Goes
(817) 542-0862
2504 W Park Row Dr Ste A / Pantego, TX / 76013
Anything Goes is just that. They have specialty gifts for all occasions and all types of people. Checkout their online shop and funny gifts, sweet treats and more. They even have a "Nurse Things" category if you want a sassy gift to give some of our frontline workers a chuckle.
Take a look at more Downtown Arlington businesses, and see how you can support them, too. Do you know of another local store with call-in orders or online gift cards. Remember to #ShopLocal and let's show some love to mom and pop businesses!