It's spooky season, and the best way to get in the mood? Ghost hunting. Something about these spots sends shivers down visitors' spines, maybe it's the change in weather and crunch of falling leaves – or spirits hanging around. Check out some of Arlington's most haunted places… if you dare. 
Updated in 2020. Blog originally written in 2015 by Nikki Stephens. Please check dates and times to ensure accuracy in making your Halloween plans.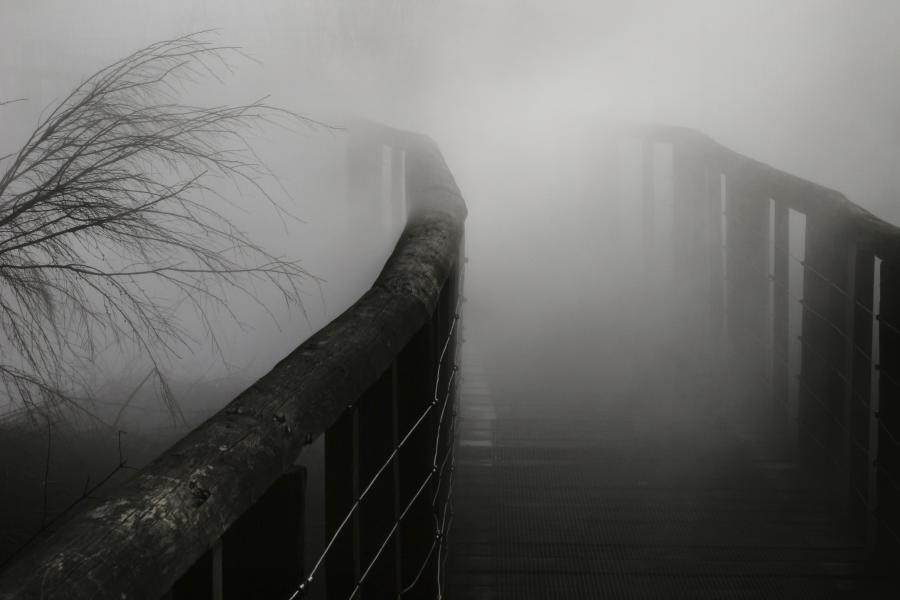 Legend goes that one night a car full of kids were driving coming up to the bridge and hit an oncoming car. Both cars caught on fire and crashed into the river, tragically killing everyone involved. The road and bridge have since been closed and can now only be accessed by walking through the park, which most people try at night. But, they say the dates and names of those who died can be seen glowing in the river late at night. ((Shiver)) People have also witnessed lights on the bridge, as well as mystic fog and strange feelings. Yeep! You can find an article about the car accident in the Arlington Daily News Texan from February 6, 1961.
There is a trail at River Legacy that leads up to two old fence posts. It is said that the gate which used to stand there was the last thing captured soldiers saw before being hanged during the Civil War. Some say you can hear the sobs of those soldiers as you approach Hell's Gate. Others say you see a redheaded man in a uniform standing guard. Like the screaming bridge, people feel quite uneasy while visiting this spot and they also feel the sensation of someone watching them and hear weird sounds and voices. Once again, this phenomenon is said to be better when visiting Hell's Gate at night.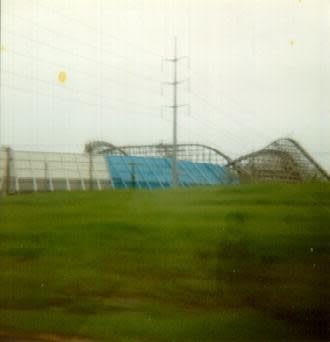 A ghostly child captured on film on an amateur photo from Six Flags Over Texas.
Have you heard of Annie? According to legend, Annie lives in the Texas section of the park. She is said to be the spirit of a little girl who died in or near Johnson Creek in the early 1900s.
She is said to be a very friendly spirit that is as mischievous as she is notorious. She has been seen by SFOT employees in the past turning the lights on and off in her "room," located in the yellow house near the entrance to the Texas Giant. Some have also seen her in Runaway Mountain – although it's so dark their eyes could be playing tricks on them.
If you believe in Annie, visit her during the spookiest time of the year for Six Flags Over Texas – during Fright Fest! 
Arlington's Lost Cemetery of Infants
Back in 1894, society was a different place where single mothers were, for lack of a better term, social pariahs and shunned from the public. That's when Reverend James Tony Upchurch created the Berachah Industrial Home for the Redemption and Protection of Erring Girls. Here, the women were taught employable skills that could help them rejoin society. The Institute turned into a "self-sustaining" village that eventually morphed into an orphanage by 1935.
The only thing that remains of the land Reverend Upchurch developed is a well-hidden graveyard right off UT Arlington's campus. The "lost cemetery of infants" most likely marks the graves of stillbirths and complications.
According to Tui Snider's research, activity reported here includes "shadowy figures seen darting between the trees, the sensation of being watched, the sounds of children's voices, and small toys appearing (and disappearing) on graves." (Source)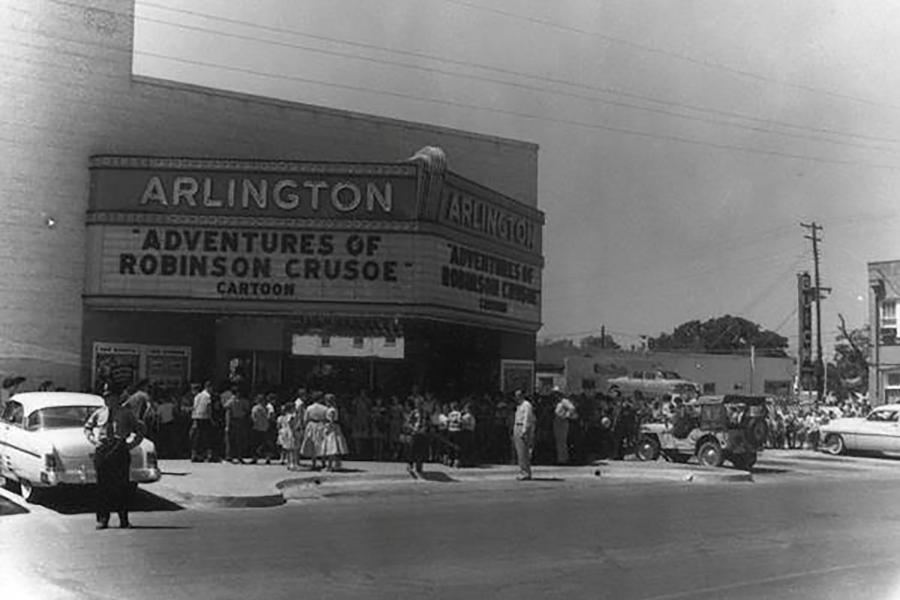 "Fred" is the name of the ghost-in-residence owner Jean Collins has come to know at Arlington Music Hall, Arlington's 65-year old Downtown music venue.  Not only did she catch the sounds of an invisible being moving onstage with her own ears, but she and countless other AMH employees are dead serious when they tell you lights have come back on after being completely shut off. Howard Ball of AMH's next-door neighbors Babe's Chicken Dinner House has had some strange occurrences, including Fred himself walking up to him and asking for a look around the restaurant, stating that "he used to live here," only to then disappear. Ahh!
Even the Dallas-Area Paranormal Society caught clear EVPs (electronic voice phenomenon) and the conclusion that there may be more than one spirit that roams the hall, as a female voice was also recorded with the team. "Fred is a good ghost, and he's here," says Jean. Watch the video and judge for yourself...
Over 25 years ago, strange happenings shrouded the Grand Prairie location. One murder, one believed murder and a fire that melted 300 wax figures (figures that took 25 years to accumulate and the largest in the country at the time), costing $4 million. No deaths occurred on the premises, but the former co-owner was poisoned with strychnine and her young assistant died mysteriously of natural causes. The fire, believed to be set by a shady and wanted arsonist, might have been set to blackmail the museum. Although Ripley's staff swears up and down that nothing spooky has happened to them, it's still spooky to know what's gone on there in the past. (Source)