There's only 3 Days until Opening Day, and no Opening Week can be complete without our review of everything the ballpark has to offer this year in terms of concessions. This year has to be one of the most eclectic and experimental yet from the Ballpark chefs – and we're here for it! If you're planning on heading to Globe Life Park at some point this season, take a look at the all-new concession menu offerings you can only get here at the home of the Texas Rangers!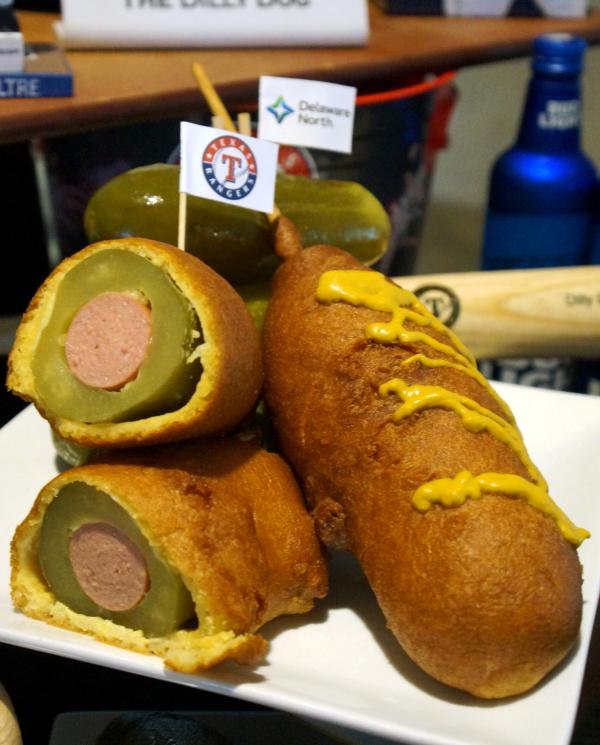 What is it? You know, a corn dog, yeah? Take an all-beef jumbo hot dog, and put it inside of a hollowed out Best Maid dill pickle. Then, batter that baby up and you get the Dilly Dog.
Price: $10
Where you can find it: at the State Fare stand located at section 41
The verdict: I love corn dogs, and I love pickles, but this might have been too outlandish for me. Despite my opinion, this mammoth is probably the most grammable item from this year's lineup.  Take a bite out and show your friends that you conquered the Dilly Dog! And, at $10, it's super affordable.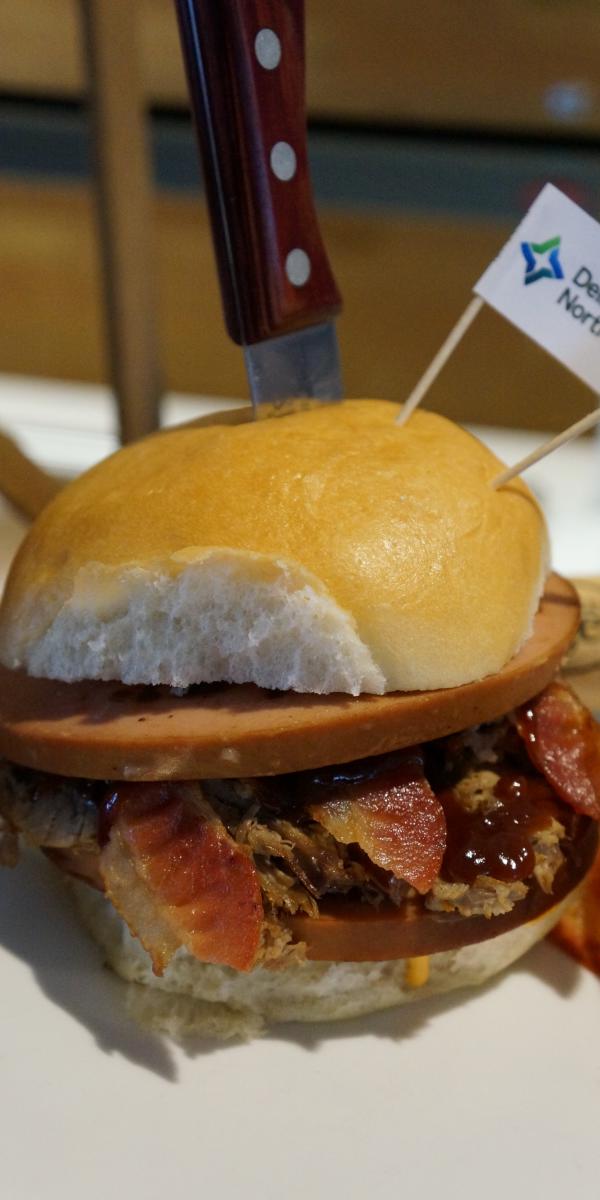 What is it? Three B's – bologna, brisket and bacon. Take those three cuts of meet and slather it in some Sweet Baby Ray's BBQ sauce, and you've got the makings of a sandwich fit for the hungriest of folks.
Price: $18
Where you can find it: the Homeplate Butcher Block at section 24 AND the Smokehouse 557 at section 49
The verdict: This sandwich was a lot, so come hungry and you'll leave happy. Bologna isn't my favorite but I know plenty of people that would take a fried bologna sandwich over any fancy roll any day. The three meats compliment each other in texture and taste, and if you get this boy – you won't leave hungry!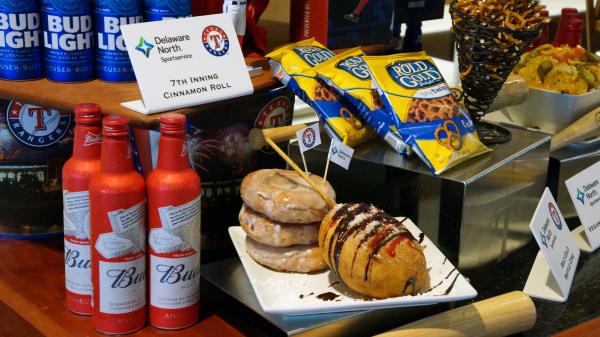 What is it? Take your favorite cinnamon bun, dip it in batter a la the State Fair of Texas and deep fry it to golden perfection. Then, top it with raspberry and chocolate sauce.
Price: $10
Where you can find it: the State Fare Stand in section 41
The verdict: This concoction made me wish it was State Fair time already. A must try for people in love with fried food.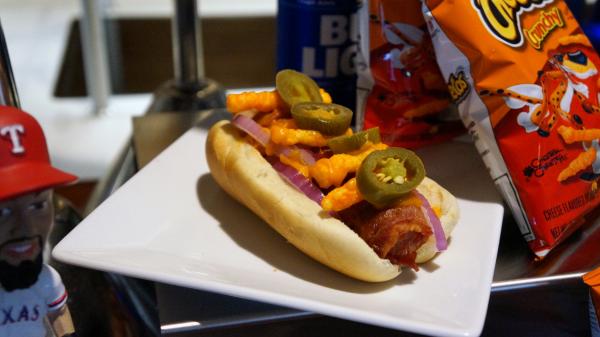 Cheetos Jalapeno Bacon Dog
What is it? A signature juicy all-beef hot dog, wrapped in bacon and covered in Cheetos Cheese Sauce. Then, it's topped with jalapenos and Cheetos. Mmm!
Price: $11
Where you can find it: the American Dog Stand at section 22 and 48
The verdict: This was my favorite offering of the day – I love spicy cheese, I love Cheetos, and I love mixing textures. This hot dog reminded me of the Mexican hot dogs you find on the streets of LA, but lifted with the taste of Cheetos we know and love. Mmmm!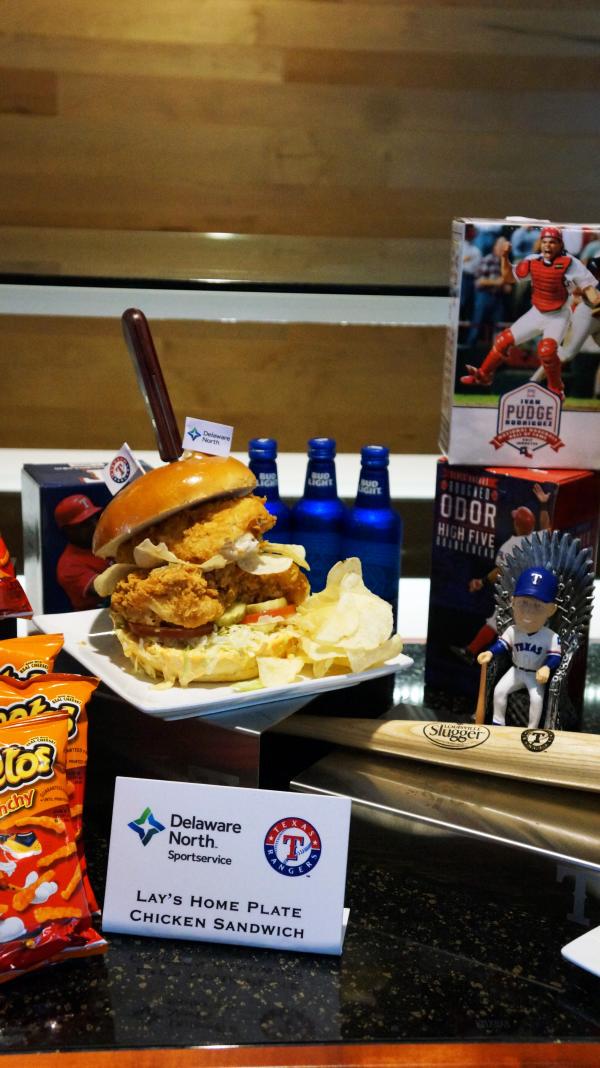 Lay's Home Plate Chicken Sandwich
What is it? A HUGE (think Boomstick-sized) sandwich of epic proportions – a full sized chicken breast split and crusted with Lay's potato chips. Then, it's layered on a giant bun and garnished with lettuce, tomato, spicy mayo and more Lay's potato chips.
Price: $27.50
Where you can find it: the Flew the Coop Stand at section 50
The verdict: This was crunchy! I appreciate a good chicken sandwich, and this did not disappoint. I had the baby version, so if you get this big chick at some point during the season, make sure you have an extra set of chompers or two to help you take on the Lay's Home Plate Sandwich.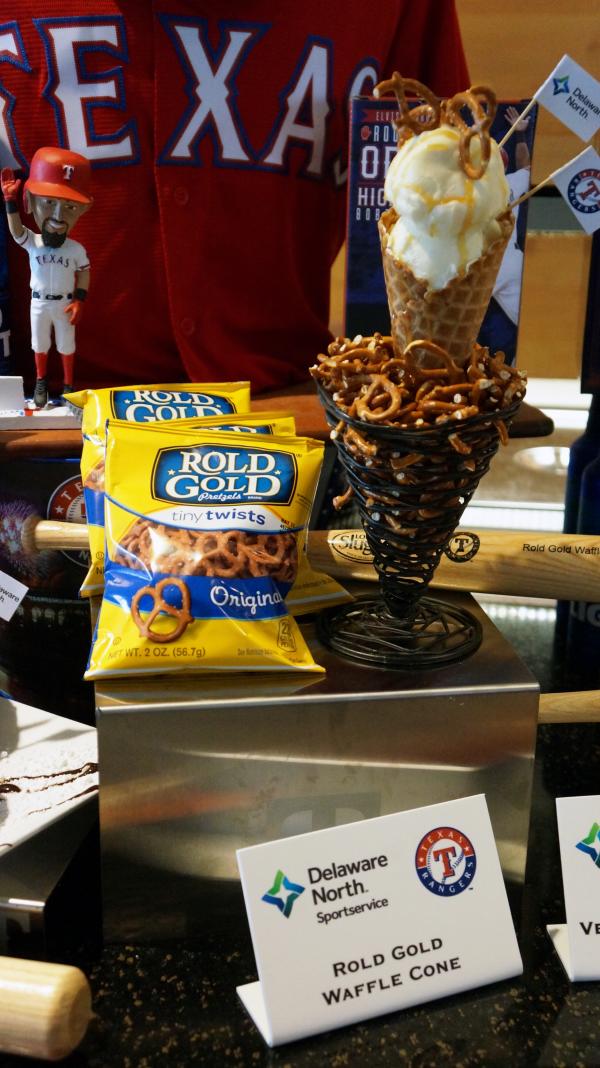 What is it? The Rangers's signature waffle cone batter, but with Rold Gold pretzels crushed inside.
Price: $9.25
Where you can find it: the Ice Cream Stands at section 11 and 23
The verdict: The perfect amount of salty and sweet, I can't wait to try this with my favorite Blue Bell ice cream this season! The samples we had paired well with the Vanilla.
Honorable Mentions
Vegan Nachos Grandes/Vegan Top N Go Frito Pie
Globe Life Park's recent accolade of being PETA's Vegan Ballpark of the Year lets you know that the Rangers Concessions do not shy away from catering to vegan fans. We didn't get to try these, but they're a must next time we catch a game at the Ballpark!
Where to find it: the Ballpark Vegan Stand in section 16
Sweet Chili Pork Belly (Suites Only)
This was probably my favorite thing on the sampling block, it was SO yummy and was served with fried and halved golden potatoes. The sweet chili added an Asian-inspired zest to the tender pork belly to create something truly melt-in-your mouth good!
Chinese Dumplings (Suites Only)
A favorite snack, these Chinese pork dumplings were steamed to perfection and served with a tangy sweet and sour sauce – perfect for catering your suite to all discerning palates.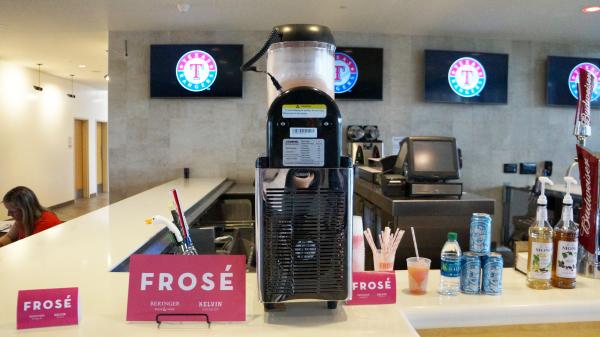 Yes way, rosé, there's FROZEN rosé available this season at Globe Life. I repeat – frozen rosé. You can find this delicious concoction made with an organic Kelvin brand slush and Berringer wine at the wine carts in section 232 and 37 as well as the Capital One Club. 21+ 😊
GO RANGERS!
Check out our review of last year's Rangers concession fare
Book your hotel
Get Texas Rangers Tickets