Maybe you're just in it for the candy or maybe you leave Halloween decorations up all year… Either way, Six Flags Over Texas is the place for all your ghoulish needs. If you dream of walking the streets of Halloweentown, you've got to stop by HALLOWFEST. The whole park transforms into a truly haunting experience – both for fright-seekers and trick-or-treaters in training. It's the perfect place to spend Halloween in DFW!
Make sure you check out the park's health and wellness measures before you go. They're adding new protocols to keep you scared safe and healthy. The park is operating at limited capacity to help with social distance, so you'll need to make a reservation in advance. Don't forget your mask!
TIP: Don't scare your wallet! Save on your trip and use our coupons and discount tickets.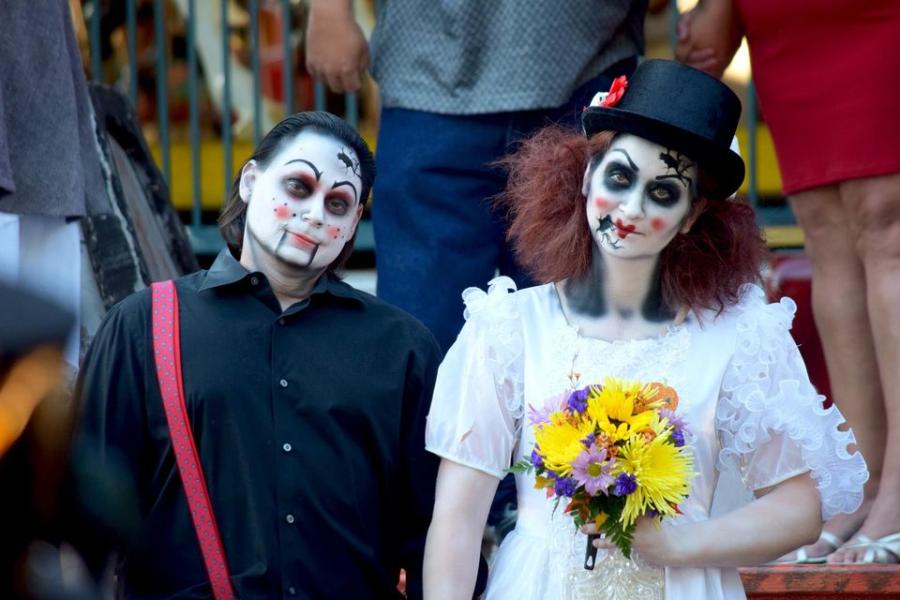 Image of previous Frightfest from Six Flags Over Texas Facebook page.
Thrills by Day
When the sun is out, so are the spooks! (But not too spooky.) Daytime is just right for getting in the Halloween mood without the hair-raising frights. If you're looking for family Halloween things to do, this is your one stop shop. Fall favorites like haunted photo opps and a Trick-or-Treat Trail are fun for everyone. It might be just me, but candy always tastes better during Halloween.
As a person who likes treats over tricks, daytime is just the right amount of Halloween without hair-raising scares. The air is crisp, and the summer heat is gone. The park is covered in giant spiders, skulls and zombies for a full holiday transformation. Plus, it's much less sinister looking in the sun.
TIP: Rule of thumb for HALLOWFEST, if you prefer more casual spooks over scares, be sure to go during the day. As the sun sets, the ghouls (scare-actors) come out and they're definitely good at what they do…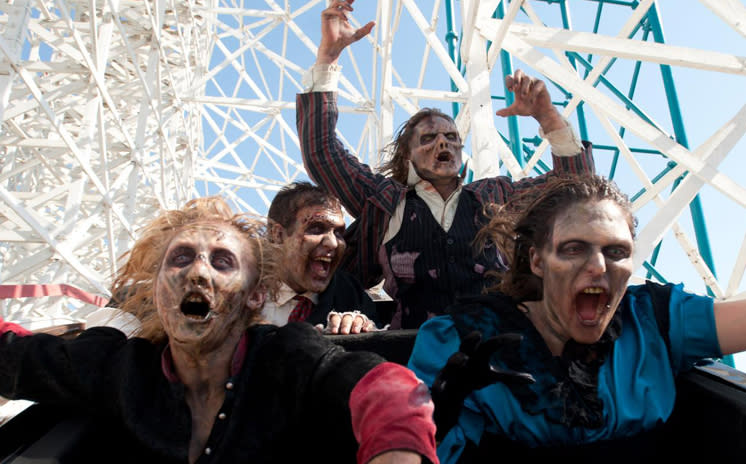 Image from previous Frightfest.
Chills by Night
Not for the faint at heart – creepy fog drifts around the park and eerie lighting takes over after dark. The sinister music will make if feel like you're straight out of a horror movie! For our Halloween pros, you might have been to Frightfest before. This year, there will be four bone-chilling Halloween zones throughout the park outside. These zones will be in wide-open midways, for scares from every angle (and perfect for social distancing).
If those frights aren't enough of an adrenaline rush, ramp up the fear factor on the Titan in total darkness… Get some practice in with some virtual rides.
BONUS: Use HALLOWFEST as another excuse to show off your costume. If you're 10 years and younger you can go all out from head to toe. Check out their costume policy and have a ghoulish good time.
All the haunting horrors at HALLOWFEST have been reimagined with new safety precautions to reduce the spread of both human and zombie germs. All team members (including scare-actors) and guests 3 years and up will wear masks, all scare zones will be outdoors with social distancing, and all props, rides, dining and restroom facilities will be cleaned and sanitized regularly. Check out the all the park's health and wellness protocols before you go.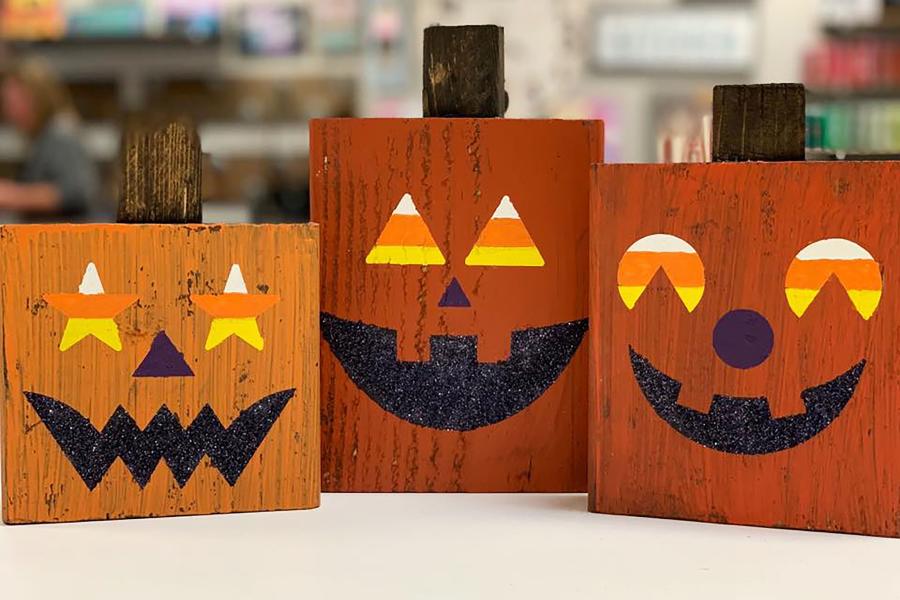 Image from Board and Brush Facebook page.
Get the most out of your trip and check out some more Halloween things to do in Arlington. While you're in the area, stop by Urban Union for some small business eats and shopping. If you need to add to your Halloween collection, Board and Brush and Catalyst Creative have DIY décor. Ask about to-go kits to make at home or sign up for one of their classes. Both places help you turn your Pinterest ideas into Instagram-worthy works. (No worries, even if you're more of a Pinterest-fail kind of crafter, they'll take care of you!)
TIP: Stop by Legal Draft Beer for their seasonal Fall Guy. This autumn lager has cinnamon and nutmeg for a spicy seasonal flavor.