In October 2018, Arlington-area catering company Inspirations Catering & Gourmet Shop expanded to open a storefront in Urban Union (at 506 E Division Street) that is open to the public Wednesday through Saturday. The company specializes in "exquisite food, expert coordination, and gracious service" and has long been a go-to option for many local event planners and party hosts.
We caught up with owner Kristene Toledo to learn more about how her business intersects with Arlington tourism:
You've been in the catering business for more than two decades. What made you decide to open a storefront shop?
Kristene Toledo: "We cater a lot of corporate events, weddings, and private parties where we do everything from prime rib to live action pasta stations, fajitas, you name it. We also do a lot of charcuterie boards. I love the traditional catering side of our business, but I was ready to try something different. One day, my husband and I were carrying a board into an event when I suddenly had an idea—I said 'let's do something with these charcuterie boards.' That's when I started thinking about opening up a specialty shop where our boards would take center stage."
Tell us more about what's available at your shop.
KT: "Like the catering business, the storefront features customization. We have a giant farm table where we lay out food and teach people how to make their own boards using items in the shop—cured meats, gourmet cheeses, artisanal crackers, chutneys, nuts. You can make something to enjoy in the shop, or you can pop in and select items to take home, or you can choose one of our grab-and-go lunches."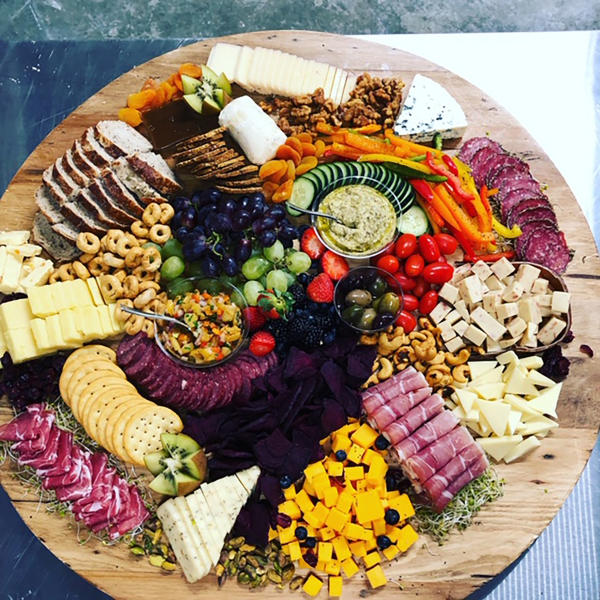 We've heard that you do some fun stuff with your neighbor, Legal Draft Beer Company.
KT: "Absolutely! We have catered everything from traditional meals to appetizer trays at Legal Draft. We tend to bring a lot of our Texas-themed food over there, like our 'Texas Bullets' [a cream cheese mix combined with bacon-wrapped pineapple], 'Texas Roses' [specially-designed roast beef on crostini with arugula], poppers, churros, etc. Legal Draft also allows guests to grab food over here and bring it to the brewery."
What are other ways that Inspiration Catering interacts with the community and with Arlington visitors?
KT: "Supporting the Arlington community is important to us. We donate catering to a number of community events—recent ones include events at Legal Draft, the Brewing Arts Festival, and the Night of Care event for H.O.P.E. Tutoring, just to name a few.
"On May 18, we're going to set up shop at the Levitt Pavilion concert and offer charcuterie boards (using disposable boards) for individuals and groups to purchase before and during the show. This will be our first time to do something at the Levitt, so we're very excited to see how it turns out."
What made you decide to locate your store in Urban Union?
KT: "I graduated from UTA and have lived in the area for about 20 years, so we have history here. One day, while catering an event at the then-new Legal Draft, I told my husband, 'This is where we need to be, I just feel it in my gut.' We looked at other places, but kept coming back here. Most of the buildings were empty at the time, and this one was pretty ugly, to be honest. But I felt like it had potential, like I could do something with it.
"It's a decision I've never regretted. I've met some of the nicest people here—customers from Houston and other areas, customers who used to live here and marvel at the changes in downtown when they come back to visit. We have customers who come in to pick up something quick, but then end up talking for half an hour. They share birth stories, they tell us when they lose family members. I tell my employees: You can buy cheese and meats anywhere, but we want our customers to feel like this is a place where you can experience something local but different—a place where you can connect and hang out. That's our main goal for our store."
Find out more about Inspirations Catering & Gourmet Shop on her website.