Visit Hurricane Harbor 
Hurricane Harbor is closed for the 2018 season. Check back soon for 2019 dates!
Six Flags Hurricane Harbor, the largest water park in North Texas, offers guests more than 40 rides and attractions. From heart-pounding rides like Typhoon Twister, Tsunami Surge, and Wahoo Racer to thrilling attractions for the little swimmers with Hook's Lagoon—an interactive water playhouse— or you can just relax in one of our shaded cabanas. The water park has something for everyone!
Picture yourself relaxing under sunny, cloud-filled skies on the banks of Hook's Lagoon Treehouse, where little kids and big kids alike can splash and play while Mom and Dad take a break. Or hanging out on Boogie Beach while you enjoy an ice-cold lemonade or a rainbow snow cone. Or floating down the scenic Lazy River, soaking up some Vitamin D while the hassles of your daily life drift away.
That all sounds great, but don't miss any of Hurricane Harbor's action-packed watery adventures. Got a bet to settle? Head for the Wahoo Racer, a two-tier, multi-lane water slide that's the only one of its kind in the world. Or check out the six-story drop on the Geronimo, or the 40-foot waves on the Tsnunami Surge.
Summer will roll around before you know it, so start planning your Hurricane Harbor discount vacation package. You'll save so much, you'll have some leftover for a nifty new swim suit.
And since you're planning, here's everything under the sun you should know about Hurricane Harbor in Arlington: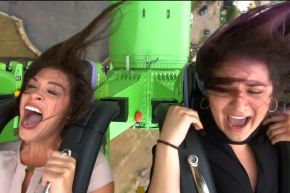 Let the thrills begin! Make a big splash and save some bucks with a getaway for both theme parks, stadium tours and more.