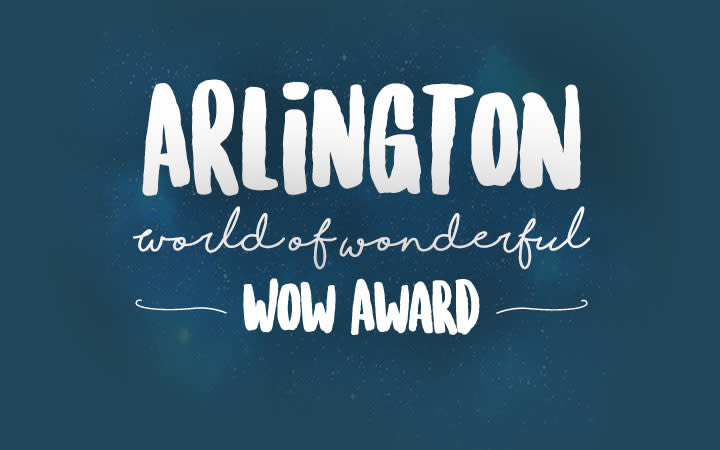 DEADLINE TO SUBMIT NOMINATIONS IS APRIL 14TH AT NOON CDST
---
Do you know someone in the service industry who goes above and beyond?

Tourism Touches Everything in Arlington! With more than 14.5 million visitors annually, and more than 10,000 tourism and hospitality related jobs supported; tourism is in the DNA of Arlington. As the only organization 100% dedicated to marketing Arlington as a premier visitor destination, we recognize the importance of the people who interact with our visitors every day. The Arlington Tourism Hospitality WOW Award is one way the Arlington Convention & Visitors Bureau can shine a light on the hardworking, dedicated people who make Arlington a World of Wonderful!
---

What is it?
The Arlington Tourism WOW Award recognizes a front line professional who goes to great lengths to be kind and create a memorable experience for guests at an Arlington hospitality related organization, including hotels, restaurants, attractions, and retail and entertainment venues.
Who Is Eligible?
Non-managerial employees in the hotel, restaurant, retail, tourism or hospitality-related fields, including the public sector. Employees should have direct contact with, or provide support to, visitors and customers and distinguish themselves by promoting Arlington through exemplary service, kindness and customer satisfaction.
Who can submit an entry?
Anyone! Hospitality supervisors, coworkers and visitors who have had a great experience with a front line professional. Nominations for the Arlington WOW Award must be submitted by April 14, 2023 at noon CDST, and the nominee must be available for possible media and photo opportunities on May 10, 2023. Judging & Criteria Nominees will be judged by three members of the Travel & Sports Legacy Foundation Board and notification of selection will be made on April 20, 2023. The Travel & Sports Legacy Foundation is creating educational opportunities and career pathways to persons interested in travel, tourism and sports management careers. The panel of judges will be looking at how the nominees have gone above and beyond to provide memorable and kind experiences for their guests.